Bosconian - Arcade Game - Namco 1981 - MAME Emulator (DE / EN)
Bosconian - Arcade Game - Namco 1981 - MAME Emulator
(English Below / Englisch unten)
Bosconian ist ein Arcade(Automaten) Spiel das 1981 von Namco entwickelt und veröffentlicht wurde. Das Spielziel ist es durch das vernichten von Feinden und deren Stationen möglichst viele Punkte zu erzielen. Dafür steht dem Spieler ein Raumschiff das gleichzeitig nach Vorne und nach hinten Schiesst zur Verfügung. Whärend des Spiels wird das Raumschiff des Spielers immer in der Mitte des Bildschirms angezeigt. Mit dem Joystick kann das Schiff dann in 8 Richtungen bewegt werden. Auf der rechten Seite des Bildschirms wird eine art Radar Bildschirm angezeigt auf dem die Position der gegnerischen Basen, feindliche Schiffe und das eigene Schiff zu erkennen ist. Darüber wird noch ein Farbenbasiertes Warnsystem angezeigt. Grün/Gelb/Rot sind die Farben. Entsprechend der Alarmstufe werden die Gegner immer Agressiever.
Ich habe das Spiel im MAME Emulator gespielt einen original Automaten wird man heutzutage nur noch im Museum finden. Beim Start des Emulator wird angezeigt das Spiel damals auf einem Mainboard gelaufen ist das mit 3 Zilog Z80 Prozessoren mit 3.072 Mhz und 2x Fujitsu MB8842 sowie 2x Fujitsu 8843 plus einem Fujitsu 8844 Bestückt war, die alle jeweils mit 1.536Mhz getakteti waren. Der Sound wurde mit diskreten elektronischen Bauteilen erzeugt. Die Auflösung war 288x224 Pixel. Das Rom für MAME heisst bosco.zip man findet es über google.
Der Spieler steuert ein einzelnes Kampfschiff das sich in der Mitte des Spielfelds befindet. Der Bildschirm stellt immer nur einen kleinen Auschnitt des gesamten Spielfelds dar. Auf dem Rechts befindlichen "Radar" Schirm ist da komplette Feld mit allen Stationen und Schiffen abgebildet. Die Aufgabe des Spielers ist es alle Basen die auf dem Spielfeld verteilt sind zu vernichten. Die Anzahl der Basen steigt mit jeder neuen Runde und ihre Verteilung auf dem Feld wird immer Problematischer. Eine Basis hat 6 Kugelförmige Kanonen die Bomben ins All werfen können. Jede einzelne dieser Kugeln kann zerstört werden (gibt Punkte) das führt aber nicht zur Zerstörung der kompletten Basis. Um eine Basis zu zerstören muss der Spieler den geöffneten Kern der Basis Treffen. Die Kernöffnung schliesst und öffnet sich Regelmässig was einen Treffer start Erschwert. In späteren Leveln schiessen aus dem geöffneten Kern Raketen die für den Spieler tödlich sind.
Desweiteren finden sich Asteroiden und Raumminen auf dem Spielfeld, die der Spieler meiden oder Abschiessen muss, eine Kollision wäre für ihn tödlich. Es tauchen immer mal wieder feindliche Alien Schiffe auf(werden auch Akkustisch angekündigt) die versuchen den Spieler zu Rammen. Darunter sind auch Spionage Schiffe die man zerstören muss, ansonsten schaltet das Farbwarnsystem auf die nächste Stufe und die Gegner werden Agressiver. Manchmal sind es auch komplette Formationen von 5 Schiffen die Angreifen. Zerstört man deren Führungsschiff dann drehen die anderen ab und suchen das Weite. Schafft man es allerdings die komplette Formation zu Zerstören gibts einen Bonus.
Hier noch ein paas Screenshoots aus dem Emulator: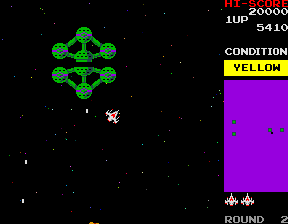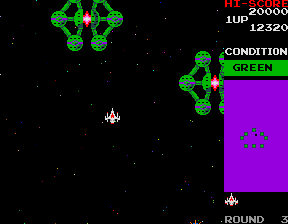 ---
Bosconian - Arcade Game - Namco 1981 - MAME Emulator
Bosconian is an arcade game developed and published by Namco in 1981. The objective of the game is to score as many points as possible by destroying enemies and their stations. To do this, the player has a spaceship that shoots forward and backward at the same time. During the game, the player's spaceship is always displayed in the center of the screen. With the joystick the ship can be moved in 8 directions. On the right side of the screen there is a radar screen showing the position of enemy bases, enemy ships and the player's own ship. Above this a color based warning system is displayed. Green/yellow/red are the colors. According to the alert level the enemies become more and more aggressive.
I played the game in the MAME emulator, an original machine can only be found in museums nowadays. When you start the emulator it shows that the game was running on a mainboard with 3 Zilog Z80 processors with 3.072 Mhz and 2x Fujitsu MB8842 and 2x Fujitsu 8843 plus a Fujitsu 8844, all clocked with 1.536Mhz. The sound was generated with discrete electronic components. The resolution was 288x224 pixels. The rom for MAME is called bosco.zip you can find it via google.
The player controls a single battleship located in the center of the screen. The screen always shows only a small section of the whole game field. The "radar" screen on the right shows the entire field with all stations and ships. The player's task is to destroy all enemy bases distributed on the field. The number of bases increases with each new round and their distribution on the field becomes more and more problematic. A base has 6 spherical cannons that can throw bombs into space. Each of these spheres can be destroyed (giving points), but this does not lead to the destruction of the entire base. To destroy a base, the player must hit the open core of the base. The core opening closes and opens regularly which makes it difficult to hit the base. In later levels, rockets shoot out of the open core, which are deadly to the player.
Furthermore, there are asteroids and space mines on the playing field, which the player must avoid or shoot down, a collision would be fatal for him. Every now and then enemy alien ships appear (are also announced acoustically) that try to ram the player. Among them are also spy ships that must be destroyed, otherwise the color warning system switches to the next level and the enemies become more aggressive. Sometimes there are complete formations of 5 ships attacking. If you destroy their lead ship, the others turn away and look for the way. If you manage to destroy the whole formation you get a bonus.
Here are some screenshots from the emulator: