Fahrrad für Lisa / Bike for Lisa
[DE]Das Fahrrad für Lisa
News News News. Wir haben ein Fahrrad für die kleine Lisa bekommen. Ich bin gerührt. Kostenpunkt für das gute Stück war im Grunde fast nix. Wir haben ganze 39 Euro bezahlt und haben obendrauf noch ein Laufrad geschenkt bekommen. Nun ist das Fahrrad aber Blau. Hmmmm nicht ganz so die Farbe, welche sich ein Mädel vorstellt. Ich werde mich nach den Prüfungen am Montag und Mittwoch einmal hinsetzen und das Fahrrad putzen. Sandra kümmert sich derweil einmal um die Informationen bezüglich Lisa ihrer Lieblingsfarbe. Vielleicht mag Lisa ja blau ganz gerne. Wenn es doch eine andere Farbe sein sollte, hat sich ein Freund (Lackierer) dazu bereit erklärt, das Fahrrad kostenfrei zu lackieren.
Das wichtigste, das Fahrrad ist voll Funktionsfähig.
[EN]A bike for Lisa
News News News. We got a bike for little Lisa. I am touched. Cost for the good piece was basically almost nothing. We paid 39 Euro and on top of that we got a bike for free. But now the bike is blue. Hmmmm not quite so the color a girl imagines. I will sit down after the exams on Monday and Wednesday once and clean the bike. Meanwhile Sandra takes care of the information about Lisa and her favourite colour. Maybe Lisa likes blue very much. If it should be a different colour, a friend (painter) has agreed to paint the bike for free.
The most important thing, the bike is fully functional.
---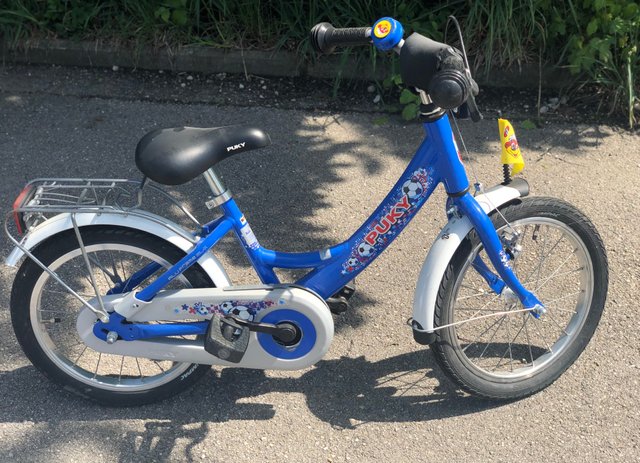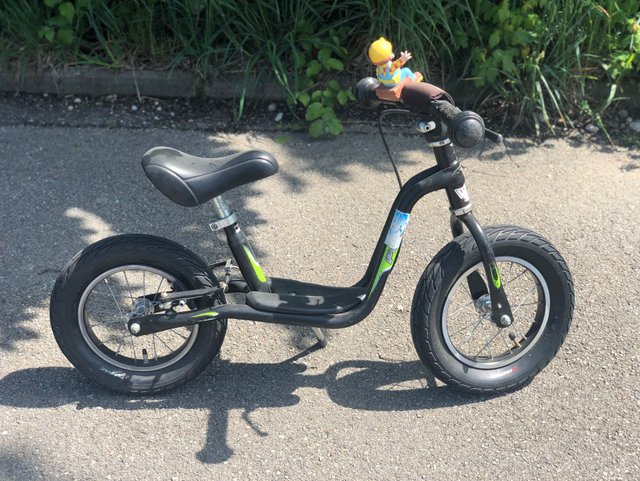 [DE] Wie könnt Ihr Steemians helfen
Ihr könnt mich zum einen gerne im Discord anschreiben wenn Ihr Sachspenden habt und wir finden einen Lösungsweg. Zum anderen würde ich mich sehr freuen wenn wir diesen Account etwas pushen. Das ganze soll so aussehen, das für Delegation von Steempower von mir einmal alle 24 h ein Upvote auf deinen Account vorgenommen wird. Die dadurch erhaltene Curation werde ich dann für Anschaffungen wie Papier, Stifte etc nehmen. Weiter könnt Ihr diesen Account mit einem Upvote unterstützen, ich werde fast täglich einen Post über den Aktuellen Stand des Accounts posten. Weiter kommen von mir auch Aktionspost von Übergaben bzw auch geplanten Aktionen. Natürlich dürfen auch Steem und SBD gespendet werden.
[EN] How can you help
On the one hand you can write to me at Discord if you have donations in kind and we will find a solution. On the other hand I would be very happy if we push this account a bit. The whole thing should look like this, that for delegation of Steempower once every 24 h an Upvote is made by me on your account. I will then use the curation for purchases like paper, pens etc.. Further you can support this account with an Upvote, I will post almost daily a post about the current state of the account. Further I will also post action mail from handovers or planned actions. Of course Steem and SBD can also be donated.
---
[DE] Wie funktioniert die Delegation von SP
Ihr delegiert dem account
@driveforkids
Steempower. Als Dankeschön erhaltet ihr 1 pro Tag (alle 24h) ein gewissen Upvote. Das ganze wird von mir wie folgt in Leveln angepasst.
Level 1) - 10 - 70 SP - 5 % Upvote
Level 2) - 71 - 140 SP - 10 % Upvote
Level 3) - 141 - 210 SP - 15 % Upvote
Level 4) - 211 - 300 SP - 20 % Upvote
Level 5) - 301 - 500 SP - 30 % Upvote
Level 6) - 501 - 800 SP - 40 % Upvote
Level 7) - 801 - 1100 SP - 50 % Upvote
Level 8) - 1100- 2000 SP - 75 % Upvote
Level 9) - 2001 - 5000 SP - 85 %Upvote
Level 10) über 5001 SP - 100 % Upvote
[EN]How does the delegation of SP work?
You delegate Steempower to the account
@driveforkids
. As a thank you 1 per day (every 24h) you get a certain Upvote. The whole thing is adjusted by me in levels as follows.
Level 1) - 10 - 70 SP - 5 % Upvote
Level 2) - 71 - 140 SP - 10 % Upvote
Level 3) - 141 - 210 SP - 15 % Upvote
Level 4) - 211 - 300 SP - 20 % Upvote
Level 5) - 301 - 500 SP - 30 % Upvote
Level 6) - 501 - 800 SP - 40 % Upvote
Level 7) - 801 - 1100 SP - 50 % Upvote
Level 8) - 1100- 2000 SP - 75 % Upvote
Level 9) - 2001 - 5000 SP - 85 %Upvote
Level 10) über 5001 SP - 100 % Upvote
---
---
Posted using Partiko iOS