Monday is Detox Day! Intermittent Fasting and Green Smoothies
Hello everyone! Happy Monday and hope everyone is getting a great start to their week!
Usually when I start my week, I love to do it with a DETOX! I don't know about you, but I'm pretty lax with my diet over the weekend and eat a bit more and usually foods that are no-nos during the weekdays (dessert). To combat all the yumminess over the weekend, I've been implementing the following program that has helped me feel lighter, get back on track and ready to conquer the rest of the week.
Here it is:
6:00am - Wake up and drink 2 glasses of warm water (intermittent fasting)
6:00 - 12:00pm - 2 scoops of Organifi Green Juice (mix in with 32-64oz water)
12:00pm - Green Smoothie (optional, but I also eat 2 eggs, 1 oz walnuts and an apple)
5:00pm - Normal Dinner
By the time it's dinner, I'm physically famished. I eat a normal-sized dinner and Tuesday morning, we're back to the races. Honestly, if I eat too much for dinner, it often spells disaster for the next day because when I wake up, I'm feeling really heavy, which leads to feeling guilty for having eaten too much the previous day which then leads to lack of motivation to eat healthy for the rest of the day or week.
So by doing this detox, it eliminates all that so come Tuesday, you feel amazing. And when you feel amazing, you go out and do things and when you do that, GREAT things happen.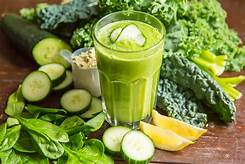 Have you ever detoxed and if so, what is your detox routine?
May you be blessed with gratitude and abundance,
Victoria