Steemy Design - I just got a @zord189 signature and here are 10 reasons why you should get one too
A few days ago, I saw this amazing post by @zord189 in which he sells some animated signatures for a teenyweeny price
Ofcourse, I jumped on it right away because it's fucking sexy. I am super happy with the speed and quality he delivered it back to me, so here I am raving about it.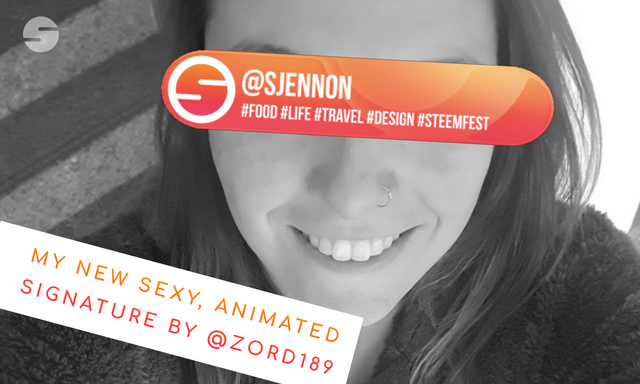 Behold, here are 10 reason why you should get one aswell
It's fucking dope
And sexy.
@zord189 is an amazing guy aswell.
And provides great service.
The signature only 5 STEEM.
And it FUCKING MOVES :D
.gif ftw.
It can be completely customized.
You can pick from 6 different variations.
It's both pretty on light and dark mode.

LOOK AT THAT SEXY SHIT!
How To Order?

Send 5 STEEM to @zord189. On memo type " Steemit Signature, Type [A,B,C,D,E,F] ". Example : Steemit Signature, Type > B
Contact zord189#7776 on Discord with details:
Steemit ID:
Signature Type:
Additional Notes: IF ANY. For example, change colour to blue.
And send me your image/logo (jpg, png)
And you're Done!
You will receive your Steemit Signature within 24-48 hours MAX upon payment. You will be sent a GIF version of the signature through discord when it's done.



My name is Shannon, I am a digital designer. Born and raised in Amsterdam, living in Berlin.
I write about travel, Steemit, design, food, life and any thoughts I have!