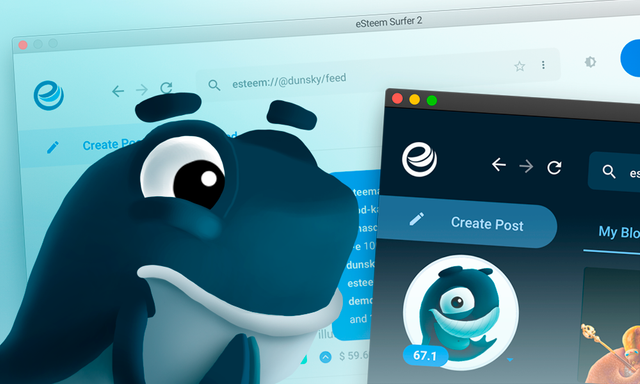 Payment
100 SBD burned
Transaction ID: trx steemd, trx steemdb
Project Information
Please limit your responses in this section to 140 characters.
Company name: Ledger Innovation
Place of Incorporation: Lithuania
Token name (if applicable): ESTM
Token Type (ERC20, Steem-Engine, SMT etc.): future SMT
Project Type (for profit business, flagging project, community, others please specify): For Profit Business
Existing Delegation Received
When did you get the delegation?
Feb 7 '18.

Under what terms did you receive the delegation?
To help user growth and continious development.

What was the intended purpose for the delegation?
There were no terms.

How have you applied your delegation for that purpose?
Yes, send enquire to Ned Scott for considering support.

How long are you requesting the continuation with the delegation?
24 months.
Market
What problem is the product/project solving?
The goal of eSteem platform is to grow Steem userbase by offering them unique desktop and mobile experience, as well as contribute to decentralization nature of the Steem. We think for global expansion attracting mobile as well as privacy/security concerned desktop users is crucial.
Core Team Details
Minimum Viable Products
eSteem - https://esteem.app/
Desktop and Mobile apps, soon Web.
eSteem Search - https://search.esteem.app/
Github - https://github.com/esteemapp/
We are also working on easy onboarding and referral system which should be ready by end of this year. It will not only attract new users to eSteem but also Steem will benefit from onboarding vast mobile users across the globe.
Business Strategy
Fiat Revenue Strategy: [E.g. We plan to sell NFTs which represent in-game items for US Dollars].
Our strategy is increasing utility of ESTM token which we are going to explore until SMT launch. Latest releases offer user to purchase in-app points to experiment with use cases. As we improve gamification of app, we hope this revenue stream will help us expand.

Fiat Revenue Projections in $/user every month: [E.g. $10/user]
Roughly estimate, total revenue of all users per month = $2,500
Revenue per user per month = $2,500 / 7,500 = $0.33

How will your business strategy increase the amount of STEEM being powered up and/or burnt?
Our STEEM earnings are locked up as Steem power to help us increase our support towards our users.

What financial incentives are you willing to provide to Steemit, Inc. and/or the Steem Community in return for the delegation? i.e. What's your skin in the game? [E.g. project tokens, revenue-share, etc.]
For Steem community, we are offering free tools and services that will help them access blockchain on go and any time. Giving complete freedom and all eSteem users are mining ESTM on top of STEEM rewards.
For Steemit Inc. we haven't had any financial incentive, but are willing to allocate 10,000 ESTM tokens monthly.

Are you or how will you become financially sustainable once the delegation is removed?
Our goal always is to be financially sustainable. With proper aligned incentives on ESTM utility token, we are one step closer. ESTM gamification will be huge incentive for our users to stay active as well as attract new users to Steem.
KPI Progress Measurement
KPI1 description: Onboarding
KPI1 target: Quarterly 1500
KPI2 description: Revenue
KPI2 target: Quarterly $24000
KPI3 description: Retention/Active users
KPI3 target: Quarterly 15000
Token Offering (If Applicable)
Token Details
ESTM token details can be found here: https://steemit.com/esteem/@esteemapp/estm-mining-use-cases-and-investment-opportunities
Brief details:
Token Launch date: Aug, 2019

Total Token Supply: 1,000,000,000

Yearly inflation: NA

Percentage of total token supply that will be airdropped to ALL Steem stakeholders (a/k/a SP holders) in proportion to their SP: NA

How many tokens and what percentage of your token supply will you offer Steemit Inc. / the Steem Community in exchange for the delegation?
10,000 ESTM monthly

Do you plan to launch an IEO, ICO, STO or other public token offering?
Yes

Do you plan to raise money from other investors? NA

What is the vesting period for the following:
a) Team members: 24 month
b) Early / seed round investors: NA
c) ICO investors: NA
What is the % token distribution to:
a) Team: 5%
b) Marketing: 15%
Delegation Request
How much of a delegation are you requesting?
Top-Tier
Specify the desired time frame for the delegation in 6 month increments: [E.g. 6 months, 1 year, etc.]
24 months
Which one of the following answers best describes how the delegation will be used to add direct value to Steem:
A. It will be used to create new accounts. +
B. It will be used to give new accounts 15 SP to give them the resources needed to use Steem and purchase goods and/or services through our platform. +
C. It will be used to incentivize the creation of content that promotes Steem / your project on external platforms. +
D. It will be used to provide limited trial or discount services to clients to encourage them to hold Steem and delegate in the future. +
E. Other: Please describe.
Agreement
We agree that our business will continue to leverage the Steem blockchain as long as we are receiving a delegation and 1 year following the removal of the delegation. During this time we also agree to promote the Steem blockchain as a valuable technological protocol that delivers unique value. We are willing to sign a legally binding contract with Steemit, Inc. to this effect.
Yes
Renewal Questions: Impact to Date Since the Start of Delegations
| Quarter | Q2 2018 | Q3 2018 | Q4 2018 | Q1 2019 | Q2 2019 | July 2019 | August 2019 |
| --- | --- | --- | --- | --- | --- | --- | --- |
| (1) # Users onboarded | _ | _ | _ | _ | _ | _ | _ |
| (2a) Users (Steem) | 13,000 | 11,000 | 10,000 | 9,000 | 8,500 | 7,000 | 7,500 |
| (2b) Users (non steem) | _ | _ | _ | _ | _ | _ | _ |
| (3) Impressions | _ | _ | _ | _ | _ | _ | _ |
| (4) Value disbursed from delegation (USD) | _ | _ | _ | _ | _ | _ | _ |
| (5) External Revenue (USD) | _ | _ | _ | _ | _ | $100 | $200 |
| (6) Steem Powered Up (Project Accounts) | _ | _ | _ | _ | _ | _ | _ |
| (7) Steem Powered Up (Clients) | _ | _ | _ | _ | _ | _ | _ |
| (8) Steem Power Delegated (Community) | _ | _ | _ | _ | _ | _ | _ |
| (9a) KPI 1 | _ | _ | _ | _ | _ | _ | _ |
| (9b) KPI 2 | _ | _ | _ | _ | _ | _ | _ |
| (9c) KPI 3 | _ | _ | _ | _ | _ | _ | _ |
| (10a) Steem burned | _ | _ | _ | _ | _ | _ | _ |
| (10b) SBD burned | _ | _ | _ | _ | _ | _ | 100 |
Delegate Steem Power and mine ESTM Token daily, be early investor:
500 SP |1000 SP |5000 SP |10K SP |20K SP |50K SP |100K SP
| iOS | Android |
| --- | --- |
| | |

[email protected]
🌐eSteem.app | 👨‍💻GitHub | 📺YouTube
✍🏻 Telegram | 💬Discord | Patreon