NutBox is now 319k SP delegated with high estimated faucet mining return (APY:109%)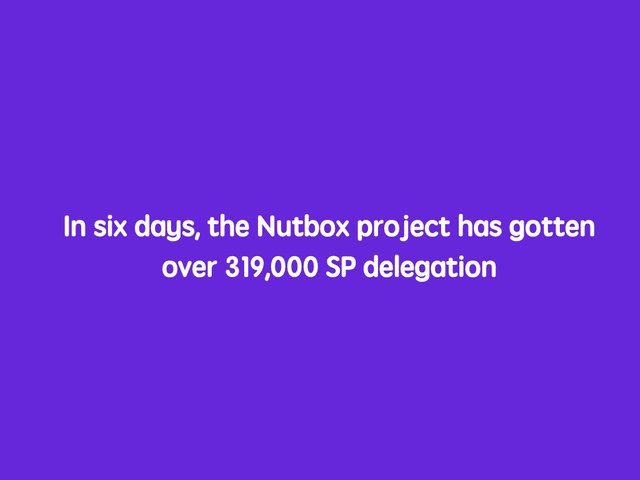 This is the 6th day of Nutbox go live, current delegation reached 319k SP. At the same time, we have managed to list our PNUT token to JUSTSWAP decentralized exchange, currently valued as 0.01TRX/PNUT.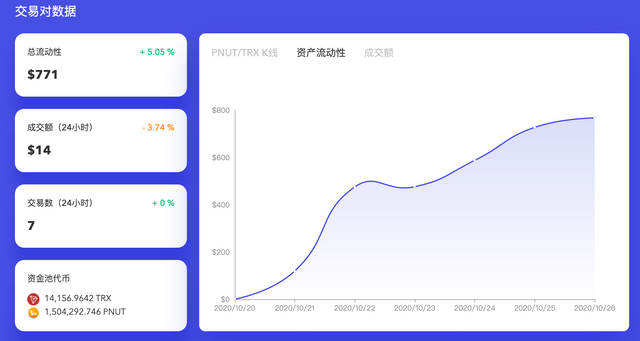 PNUT is a value nomintor for NUTBOX in Tron blockchain. By delegating SP in STEEM to NUTBOX, delegator will be receiving PNUT in TRON as faucet mining reward, at the same time these author are entitle for a certain percentage of upvotes. By exercising SP delegation to nutbox, we're able to use the curation reward to tokenize and empower other DAPP in Steem blockchain. These token are convenient to trade, mine, and cross platform to TRON.
This is only a beginning of something great. Our next step, is aming on variety of DAPPs to be created in STEEM platform. By exercising below 3 activities, NUTBOX will bring STEEM to the next level:
Nutbox combined steem and tron, and started a new cross platform token
Nutbox has started PNUT crowdfunding incubator program, in order to kick start STEEM Dapp development
Nutbox is currently working on the development of Aksai Saas, a cross platform DAPP toolbox
Project introduction:
CN | https://steem.buzz/cn/@nutboxs/nutbox--y-combinator-of-steem-blockchain-20201016t055718157z
EN |  https://steemit.com/cn/@wherein/nutbox--y-combinator-of-steem--will-coming-soon-20201017t190449041z
KR | https://steemit.com/hive-196917/@ayogom/steem-nutbox-y-combinator
Nutbox whitepaper:https://docs.nutbox.io
Steem:https://steemit.com/@nutbox
Discord:https://discord.gg/zPkMuGY
Telegram:https://t.me/joinchat/PrBejBh_Grp6lFZEGArDpA
Please vote for our witness smt-wherein:
https://steemconnect.wherein.mobi/sign/account-witness-vote?witness=smt-wherein&approve=1
Nutbox在发布后的第六天,代理总量达到 320K SP,且nutbox代币 PNUT已上线去中心化交易所justswap,价格为0.01 TRX。
PNUT是nutbox基于Tron区块链发行的一个权益型代币,代理SP给nutbox的代理人将获得PNUT的奖励,以及nutbox.mine对代理人发布的帖子进行点赞。nutbox通过将SP的收益代币化,为Steem社区Dapp开启了一种发行token的新方式。Dapp得以在Tron区块链发行token,并使其轻易而举的上线去中心化交易所 justswap ,开启token的自由交易、流动性挖矿等,接入Tron生态系统。
Nutbox的目标不止于此。我们认为,区块链下一个爆发的是 Dapp,而Steem对于Dapp有巨大的优势。Nutbox从以下三方面开始,力争复兴Steem社区:
Nutbox将Steem与Tron结合,开启了一种发行token的新方式;
Nutbox还通过发行 PNUT 筹集资金,孵化Steem上的Dapp;
Nutbox亦在开发 Aksai Saas —— 一个跨链Dapp工具包;
想了解更多,点击以下链接:
CN | https://steem.buzz/cn/@nutboxs/nutbox--y-combinator-of-steem-blockchain-20201016t055718157z
EN |  https://steemit.com/cn/@wherein/nutbox--y-combinator-of-steem--will-coming-soon-20201017t190449041z
KR | https://steemit.com/hive-196917/@ayogom/steem-nutbox-y-combinator
App官网:https://nutbox.io
Nutbox whitepaper:https://docs.nutbox.io
Steem:https://steemit.com/@nutbox
Discord:https://discord.gg/zPkMuGY
Telegram:https://t.me/joinchat/PrBejBh_Grp6lFZEGArDpA
请为我们的见证人 smt-wherein投票:
https://steemconnect.wherein.mobi/sign/account-witness-vote?witness=smt-wherein&approve=1