Steemfest opening drinks night / Day Zero
Finally, the day was here! The day I've waited two years for (was at my first time in SF2 Lisbon but couldn't make Krakow last year 😢) was here.
After spending a couple of days prior to the conference here in Bangkok, I was stoked to finally get this show going again. And to be honest, kind of nervous. Would I know/remember the people? Did I get to know enough people last time that it won't be awkward this time? Etc. I often over think, and today was no exception. (it also didn't help that I already knew that @fredrikaa, the great Norwegian I got to know last time wasn't able to make it this time.. Miss you here bud!)
But then it started, people formed crowds. Some people were moving from one crowd to another trying to meet as many as possible, others being more shy (I guess I'm in the latter category although many see me as the first).
After a while, it was so packed that there was no way of not talking to a lot of people, and the conversations went wonderfully.
Especially memorable were my talks to the following:
@anomadsoul about the state of Steem, what it needs and how to achieve mass adoption. Long story short we seemed pretty in sync about the fact that Steem needs to bring value to a business idea, instead of how a lot of us try to make steem into the business idea by itself. We need more potential killer apps like Splinterlands, who provides exceptional value with Steem serving as a cherry on top. (disclaimer, I'm not trying to put words in his mouth here)
@misslasvegas about, well, everything between heaven and earth. And by that I literally mean from the Irish dish of cabbage and bacon to how youth these days often doubt themselves even though they have exceptional talents and ideas. (your daughters boyfriend really needs to get his idea going!)
@fitinfun who shared her moving story about her journey which is already well documented on her blog if anyone wants to check it out. The level of honesty and vulnerability she dared to show to a fellow steemian is incredible. The story felt close to heart, as I have a mother myself who has struggled with obesity for large parts of her life and I've seen the misery it brought her. I'm so glad you're healthy and bringing value to the world, Sharon! Never stop doing you.
And one last mention in this post that impressed me was the enthusiasm and go-getter attitude from @vandining when she went around pitching her and her father's project Waivio (https://waiviodev.com/). And also, the fact that you're a nursing student with this as a hobby/part time project astounds me, I would have taken you for a business/marketing/tech person any day, and you obviously are!
There's little in this world that inspires me more than seeing someone's fire in their eyes when explaining how their project will solve real problems.
So kudos to you for that! Looking forward to hearing the presentation tomorrow.
I'll take some self criticism about forgetting to take pictures, so I'm sorry that the only picture in the post is one of me and the big Buddha. In my defense, the drinks were definitely flowing last night.. (I'll be better)
And as a plus! I rang all the bells at the temples hoping for a prosperous time ahead for us all ❤️
Steem on!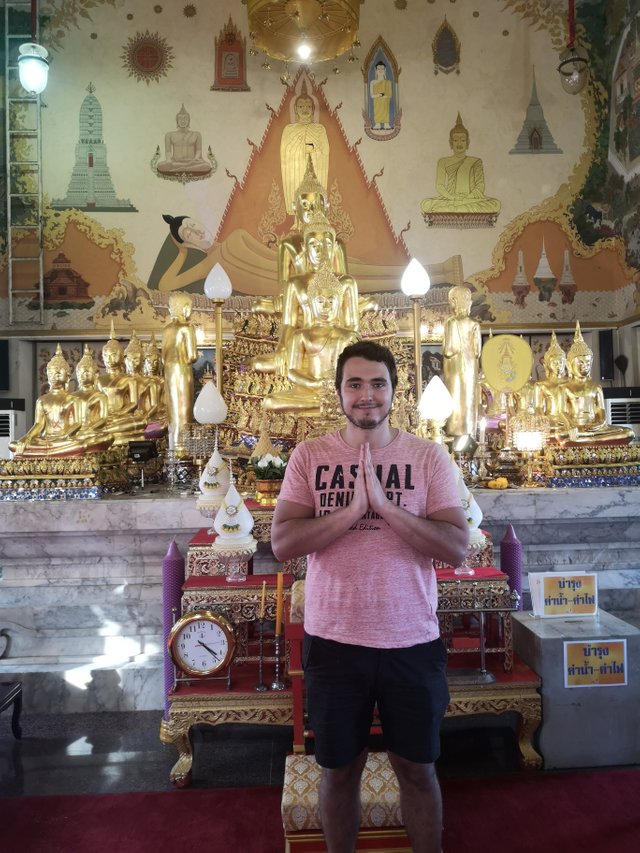 Posted using Deegram @deegramofficial https://www.deegram.com/