The hardest thing in building a community is to make people do something for it. You kind have a lot of ideas and most people see them great, but there isn't so much action if you don't give them enough return. Talking about a community like @dcooperation , I'm working on it almost 2 years without seeing a big progress. Even with not upvoting myself and powering up all the earning. Our upvote now is about $0.14 and I'm trying to distribute that power among as much steemians as I can. I invested my own money and time in this and keep believing that the project will grow !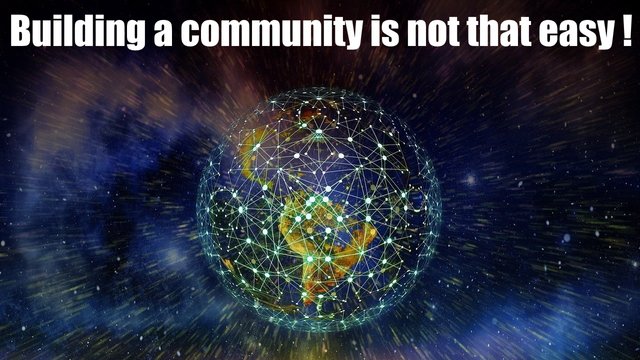 source
Of course it's much easier to build a big community in steem if you have a lot of steem power. But, that's not that challenging. When you have low steem power you try to make everything perfect. You try to care about every single member and treat him/her very well. You do almost everything to make the community noticed somehow. You work much harder. You look for the most powerful people to help you in that. It's like building a little government from the scratch and that's how I see it.

source
To build a community, you need to have all the characteristics of a real leader. Especially patience ! The patience to keep going. The patience to keep believing maybe in magic to happen. lol The patience with people and what they want from you. And of course the patience to protect the community from abusers.
I'm facing that every single day and maybe that's the reason why I'm always sober !

That's me. lol
When I'm sober, I always think. The only time when I stop thinking is when I sleep. My head is working all the time and sometimes I even have dreams about steem and @dcooperation. That's not that easy. I'm kind of relating my life to this little world I'm building. That's why I watch a lot of movies maybe and liten to music sometimes. Just to make my head think about something else. I wish to find people who are like me, who will help me thinking less by building the community with me.
If you can help somehow, please join our discord server and contact me !

You can follow me in all these social media and let me know in the comments, how can I find you to follow :
---
Facebook group , Twitter, Quora, Reddit, Youtube, Instagram, TikTok , Medium, lbry
I'm promoting steem in all of them. Let's connect there and promote it together !
I'm also the founder of @dcooperation , the community where we collaborate. You're welcome to join us in our discrod server.
Here is the community in beta.steemit, you can subscribe and post in it : https://beta.steemit.com/trending/hive-177976 . We are giving autoupvotes for that !
Check here what else I do to promote steem : The efforts I do to promote steem !