DASH Reddit Censorship and Some Thoughts
I wanted to talk about some of the censoring going on in the #dash subreddit. Yesterday I pointed out the fact that the reddit user Basilpop, aka Macrochip whose real name is David decided to make the moderator logs private. I tried to explain to other reddit users exactly why he did this, (it was because I called him out a month previously on some questionable moderating he enforced), and for that I was banned from participating in the subreddit.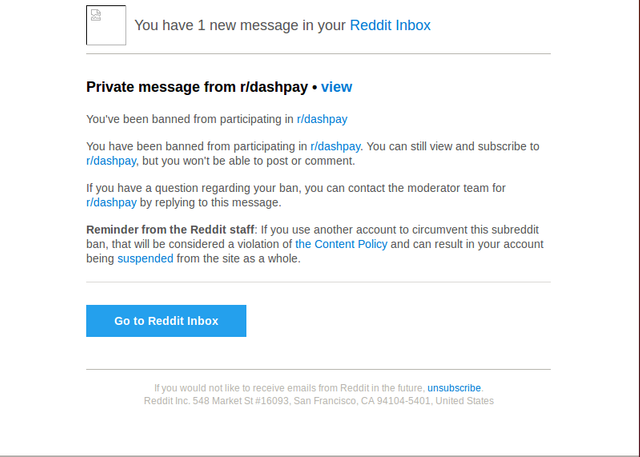 I was heavily involved in DASH from March 2014 to end of 2016. I volunteered a lot of my time to the project and I never asked for anything. I know a lot of the people involved and have seen DASH grow from nothing to what it is today. But I believe what people from the outside are seeing is an illusion.
DASH governance has some major issues and is highly centralized. It is not a solution to the governance problem Bitcoin faces. It is a way for large DASH holders to get more DASH. The entire DASH system is set up so early adopters and people who participated in the instant mine will continue to get more DASH. DASH Was once a promising project which focused on anonymity and governance. The creator of DASH Evan Duffield probably owns at least 300 masternodes (300,000 DASH) my assumption is that he owns even more. Let's say Evan owns 300 Masternodes that are earning him on average 2 dash each per week. That's 600 Dash per week and 1200 every two weeks (it takes 1000 DASH to run a masternode). The DASH community justifies this by making claims such as, "Evan has put in the work and deserves the money because a highly skilled c++ developer can make at least 100k per year." That's great and all but at the current price per DASH and the possibility Evan holds a large number of masternodes it would be safe to assume he's now a millionaire. You be the judge. Would you want to join a project with a highly questionable launch and a governance system which benefits the people who were part of the questionable launch?