Tonight at 6:30 pm we welcome you to another edition of our Private Key meetup. This time it will take place at Café Hubraum, Winterfeldtstraße 21 in Berlin Schöneberg. Thanks to Flora, Tim and everyone at Hubraum for letting us use their awesome venue!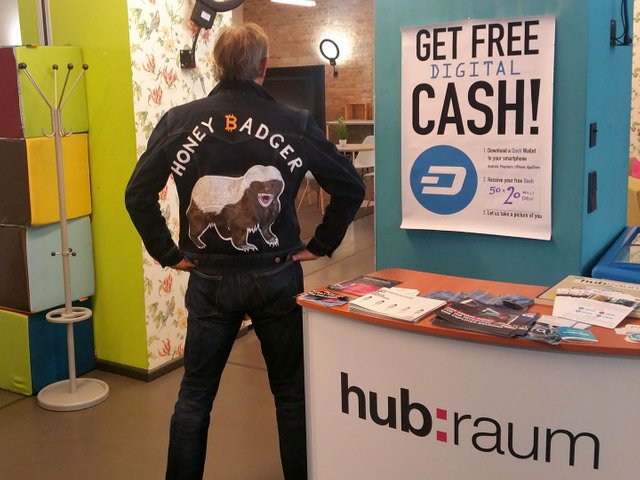 Picture by Flora Wießner
All talks will be in German. But even if you haven't learned the language of the "poets and thinkers" yet, please come anyway. You can meet other people who are interested in cryptocoins, ask questions, trade good hard cryptocurrency for virtual paper money and
GET DIGITAL CASH FOR FREE!
The first 50 people will get 20 MilliDash (= 0.02 Dash, that's about 6.60 USD today) for free. You need a Dash wallet on your mobile phone, which you can download for free at Apple's App Store (for iOS) or Google's Playstore (for Android). The only condition is that you let us take a picture of you holding your Dash wallet with the newly owned Dash and give us and the Dash Force team permission to use this picture.
Jan Meyer from Dash Force Germany will give an introductory talk about Dash and explain the differences between Dash and Bitcoin. Moritz Bierling from Neufund will talk about the challenge to set up an ICO in Germany. And I will present my new book Cryptocoins - Investing in Digital Currencies.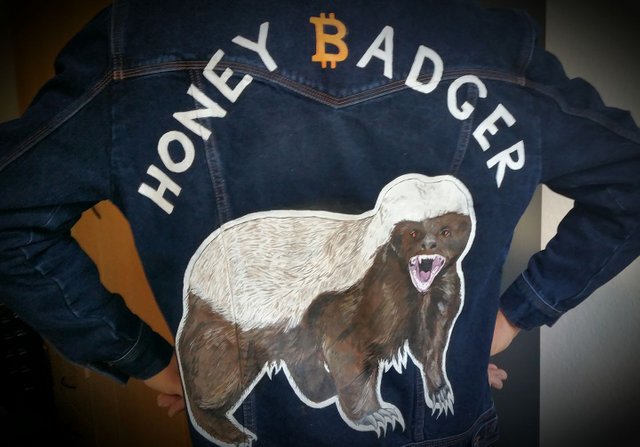 Picture by Andrea Koenig
By the way, the picture on my jacket is a honey badger, Bitcoin's notorious mascot. It was hand-painted by Fabiola from 42denim. If you like it, you can order one from her by sending an email to [email protected]