Dear dance lovers
Please support us by joining https://Donatelloclub.eu.
This online dance event has been running for over a year.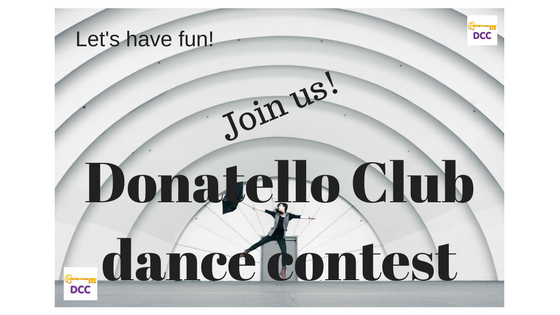 Please support the dance contest as much as you can.
Who has supported the dance contest: @the21plus, @enginewitty (the only witness who has supported this contest so far), @alfredmusic, @lizbetcontreras, @dinaluna and others.
This week there were three entries only and I'm happy with that.
When you upload your video on YouTube and you receive this message: "Due to a copyright claim, your YouTube video has been blocked in some countries. This means that your video is still up on YouTube, but people in some countries may not be able to watch it", please don't share it because I won't be able to view it.
A big thank you to the participants for sharing their videos. There were only three entries this week and I'm happy with that.
These are the entries in order from the earliest to the latest submission.
Dance contest week 58 will run from 12/09/18 to 17/09/18
Feel free to share your dance video.
These will be the prizes for dance contest week 58:
The 1st place wins 2 STEEM.
The 2nd place wins 1 STEEM.
The 3rd place wins 1 STEEM.
There are no participation prizes unless there are less than five entries.
How to enter:
You must be at least 16 or older to enter this dance contest.
You have to post your dance video by Monday 17/09/18 but the sooner the better.
Dance videos should be at least 45 seconds long. Promo videos which don't qualify for prizes can be of any length.
Write a post along with your dance video and a description.
The title must contain "Dance contest week 58" and use "donatelloclubdigitalcard" as one of the tags. Don't forget to add your post Url below here as a comment.
There must be at least five entries for the winners to be selected.
Upvote this post!