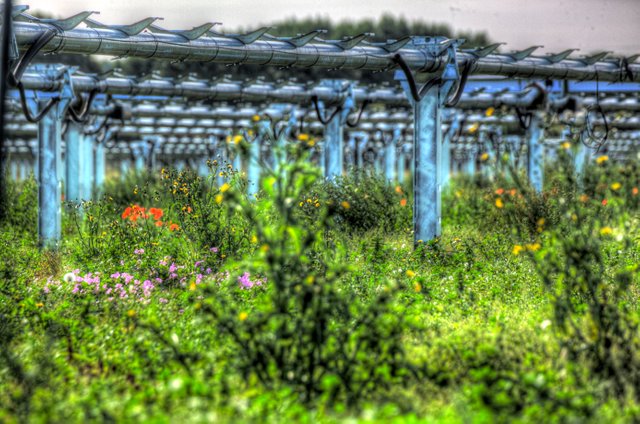 You create your own reality and you do so because the thoughts that you are thinking cause you to emanate a vibrational frequency that the Law of Attraction is constantly responding to. And so, in all waking moments, you are creating your own point of attraction and everything that you experience is coming to you because of your vibrational emanation and the response of Law of Attraction to that vibration. It is as if you are standing on a sort of spinning vibrational disc and only things of the same vibration can join you on your disc. Your disc changes depending upon the thoughts that you are thinking and the emotions that you are feeling.
--- ⒶⒷⓇⒶⒽⒶⓂ
Excerpted from the book "Co-creating at Its Best: A Conversation Between Master Teachers".
Abraham is the name given to a non-physical collective consciousness which speaks through a woman called Esther Hicks
http://www.abraham-hicks.com
---
In the photo:
Even on a solar construction site, there is always beauty to be found. Yorkshire 2019
--- click on the image to see it full screen ---

WHY DO I POST THE WORDS OF ABRAHAM EVERY DAY?
Since I started reading them each morning I have been able to change the way I think and five years on I am able to manifest exactly what I desire in my life using the Law of Attraction. By reading these words on a daily basis, you can achieve this too 🙏🏻
I made this time-lapse film so that others may feel my passion...
Here are two posts which will be helpful if you would like to learn more about Law of Attraction:
What is Law of Attraction
How to practice Law of Attraction