GESC Thailand SEA Qualifiers Best of 5 | TNC Versus FNATIC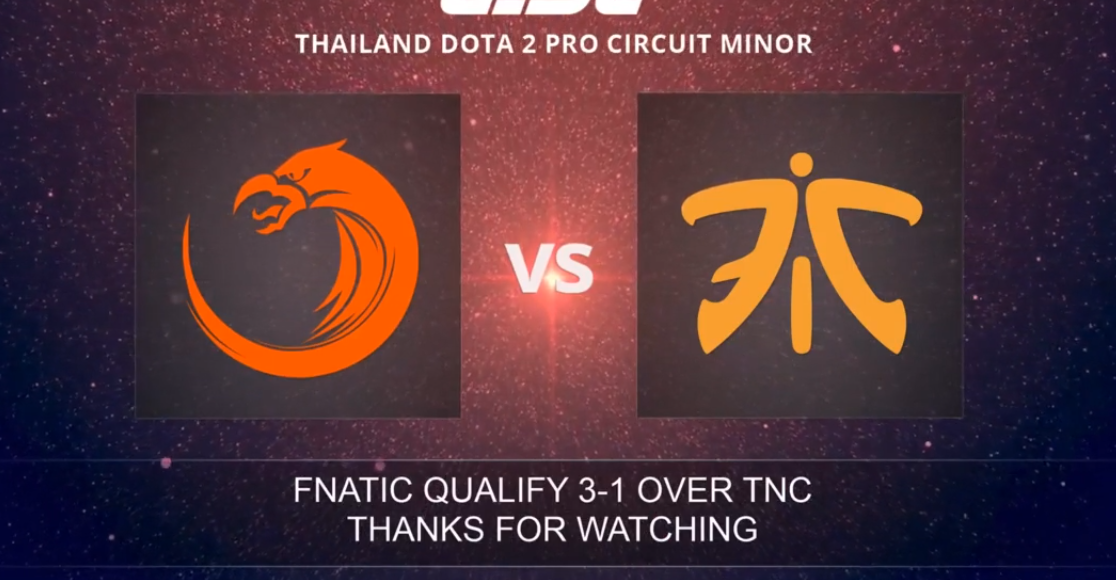 Coming into this game, TNC has had quick finishes of the lesser known teams in SEA while FNATIC has had long games and even game 3s with the other SEA teams. Looking into this TNC looks to be the favorite. This is a best of 5 series.
Because the most recent qualifiers are the last ones GESC, ESL One Birmingham and MDL Changsa Major and SuperMajor every body wants to qualify now even minor ones with the BIG Teams such as VP opting to opt out of some of the major tournaments for a breather as they are now sitting on a comfortable DPC points and are assured of a TI invite.
Drafting :
Pieliedie is surprisingly the one drafting for the side of Fnatic instead of EE, Kuku is the one drafting for TNC
THE LINE UP.
Game 1 :
It was an even game in the laning stage and although it looks that TNC were ahead, it always looked that FNATIC was in control of the game.
It was clear that the Shadowfiend last pick was one of the key reasons why TNC lost this, even with euls in the early stages it was not useful against the chain lock combos of FNATIC and eventually may have cost them the fight.
---
Game 2 :
TNC Bans | TNC Picks
Beastmaster | Leshrac
Tiny | Earth Spirit
Sand King | Tidehunter
Oracle | Outworld Devourer
Visage | Lycan
Fnatic Bans | Fnatic Picks
Nyx Assassin | Terrorblade
Gyrocopter | Clockwerk
Tuskar | Warlock
Batrider | Puck
Dark Seer | Viper
Overall back and forth and exciting fights. Gotta commend on Kuku's insane warding and de-warding skills on this game. Two roshans were taken by the TNC the first one was exciting and DJ tried to get a hook shot but sat on the Observer ward by TNC and got sacked securing the first Roshan, the 2nd Roshan however was a free one when a team fight leaned in TNC favor after a sacrificial 4 man magnetize and then followed up by a force staff to Ravage combo by Sam_H around the 32 minute mark and then it was a march towards the base and around 5 minutes after that it was GG. As usual EE is unspectacular even with on his Terrorblade hero.
---
Game 3
Fnatic Bans | Fnatic Picks
Gyrocopter | Sandking
Leshrac | Warlock
Nyx Assasin | Dragon Knight
Razor |Dark Seer
Lycan |Phantom Lancer
Tidehunter
TNC Bans | TNC Picks
Beastmaster | Tiny
Tuskar | Rubick
Death Prophet | Dark Willow
Outworld Devourer | Juggernaut
Underworld | Batrider
Naix
15 Minutes in and its still a pretty even game with a less than 1k lead for FNATC but a notable event is EE dying twice at the bottom and the second one he was solo killed by Sam_H. Very underperforming but they have Universe who has been pretty farmed on the side of Fnatic who was able to secure the 1st blood in the beginning of the game and has had lots of money go his way onwards dying only once.
With Raven dying in front of Roshan and then Dying again on the bottom lane it led to a push down bottom and the destruction of TNC's barracks and a massive swing of 13k around 26 minutes in lead after the push and now Envy is sitting at the top of the net worth and then one last winning team fight for FNATIC ended on TNC tapping out a few seconds before the 30 minute mark.
---
Game 4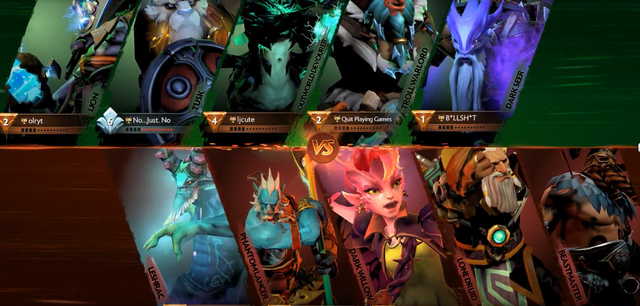 TNC Bans | TNC Picks
Warlock | Outworld Devourer
Sand King | Tusk
Death Prophet | Lion
Davion Knight | Troll Warlord
Terrorblade | Dark Seer
Broodmother
Fnatic Bans | Fnatic Picks
Nyx Assasin | Leshrac
Gyrocopter | Beastmaster
Earth Spirit | Dark Willow
Tidehunter |Phantom Lancer
Underlord | Lone Druid
Doom
From the drafting phase to begin with it did not look to be a good match for TNC and that was the story, Abed has got his PL and Lone Druid for EE and DJ on the dark willow. The last pic Dark Seer did prove to be a costly mistake and even though the Troll Warlord had farmed quite well it still led to a slow but sure win for FNATIC in the end.
---


source
With a 3-1 Score. FNATIC will be the SEA representative for the GESC Thailand and will have the chance to score some DPC points for the SEA region.