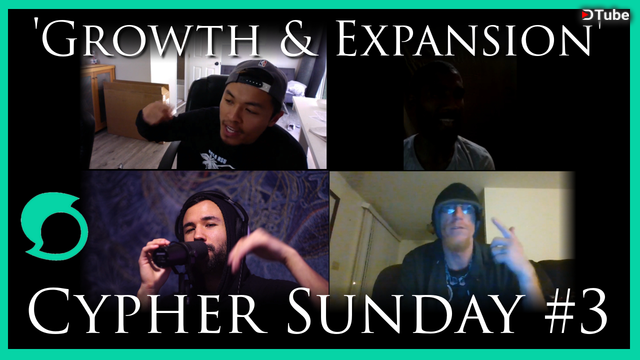 ---
Steemit Cypher #3 - 'Growth & Expansion' is here! Shoutout to all the artists who collaborated on this one!
@riggsyfort, @redfallin, @yakuhi, @voyceatlas, and myself all brought it this week to create an original song between Steemians around our globe!
The Steemit Cypher Sunday is a community initiative to promote positivity through hiphop and the Steem blockchain by combining forces with emcees and producers on Steemit. Each emcee writes and records 8 bars of positivity with a common theme, and then at the end of the round I combine all the audio and video together into one cohesive song and music video!
The aim with this cypher challenge is to build up our skills and share our unique perspectives. We use this as an opportunity to uplift, inspire, and create a better world. Words are vibration, and these vibrations affect physical matter, so the more we speak truth, the more truth we will see in the world.
Each round has a new theme, and this week our topic was "Growth & Expansion"
Check out the lyrics below!
---
"Growth & Expansion"
@riggsyfort
Go ahead and speak to em tell em now that it's church
I've been seeking from the moment Poppa had to leave the earth
Cause death can be death --- but bring life to your soul
So you fight for the right to let your life to unfold
Owning every moment solitude turns gold
Concentrate the focus --- now it's almost set to blow
Sit tight grab hold, push the limits - live bold
When that dynamite ignites it's a sight to behold
@redfallin
I'm about tha growth,
I'm about the expansion,
I'm about expanding,
This growing nature called, tha heart.
First off. Ones dome is not your home,
Bodies full grown, but children rule mentally.
Moment is now. For creation of spacing,
Dismantling the illusion brains has created.
Stay humble happy and compassionate,
Shining or fading away into tha darkness.
@bryandivisions
Shout out to my homie Voyce Atlas,
always expanding, got that magic.
Gotta put it right there through the beat,
got me grounded on this earth right beneath my feet, yo,
And I feel like I'm always expanding,
feeling like a UFO crash landin,
deep inside this earth long time ago,
old soul, yeah, always gotta expand my role, yeah
@yakuhi
Overcome, never run
Sight-see until you get the funds
You hear the drums?
The war is on.
Never, ever will I let me down
I try not to slip, I try not to trip
But when I do I always get up
I never let up
See, I'm the only one,
With the power to set me up.
I realize that the strength is in me
The power is we
The power is the fact
that we control this reality
So I stay strong
Though I'm on the ground
I plant my roots deep
And stretch my hands out to catch the sun
---
Stay tuned for Steemit Cypher Sunday #4's submission post!
Thanks again, and please upvote and resteem, as all artists in this cypher will receive an equal payout of the SBD generated from this post!
---
Check out the song on DSound as well!
---