Steemit Cypher Sunday #1 - 'Overcome' - DTube Official Music Video (Collaboration Between 10 Steemians!)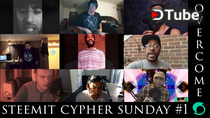 ---
I'm happy to introduce our first ever Steemit Cypher Sunday official collaborative music video, featuring 10 Steemians, exclusively here on DTube!
The Steemit Cypher Sunday is a community initiative to promote positivity through hiphop and the Steem blockchain by combining forces with emcees and producers on Steemit. Each emcee writes and records 8 bars of positivity with a common theme, and then at the end of the week I combine all the audio and video together into one cohesive song and music video! This week's theme was 'Overcome', and you can see here how this brought out a positive mindset and some amazing lyrics!
---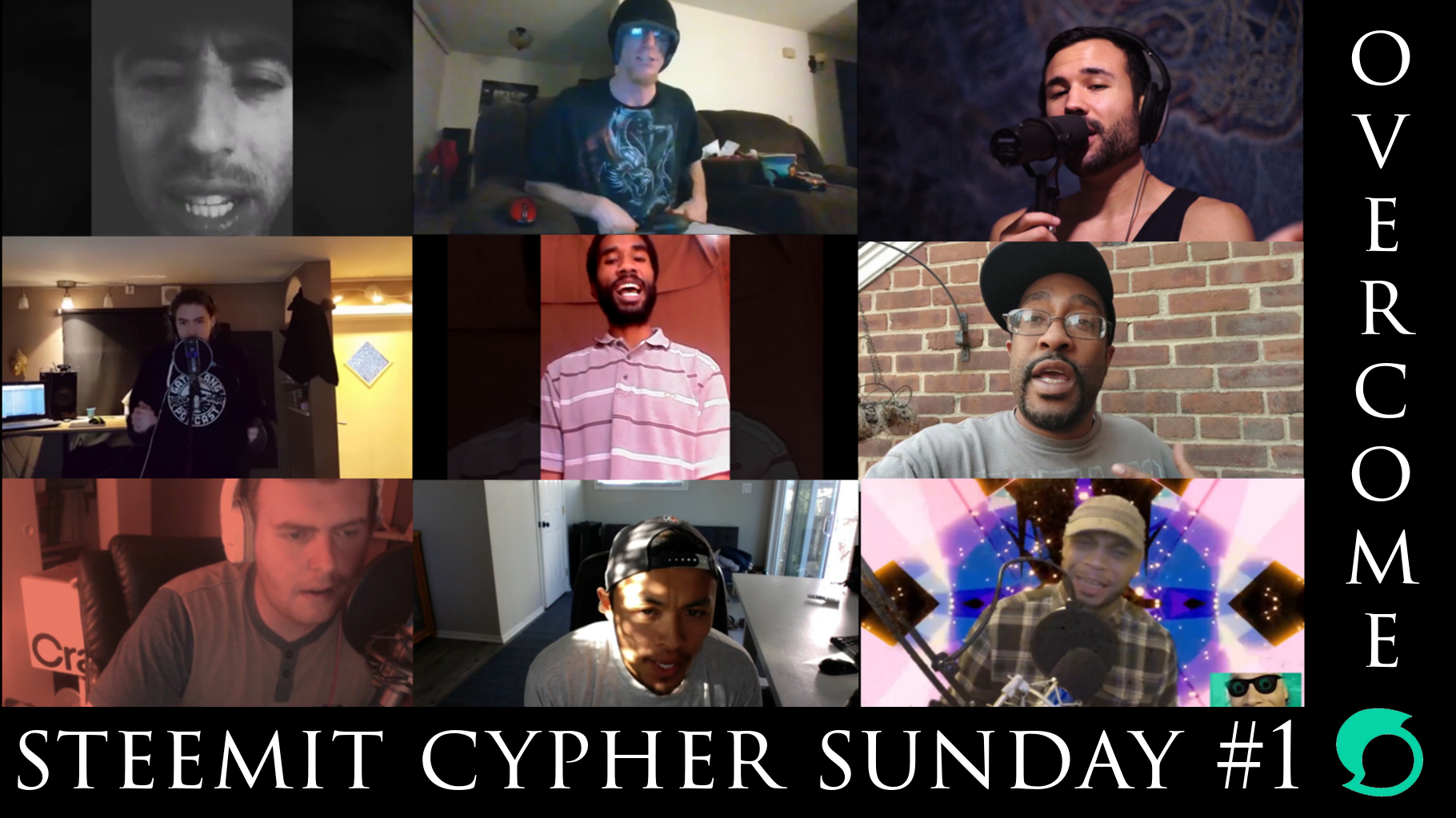 ---
Not only is this a great way to get members in our community collaborating, but through joining this cypher, individuals get to learn skills in regards to recording, being in front of the camera, expressing themselves, and not to mention that all the emcees who participate will get an equal cut of the SBD payout from this post!
That's right! So please upvote and resteem this post to support these artists on the Steem blockchain!
I am truly impressed with how this turned out, especially being the first week!! 9 emcees from around our globe shared their 8 bars of positivity, and were then mashed up together to create this music video!
Go share some share with all the musicians who offered their self expression this week!
Much love to: @burntmd, @privat, @chasegapo, @redsfallin, @yakuhi, @riggsyfort, @alao, @voyceatlas, as well as my brother @themixedhippie who produced this beat!
Thank you all for the support! Check out the lyrics to the cypher below.
---
'Overcome'
@burntmd
I say apprecialove
I say heaven up
I say feelin great
I say motherlover
When i wake up i say great dawning
Who got us to say hell everytime we see eachother anyway?
Good food is medicine
feeling more like myself every day
sick system serving instant gratification
Face it
on an individual basis
there will always be free radicals
we must
Achieve
homeostasis
@privat
Life is but a set of obstacles, needing oxygen
Feeding on each others famine when it's not sudden
Dealing damage if it's possible are we hostages
Feeling Stockholm syndrome begins to blossom up
Got nothing but love but never monotonous
A benevolent octopus never needs to be monogamous
Are we free or just a mental human centipede
Depends to me, if we can transcend our own identities
@chasegapo
Elevate, radiate, create positivity,
are you feeling me?
it's something everyone should do
I'll be the man the one that always comes through,
say you need a helping hand,
well here's my arm,and I'm reaching out to save you,
let's lift each other out the sand,
negativity, me and you we're through
@redsfallin
One can tell ya right now, if ya ain't in this sauce pan gettin' it,
Then you need to invest in reinventing yourself,
You don't ever have to stay the way society,
Told you to be. Just take a look at me,
Paul to R.E.D., mental victim mentality,
To Fearless, lifting tha mic up,
To destroy these blank pages.
@yakuhi
I wake up in the morning while the sun still be rising
See I gotta wake the team up, its time to start the fighting
Take positions on the battlefield, ready all your might and
If you want a slice of this pie then u gotta get to biting
Take your goals off of hold, cus the seconds they be charging
See in this world it's too cold, so the fires we be lighting
We came to take it all, just to share and divide it
And there's nothing that we can't do so never stop reciting!
@riggsyfort
Overcome your obstacles and leave em obsolete
Vibrations valuable - a vision what it needs
Elevate your entity, engaging all truth
Rise above the riptides raging on you
Calibrate control - calculate the spark
Occupy it often - illuminate the dark
Mighty are the movements mapped in your heart
Expending all your energy engrave in your art
@bryandivisions
"I'm a overcome, I'm a never run,
I'm a cast away the darkness like the morning sun,
Let me show you some, of what I've got,
As I'm shinin light through every nefarious plot,
That's against me, I dismantle all that energy,
if it's purely negative, then it will see it's ending
We're ascending, through these higher levels no more devils
in our views only positivity we're sending"
@alao
You got to think out of the box.
Like it or not, I'm all just fighting to stop.
All the usury that usually leads to tom foolery.
They ain't foolin me we ain't stooges B.
I'm just a student trying to make a change.
If life is but a game insight can explain.
Overcome all the lies that keeps us in chains.
Your light can shine bright and ignite your inner flame.
@voyceatlas
Love is greatly overlooked greatly
And all we need is synergy.
So if you feeling me
You seeing we,
Need to give this world a cure.
NO pills or surgery.
Just purge it free from insanity.
Do it for humanity
Not their barbarity.
An ape to a man?
That's supposed to be me?
The hilarity.
No doubt in me, I come from a higher being,
He carried me.
All through space and the galaxy.
---
Be sure to listen and download the full song on DSound!
---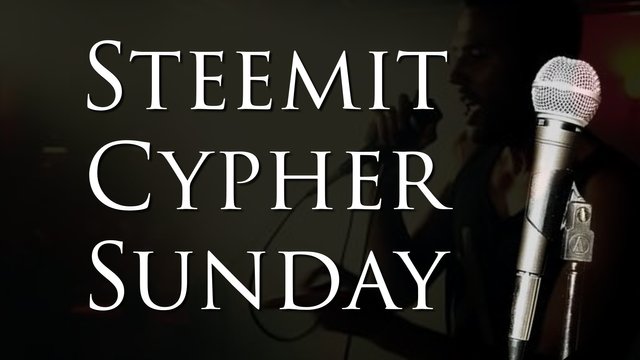 Stay tuned for week 2's submission post!

Thanks again, and please upvote and resteem, as all artists in this cypher will receive an equal payout of the SBD generated from this post!

Much love,
Bryan Divisions
---
▶️ DTube
▶️ IPFS