If you are ever around Astoria, and want to ride your bicycle to Portland without having to deal with much traffic, and instead prefer to enjoy beautiful nature, this is how to do it.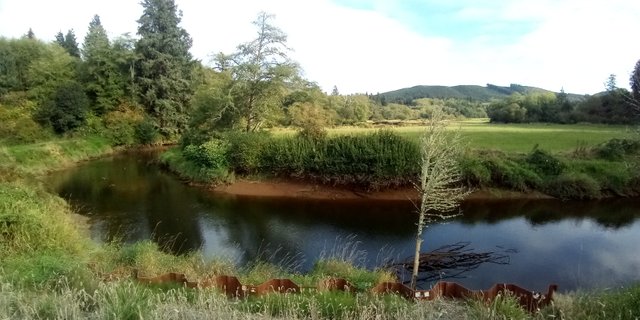 Looking at the map, the two obvious options would have been highways 30 out of Astoria or 26 out of Cannon Beach, just next to Seaside. Both our hosts told us about them, and they had nothing good to say about either road. The former is super busy, the latter has horrible conditions for cycling, including a tunnel and minimal shoulder. Instead, we were told t take the 202 and connect with the 47. That sounded fine, but for the 202 we'd have to ride back to Astoria, and to get to the 47 it would loop up north again after taking us south. In the end we came up with our own route, which ended up working perfectly (for us).
Take a Look at the Steemit World Map:
[//]:# (!steemitworldmap 45.904349 lat -123.393631 long  d3scr)
Leaving on the Lewis and Clark
It was around 4 p.m. when we finally left Seaside. We knew we wouldn't make it too far, but we wanted to complete at least the first leg of the journey to the 202. So we set out on the recommended route between Astoria and Seaside: the Lewis and Clark.
At first we had to complete a two-mile continuous climb to get past the hills just around Seaside, but then it was a pleasant (and fast) ride along pretty foresty and farmy areas, with horses and cows, and hardy any traffic. Just before reaching the historic locations of Fort Clatsop, where the expedition party had their winter camp, we turned onto Logan Road, from there Tucker Creek Lane, and eventually to Youngs River Road heading south. The last road took us on a loop around an oxbow of the river, just past a waterfall that Lewis and Clark had mentioned in their journals. Once we completed the loop, we were just half a mile away from the town of Olney.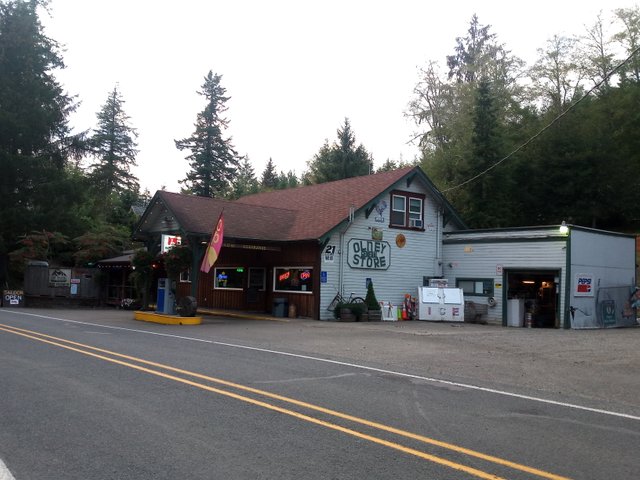 Our goal for that day was only to get to Olney, which we managed in just under two hours. There a little pub/store awaited us, where I rewarded myself with a pint of beer for later, once we had our camp set up for the night.
Staying at Camp Birchtree
The sun was about to set, so as we left Olney we kept our eyes peeled for inviting little spaces where we could spend the night. There were no official campgrounds in the area, but just about four miles past Olney we came across a little road leading up into the woods. Stealthily we went to check it out, and discovered a beautifully hidden nook where a group of birch trees gave us plenty of cover from all sides.
Public Road and Private Property
Admittedly, the land we camped on that night was most likely someone's "private property" as the Clatsop State Forest was still a few more miles down the road. But there was nobody there using the land at that moment, nor anywhere in the vicinity. And we made sure to respect the land, including the plants and animals living on it, the water and the soil forming part of it, and sure... even the person who used the law to attach their name to it. So it's not like we don't believe in the concept of private property, we just chose to disregard it for the night. Not having seen any No Trespassing signs also helped a great deal in this, though in the past we had also been undeterred by them. We knew we were right, and this ensured us a comfortable evening and a good night's sleep.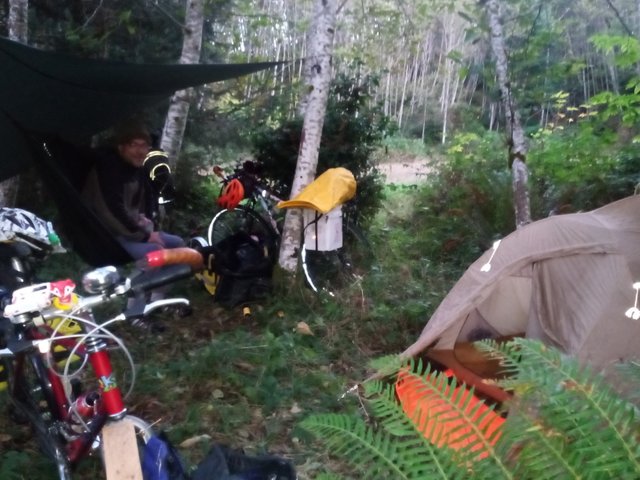 Taking the Scenic Short-cut
The next morning we set out bright and early, so by 8 a.m. we were on the road heading to Jewel. At first we were confronted with a seven mile climb, offering us a welcome warm-up, before enjoying a similarly long descent into Jewel. We expected a town where we could stop for breakfast, but what we found was a natural reserve, where we could observe Roosevelt elk. Though the animals were too far to get any good shots of them (with my phone), the place had a quaint, pastoral feel about it, with grassy meadows under wide branching trees.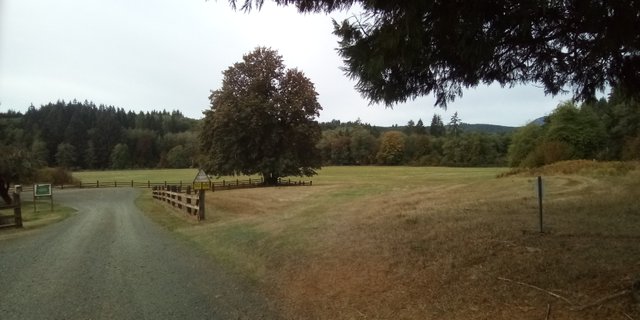 Once we crossed the Nehalem River and were positively past any trace of a town, we decided to leave the 202. Not that it was a bad road, despite the minimal shoulder we barely encountered any traffic, but it would take a northward turn before connecting with highway 47 in Mist. So instead we took Wage Road, a minor side-road leading right into the forest covered hills. Pretty soon the pavement was behind us, and we were on a gravelly logging path with challenging inclines. Following the suggestions of Google, we took Wage Road to Buster Creek Mainline, to Boek Ranch Road, and finally to Boek Ranch Jeep Road. By this time we had climbed up to 1300 feet (400 meters) and were still going higher. Meanwhile the landscape around us alternated between lush forests and disturbing clear-cuts.
Once we were past the highest points, the road turned into a screaming descent on equally gravelly paths. Please note, that this road is not for everyone, and especially not for every bike. Though it feels good thinking back at our achievement, I remember wishing we had stayed on the 202 on several occasions as we were making our way across the mountains.
Back in Civilization
Finally the gravel path called Boek Ranch Jeep Road turned into Keasy Road, and we were on the pavement again. The last few miles into Vernonia flew by, as we were still used to the gradual advance on the logging roads. And this time the town was just that: a cluster of buildings with a few blocks of "main drag", where we came across a cafe someone had recommended. It's Mediterranean place called the Blue House, where they make excellent lamb gyros, and is so bike friendly that you can park your bikes inside. At the moment it was a dream come true.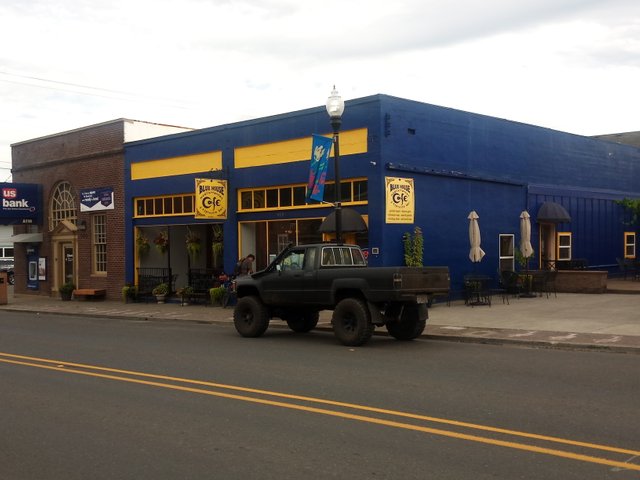 From Vernonia there was a gorgeous bike-trail all the way down to Banks, going very gradually downhill on a converted train-line. The perfect late afternoon ride, after our exhausting morning route. That night we camped at the walk-in campground of the L.L. Stub Memorial State Park. We were the only campers at the entire site, until a troop of boy-scouts arrived. I'd never been happier about first come first serve.
Rolling Into Portland
The next morning we completed the trail into Banks, from where we would have to navigate through the farms and suburbs on the outskirts of Portland. Once again we relied on Google, which worked quite well for the most part, taking us on less traveled roads, bypassing such places as Hillsboro and Aloha. In the end, however, there was no escape from urbanism, as we found ourselves in Beaverton. Nevertheless, Portland honored its fame of a biking city, and there were plenty of bike-lanes, and eventually a proper bike-trail next to the highway 26, which by now had become a major traffic artery with eight lanes and a train line.
Now we were almost there! We only had one more major obstacle to conquer: Washington Park and the Arlington Heights. As the name suggests, this upscale neighborhood has many switchback streets winding past luxurious villas. This is also where the Portland zoo is, so this must be where the Zoobomb Bike Club rolls down on tiny bikes every Sunday, as a friend from Victoria had told me. Though it was bright daylight, and we weren't riding crazy kid's bikes, we enjoyed the downhill ride, straight into downtown. Here we joined the clusters of cyclists commuting through the rush hour... Rush hour on a Saturday? Anyhow, Portland just seems to have lots and lots of bike traffic.
Eventually we made our way across the river to the NorthEast side of town, where an old friend of my riding companion was expecting us. Looking back at the entire trip, Strava recorded 124 miles (200 km) with a cumulative elevation gain of 7460 feet (2274 m). After all of this, I was glad to take it easy for a bit while in Portland, coming back to strenuous climbs at a later point.
If you'd like to read my bike trip in its entirety, check out the rest of my posts in the Cascadia to Aztlan series:
Please check out these great communities I'm contributing to: 

#ecotrain | What is EcoTrain | Discord Community

#cyclefeed | Introducing CycleFeed | Discord Community

Join us on Discord