After San Simeon my pace changed completely. My next warmshower hosts were expecting me in Los Osos (valley of the bears), so I didn't have much to ride that day. Nor did I feel like it, either. The sky was cloudy enough to keep the sun from warming, but worst of all, I had to struggle against this massive headwind, usually reserved for the cyclist touring northward up the coast.
Adopting a Slower Pace
Eventually I arrived and my hosts showered me with a quick bike check-up, laundry, beer, dinner, fun conversations, ... and off course an actual shower. Hearing about my plans to ride to Los Angeles, they told me it was best to wait. Thousand Oaks was up in flames, Malibu was burnt to the ground, and the Pacific Coastal Highway (The One) was to be closed for the next five days.
I would take it easy then, I thought. The 200 miles I had to cover could easily be done in four days, but I had twice as long until Thanksgiving. So I could ride half-days and still get there in time. The next day I wasn't in a rush to get out of there. I indulged in coffee and long talks about religious social manipulation, before I set out around noon to ride to my next stop: Oceano Campgrounds by Pismo Beach, only about 20 miles further, as recommended by Tom and Vicky's book.
Better Than Campgrounds
The ride was mostly uneventful, passing by the typical: fields of monoculture interchanged by holiday-beach-towns. But I was looking forward to arriving in the early afternoon, taking a swim in the ocean, and maybe enjoying some sun in front of my tent... not to mention the shower. At the gate I was greeted by an incredulous ranger / park attendant: "A hiker-biker site? We haven't had that in years! If you wanna camp here it's $25 a night."
That settled it. I was going to stay at mom's house once again that night. But where? I left the beach-town and entered the vast expanse of monocrops, toward the next town of Guadelupe. Certainly, finding an ideal spot to bush-camp was easier in the northern forests. Oh Cascadia, how I've come to miss you!
Always a Room in Mom's House
Finally I found something promising on the map: Just south of a recreational area for dune-buggies was the Lake Oso Flaco (skinny bear) a small freshwater lake, with a stream flowing right into the ocean. More importantly, there was  a little park around it, some type of wilderness refuge. Perfect! Here I could be a wilderness refugee, at least for a night.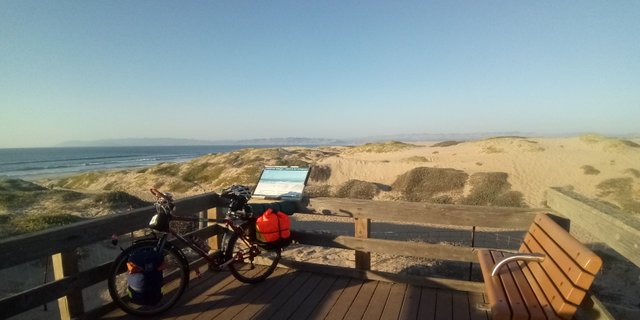 Riding out to the park took me several miles away from the highway, riding along more fields of industrial agriculture. But as soon as I entered the park, I was surrounded by trees and bushes again. The trail turned into an elevated boardwalk, leading all the way out to the shore. At the end there was even a little viewing platform, where I locked my bike, put on my swimming shorts, and took a dip in the ocean. This would beautifully make up for a lack of a shower.
Film People at Work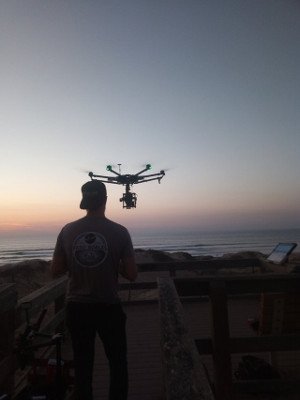 As I came back from my brief swim, I noticed I was getting company: a small film crew was shooting a commercial for a bank, featuring the sunset, the beach, a box of wine, and a couple of actors from
The Melodrama
, a local performing arts theater, I had noticed in Oceano. Most impressively, they had some pretty sweet equipment, including a camera on a drone, to capture the best shots.
I used the last rays of the setting sun to dry off, while observing these focused professionals, then packed up my stuff, and headed back towards the dunes. There was a bit of a trail I'd seen, which looked inviting enough to find a place for the night. And indeed, just a couple of bushes past the boardwalk, and only another few ones before the dunes, there was a little trench. During the rainy season it may actually carry water, but at that moment all it had was dry bushes growing in the sand. A perfect shelter from the wind and curious eyes. 
Short Rides, Long(er) Stays
The next morning I packed up my stuff and went to look for a place to have coffee. Not that I hadn't had my morning cup, before anything else, but I wanted to sit down for an hour or so, and catch up on my travel stories. So I rode into the nearby town of Guadalupe, where a small city park with picnic-tables offered the perfect setting. I could even dry out my tent, which was still a bit dewy from the night. Fortunately my devices were still well charged. Once my blog entry was written, all I needed was a place with WiFi where I could post.
This I could do in the next town of Santa Maria, before moving on to the last ride of the day, over the Harris Grade Road into Lompoc, where I was going to stay at the river campground. I didn't mind undertaking another bigger hill, as the day's ride had offered little more than plain fields and complete flatness. In Guadalupe I decided to take the wide-shouldered 166 into Santa Maria rather than staying on the One. Then took the 135 out of town, paralleling the One. Continuing along the coast was not an option, because they had to put an airforce base in the way.
The climb wasn't too bad in the end, and Lompoc turned out to be closer than anticipated. So I bought some groceries and rode out to the river camp, just before sunset. There was no water in the river, but they would have some showers, at least in the daytime, according to Tom and Vicky.
No Tents at the Campground!
There may have been showers for registered campers there, but since I could not become one with only I tent, I didn't even pursue it. Instead I accepted that I'd be staying in mom's house again that night. No problem with that, except for by now I really would have needed a shower. Also, I had to find a good spot before darkness descended, but where, oh where? My eyes noticed the large area of green on my map: La Purisima Mission Park. At the mission they surely wouldn't turn me away (as long as they didn't notice my presence, of course). 
Arriving at the park I noticed the opening hours: 8 a.m. to 5 p.m. Wonderful, I still had twenty minutes before they closed. I rode past a couple on their way out, and within minutes I had found another perfect spot: hidden under a tree and behind bushes, on an area of flat, soft ground. 
The Previous Day Repeated
The next day was very similar to the one before, except for I didn't even leave the park for my morning blogging. Some people strolled by, we said hi, and they all remarked how cold the night had been. Really? Was there an implied hint in their remark? In any case, nobody gave me a hard time.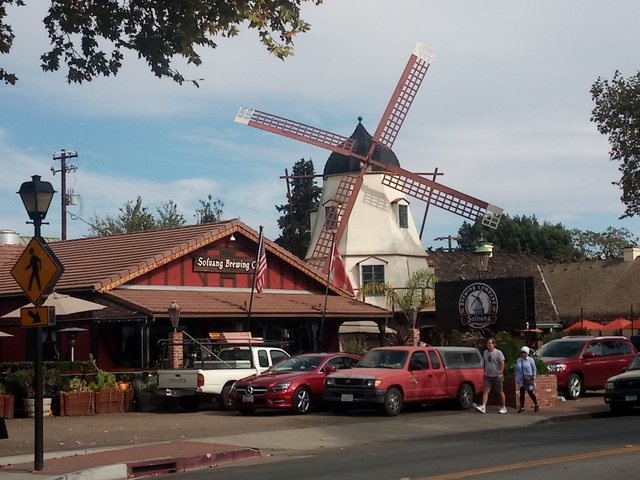 I published my post in Buellton, stopped for lunch in the Danish town of Solvang, then rode on to Lake Cachuma, where I was going to camp. Once again, an easy ride on country roads 246 and 154, usually with a decent shoulder. It was only the last part climbing to the lake that the highway became uncomfortably busy as I was riding on a virtually non-existent shoulder.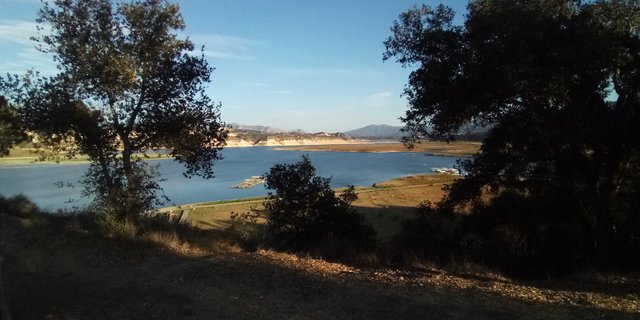 For once I was not turned away at the campground. The hiker-biker site cost only five bucks, and I even met a fellow touring cyclist. That afternoon I went exploring the campground by bike, as it was so humongous. It had everything, from yurts to an outdoor theater, all surrounded by picturesque spots overlooking the lake. The water was off limits, though, as it supplied the drinking water for Santa Barbara. Most importantly, I could finally enjoy the luxury of a COLD shower. Something must have been broken, as I payed four quarters for three minutes, but still it was a very welcome refreshment.
One Last Climb
The last major hill followed after Lake Cachuma, on the way to Santa Barbara. Climbing from 700 to 2200 feet (213 to 670 meters) was bigger than Legget Hill, so I wanted to get it out of the way early on. It wasn't even that bad, and I reached Santa Barbara by lunchtime. From here it would be easy cruising all the way to L.A. But I didn't even have to go that far, as I had a warmshower host lined up in Ventura. This time I'd be staying at a cafe.
If you'd like to read my bike trip in its entirety, check out the rest of my posts in the Cascadia to Aztlan series:
Please check out these great communities I'm contributing to: 

#ecotrain | What is EcoTrain | Discord Community

#cyclefeed | Introducing CycleFeed | Discord Community

Join us on Discord