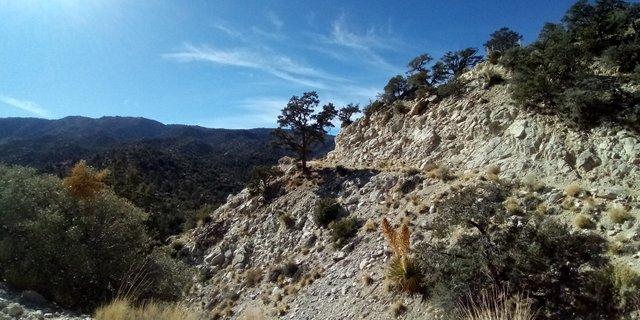 After a couple of Thanksgiving dinners (the official one, and the subsequent turkey dinners, lunches, and breakfasts) that could not be beat, I got ready to complete my journey to the Mexican border. Not that I wanted to cross it, by any means. For one thing, I had a flight home from L.A. Also, I heard rumors that Trump wanted to close the border, giving reason to worry to my cycling friends on the way to Fireland. No, all I wanted to do was vist Rishi's property, and on the way stop by two interesting places: Garth's Boulder Garden in Rimrock, and the ecological disaster area of Salton Sea.
Another Day of Crossing the City
Los Angeles is vast. Not the city itself, which is of decent proportions, or at least that's the impression I got staying at Rish's in the neighborhood of West Lake. It's all the surrounding cities, grown together into a seemingly infinite expanse of shopping malls, golf courses, residential areas, mini-malls, gated neighborhoods, etc. The signs are mostly en español, más que en inglés, and the marginal "green" areas are in fact dusty, sandy riverbeds, without any water.
Once again, it took me an entire day to make my way from downtown Los Angeles to the outer edge of the urban sprawl, this time on the eastern extreme. I had a warmshower host lined up in the town of Redlands, which was super fortunate, as I couldn't imagine looking for a space to camp in this mega city. The couple who hosted me were awesome (as warmshower hosts usually tend to be). We looked at possible routes for the place I was going, including Youtube videos people have posted about the trail. It looked like it was gonna be an adventure: I'd be climbing higher than anywhere before on my trip, camp in lower temperatures than anywhere before, and ride over a trail that truly can be called bone-shaking. I was stoked!
A Full Day of Uphill Riding
I set out early the next morning, after a hearty breakfast, and my host was so kind (and so eager to set me on the right road) that he rode out with me to the ranger station on highway 38, going up to Big Bear. We completed a few good miles together, all up-hill. It was not very steep, but it was clear: I'd be doing the same thing all day...! No downhill rewards until the next day.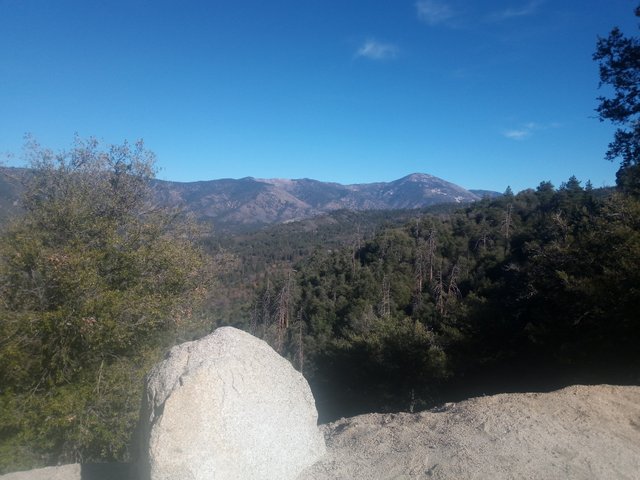 The weather was gorgeous, of course. No cloud in the sky, as you'd expect from Southern California, but on occasion it would get a bit nippy when the wind picked up. Good thing I'd be working out all day. 
The last reliable place for water was the restaurant in Angelus Oaks, where I thought about rewarding myself with a coffee. As my climb continued, the intended coffee turned into a frappe, then into a beer ... but fortunately I arrived before it had a chance to turn into a whole meal. However, in the end all I did was fill up on water, since the place had no WiFi. So what was I gonna do while enjoying my reward?
I pushed on, and as I kept pedaling further and further uphill, I was thinking about the previous hills I had crossed: the climb after Big Sur: 958 feet (292m), Leggett hill: 1889 feet (576m), the one between Lake Cachuma and Santa Barbara: 2188 feet (667m), Bald Hill mountain coming out of the Klamath Valley: 3166 feet (965m), and Grayback Mountain where we entered California: 4793 feet (1461m). But eventually I had surpassed all of these elevations, and continued my uphill climb. Six thousand feet, seven thousand, I passed eight thousand, and still kept going further up. I realized, I was further up than the 7200 feet (2200m) where I live in Mexico City.
A Good Sleep in a Cold Night
Finally, at 8451 feet (2576m) I reached the pass. It was three in the afternoon, and I enjoyed a pear in the last bit of horizontal sunshine, before it went down behind the mountains. I put on my jacket and got ready for the temperature drop, which was imminent. Riding downhill didn't help much either. No, this day was done, I just had to find a place to camp.
Check out the place on SteemitWorldMap:
[//]:# (!steemitworldmap 34.208034 lat -116.730033 long  d3scr)
I only had to ride a few miles before reaching Broom Flats Road a.k.a. FS2N01. This would take me to Burns Canyon Road, or FS2N02, leading straight into Rimrock. The winding dirt road led me away from the highway, where I felt comfortable setting up my tent. Of course, this was National Forest land, so I didn't have to hide.
Good Providence was once again generous enough to offer me a big pile of leaves right next to a flat area, where I could pitch my tent. After overcoming my after-ride catatonia (being tired, sweaty, and more importantly COLD can be truly debilitating) I made a realization: It was only about 4 p.m. and it was only gonna get colder! In this altitude in late November it was easily going to be freezing at night, never mind that we're in SouthCal. I knew I had pretty decent gear, but was it gonna be enough for such a night?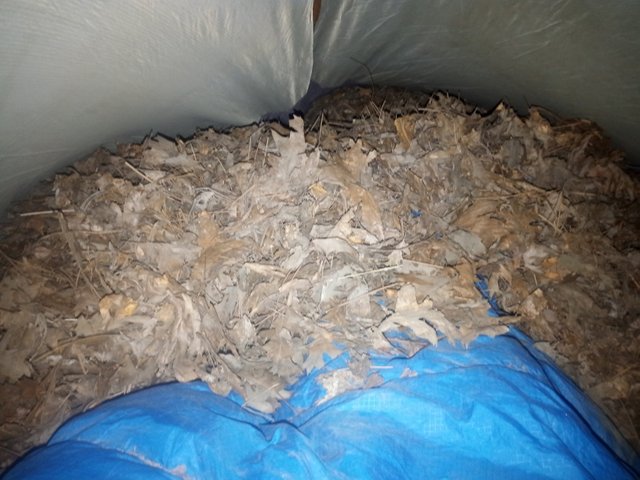 Before thinking too much about it, I started packing my tent full of leaves. Why else would I be offered such a big pile? It did the trick. Once the tent was full, I pushed my sleeping-bag right into the leaves, and snuggled into it. The night was crisp and cold, but I slept like a baby. Of course, the next morning I had to beat the dust out of my gear, but it sure was worth it.
A Day of Off-Roading
I was not in a hurry to leave my cozy tent in the morning, heating water for my coffee while still in my sleeping-bag. Once the sun had made it around the surrounding hills, I crawled out, and got ready for my downhill ride.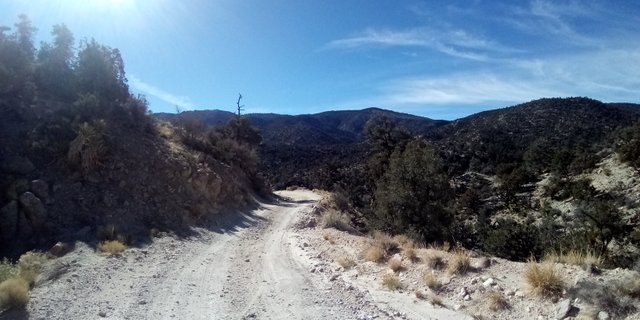 The road was as adventurous as predicted: lots of sticks and stones, roots and ruts, with the occasional baby-head boulder. All this was doable, though a bit tiring, both for me and for my bike, and at one point I was forced to stop, pick up my broken chain, and mess around with my pliers and chain-braker to get us mobile again. The trail was scenic, for sure, even though I didn't have much opportunity to marvel in the view, as the trail demanded all my attention. I was hoping Burns Canyon Road would be a bit better.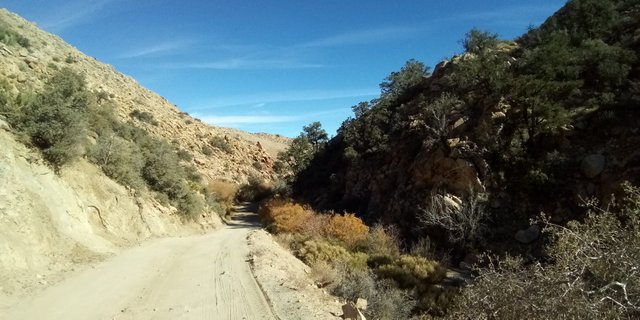 It wasn't! It had just as many roots and rocks, and what's worse: sand! This was when I decided against recommending this trail to other cyclists. Unless you rock a proper mountain bike with super-fat tires that can handle deep sand, you're in for a bit of frustration, and possible delays due to trail-side bike repairs. I was glad I didn't get problems I could not fix, including bodily harm. Okay, my pump-rack broke, but that's a price I'm willing to pay for taking such an extreme route.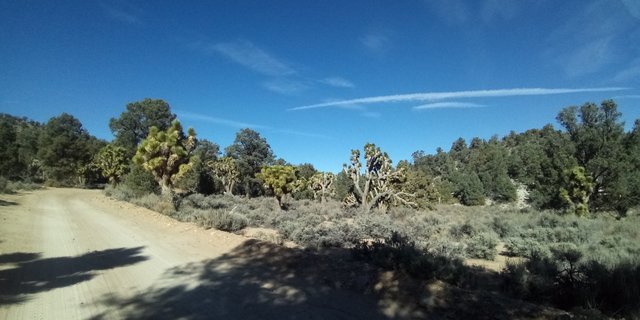 Gradually the various pines made way for Joshua-trees, and soon even these weird cactus-palms became scarce. The mountain forest had changed into desert. It was one o'clock when I made it into Rimrock. Now I only had to get to Garth's community... easier said than done: all the streets in Rimrock were the same sand pits I had ridden through that morning. And riding uphill in the sand is way more exhausting... so it's hardly a surprise that by the time I arrived, it was close to 2:30. Never mind, I was there: the place I had wanted to see!
If you'd like to read my bike trip in its entirety, check out the rest of my posts in the Cascadia to Aztlan series:
Please check out these great communities I'm contributing to: 

#ecotrain | What is EcoTrain | Discord Community

#cyclefeed | Introducing CycleFeed | Discord Community

Join us on Discord