About seven years ago I met this guy Attila in Budapest. Born to Hungarian parents, he grew up in California, and came to Hungary a couple of yeas back. We were organizing intro-weekends to Permaculture, and he had a lot to contribute, as he was an avid natural builder, with quite a bit of interesting experience. One of the projects he kept sharing photos and stories of, was an off-grid building he helped construct in the Californian desert. The house was built on top of a rock, and looked like a giant boulder itself. He said we were welcome to visit to check it out, and stay as long as we liked.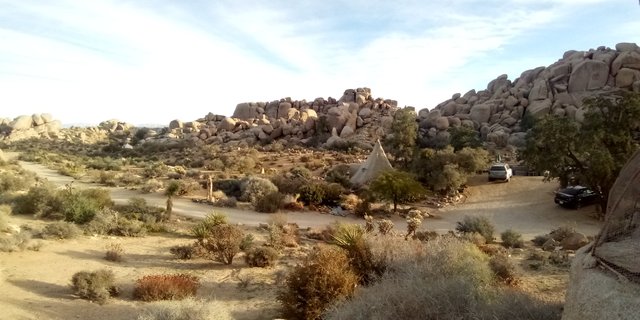 A Standing Invitation
Since I was in Hungary at the time, and didn't have any plans to go to the States anytime soon, I put this idea on the back burner. This year, however, as I happened to be passing through California on my bike trip, I e-mailed him, asking weather his invitation was still standing. In his reply he sent me the exact GPS coordinates of the place, and said that I only had to go to Pioneertown and ask for Garth at Godsway Love in Rimrock. Not very elaborate directions, but more than enough to make it worthwhile to look for this place in an exciting scavenger-hunt style.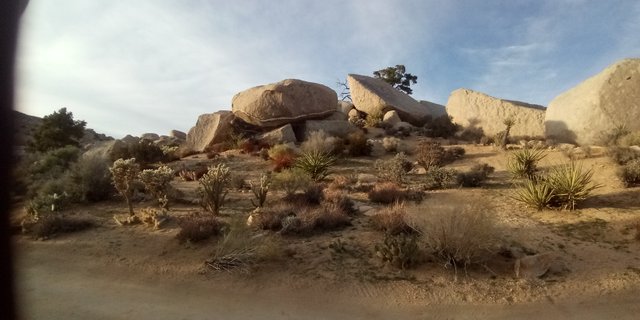 A Place not Easy to Reach
I rode into Rimrock over Burns Canyon Road, cursing the soft, deep sand I kept getting stuck in. I decided against riding out to Pioneertown, from where I most likely would have to come back to Rimrock anyway. Since most of the streets in Rimrock are sand-pits as well, I made slow progress even once I was "in town". But I followed the signs and my map determinedly, and eventually arrived at a place called Garth's Boulder Garden at the end of a street called Godsway Love.
Check out the Place on SteemitWorldMap:
 [//]:# (!steemitworldmap 34.212598 lat -116.567731 long  d3scr)
I was received warmly by a handful of folks gathered around an outdoor kitchen camper. They even offered me soup, and we sat down to share our stories. As it turned out, Garth's place, where he himself can be found, was even further up the hill, following the sandy road to a more secluded sanctuary part of the property. The place we were in was called The Village, where guests and volunteers congregated. There were various types of accommodations, and I was welcome to stay in exchange for a small donation.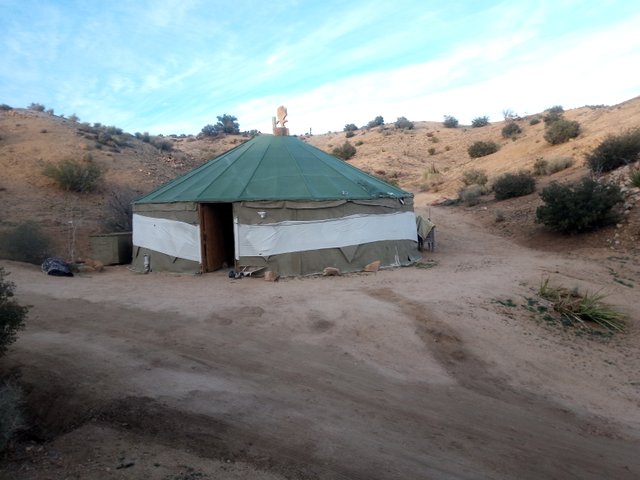 Moving into the Yurt
At that moment all I wanted to do was hydrate, cool off in the shade, and as curious as I was to meet Garth and see the rest of the place, I was not up for another uphill battle in the sand-pit with my bike. So I got situated in the Yurt, the recommended place to say at.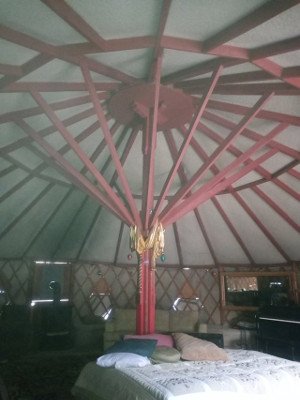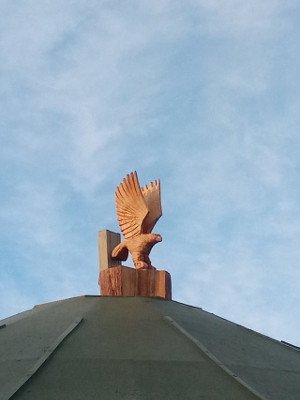 The Yurt was highly impressive: large enough for a big crowd of people, it was cozily decorated with comfy rugs on the floor and mirrors all around. Inside there were various comfortable seating opportunities, as well as musical instruments, suggesting amazing jam sessions. Untypically for a yurt, the center ring was held up by a pole, but even this anomality looked beautiful and not out of place. On top of the structure perched an impressively carved eagle.
Four Decades at the Boulder Garden
Once I was ready, one of the volunteers walked up with me to meet Garth. On the way up he told me about the 640 acres (259 ha), where Garth has been working on this project for the last 38 years. The idea is to create living space for humans and other species without building up the land with permanent structures. (This also happens to coincide with finding loopholes around building codes and property taxes.) So other than trailers and buses - mostly in The Village, the only buildings are yurts, tee-pees, tents, ... and of course the boulder-like buildings among the many real boulders.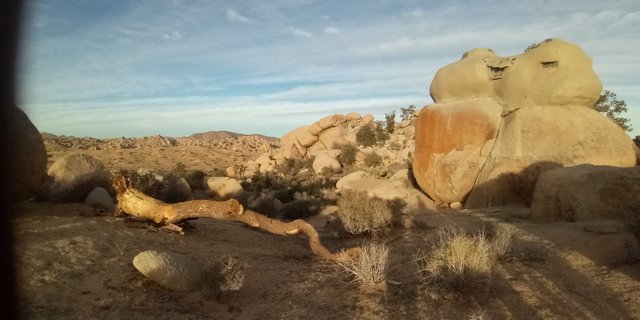 A Close Look at the Boulder Hut
On the way up we stopped by one of these curious structures. From far away you wouldn't even suspect that it was anything but another rock next to a tree. Only at a closer look do you notice the stairway leading up to a very comfortable little hut. The technology is surprisingly simple: drill holes into a flat rock, anchor rebar into them, and bend them to look like a real boulder, not too uniformly spherical. Then cover them with a wire mesh, and plaster the whole thing with a cement-earth mix.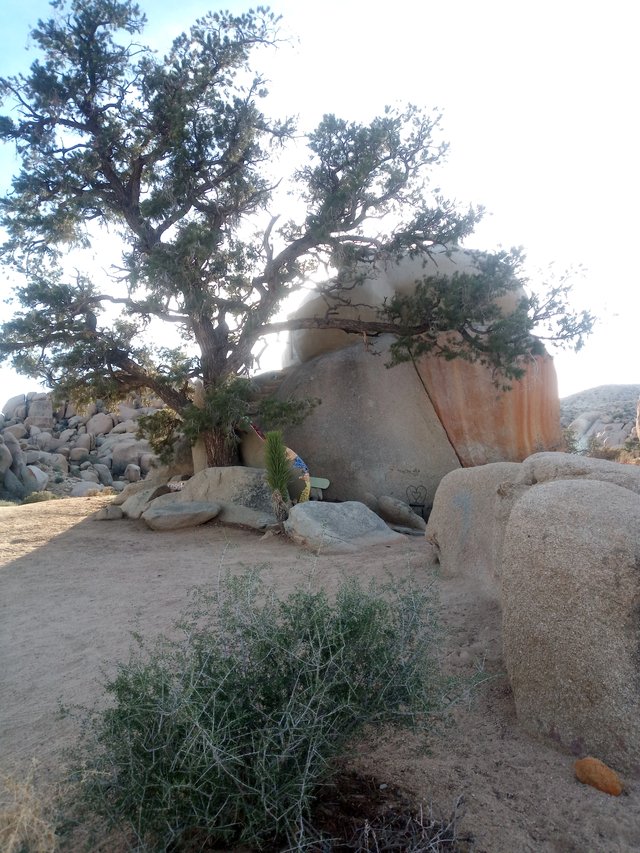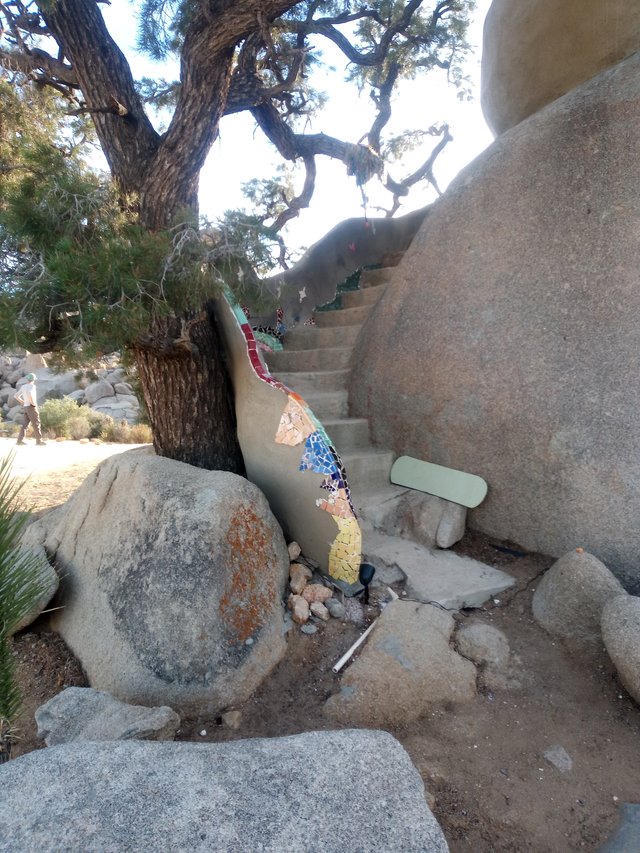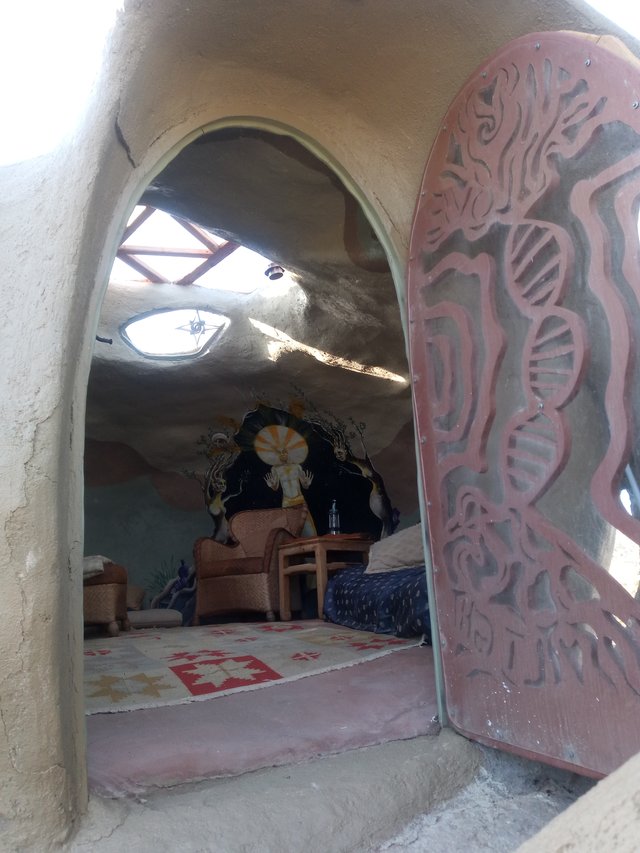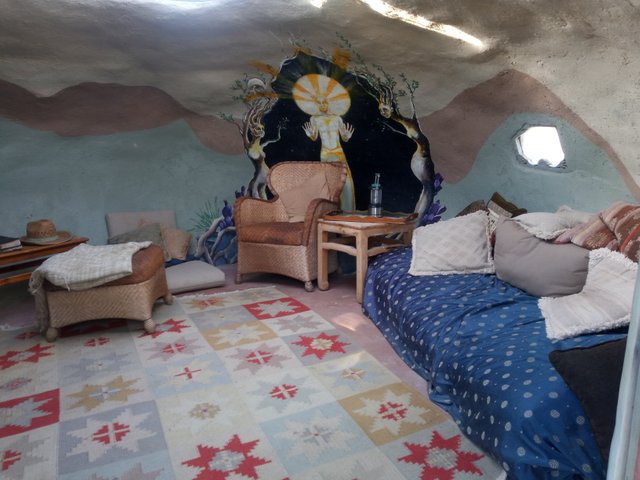 Attila Who?
There are supposedly numerous examples of these boulder houses at Garth's, but this was the only one I got to see. I remember Attila's presentation, and it may actually have been that very building, though I wasn't sure. I hoped that talking to Garth would fill some of the empty spaces, but unfortunately we couldn't find a connecting factor. "Attila? You mean Attila the Hun?" Garth didn't seem to remember my friend. However, given the number of visitors, volunteers, as well as experienced builders that have passed through the site over the last four decades, I was little surprised about it. 
A Place to Come Back to
Nevertheless, Garth's hospitality was warm and welcoming, and I enjoyed the chat with him and Keith, with whom he manages and takes care of the property. Had this not been the last week of my trip, I might have wanted to stay for a while, hopefully gaining some experience in building boulder-like cabins. They also told me about workshops and events that take place on the property, ranging from spiritual to sustainable, and from artistic to functional. All in all, it was a super interesting visit, and I know I will have to return soon for a more extended time.
If you'd like to read my bike trip in its entirety, check out the rest of my posts in the Cascadia to Aztlan series:
Please check out these great communities I'm contributing to: 

#ecotrain | What is EcoTrain | Discord Community

#cyclefeed | Introducing CycleFeed | Discord Community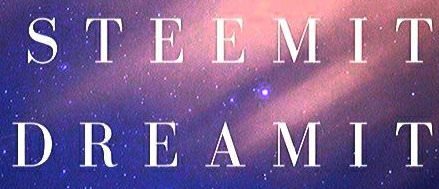 Introducing SteemitDreamit | Facebook Group | Discord Community