Wow! I'm recovering from an epic bicycling experience: "Powderhorn 24"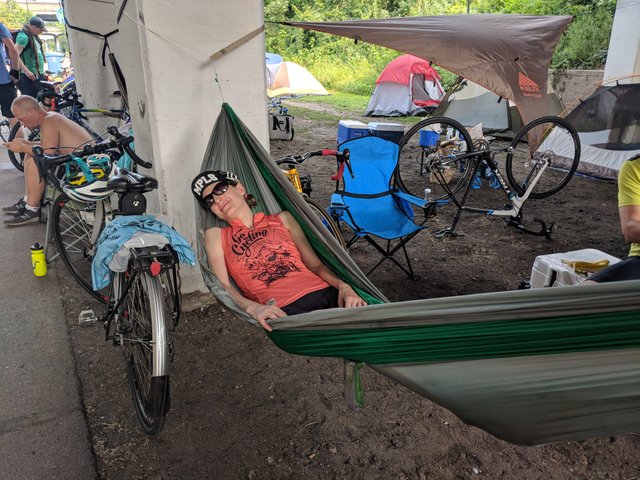 About the Event
For twenty-four hours, from 7pm Friday to 7pm Saturday, cyclists ride a route along the Greenway Bicycle Path and through the Powderhorn neighborhood of Minneapolis, Minnesota. Riders can register individually or in teams of 2-6. Categories include Mixed Gender Team, Women's Team, Men's Team, Tandem, Solo Woman, Solo Man, and Solo Non-Binary. The spirit of the event is to ride, not race. People participate with varying levels of competitiveness, from very casual to achieving personal goals to winning their category. We rode as a mixed gender team of six. As I was our only female, the team was named after me: R---- and the Rowdy Rascals.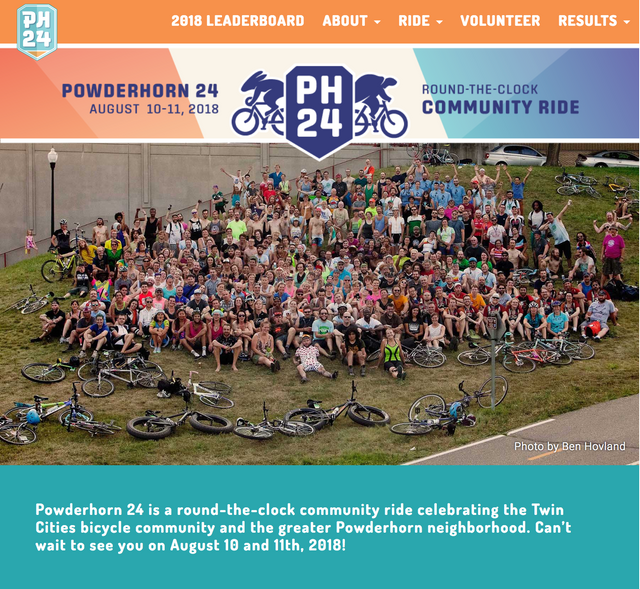 Source: http://powderhorn24.com/
Community Building
The event is organized 100% by volunteers and a portion of each registration goes to a local non-profit organization. Community support along the route includes yard signs, cheering, cold beverages, snacks, and glorious sprays of cool water from hoses and sprinklers during the hottest part of the day. People in the neighborhood enjoy hanging out in their yards and the children flock to shout, clap, and hold out their hands for a high-five. It's a wonderful feeling to think I may inspire a young cyclist.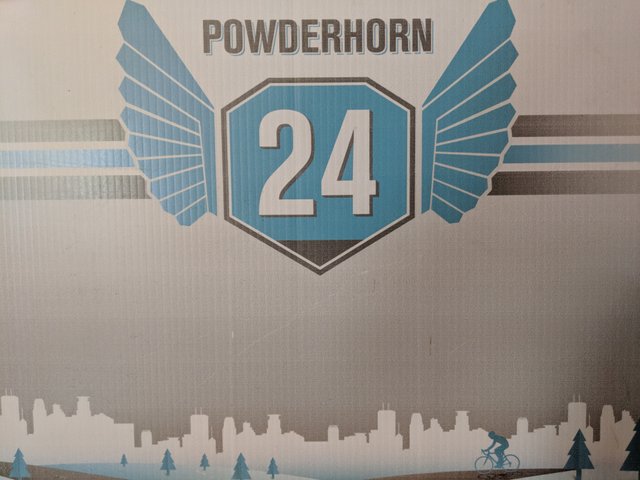 Yard sign.
Don't be a Jerk
The most important rule is: "Don't be a Jerk." It seems simple enough to follow, yet I did witness someone being called out for a dunce lap. This consequence involves having your lap card pulled so that you don't get credit for your next lap AND that lap has to be completed with an organizer as your escort. The organizer sets the pace and it is not fast...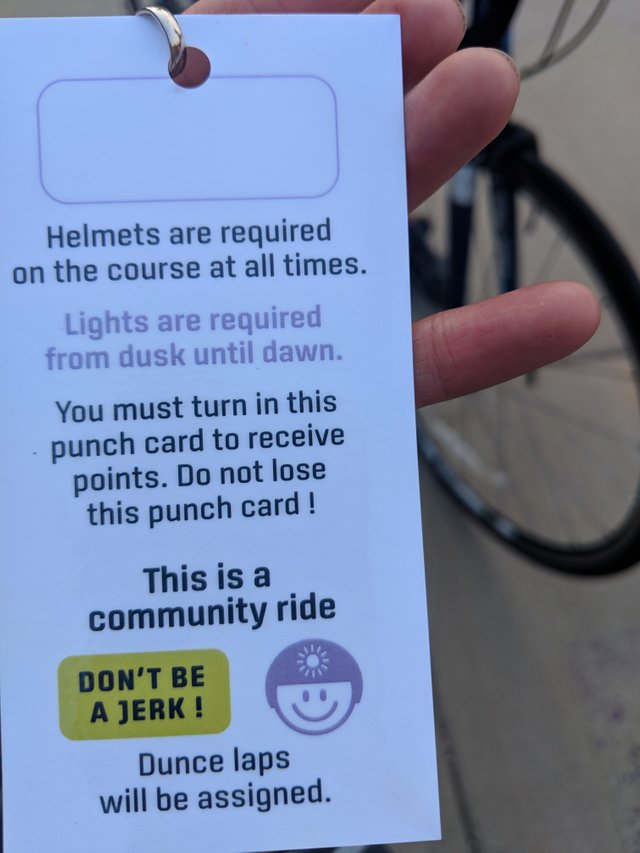 Lap card side one.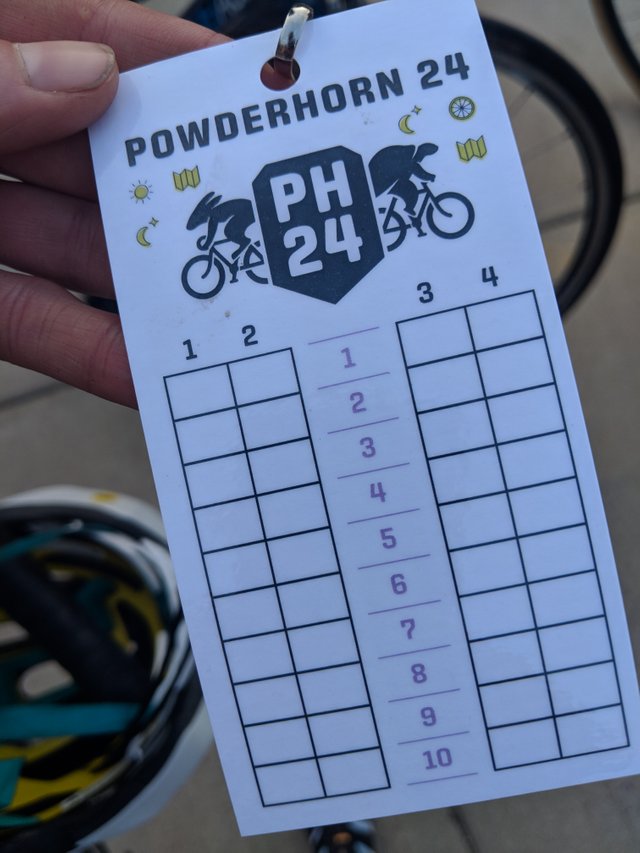 Lap card side two.
Round and Round
Each rider wears a lanyard with a laminated lap card. Once filled, we turn it in for another and our points are tracked by volunteers. As you can see in the above photo, each of the ten laps has squares for four hole-punches. One lap is approximately five miles and we are required to stop at each of four checkpoints, in order. Riders will not receive a punch if the previous checkpoint has not been punched. The course is not blocked off to traffic. Drivers continue to use the streets and we encounter stop signs, traffic lights, and the usual obstacle course of vehicles, pedestrians, and potholes.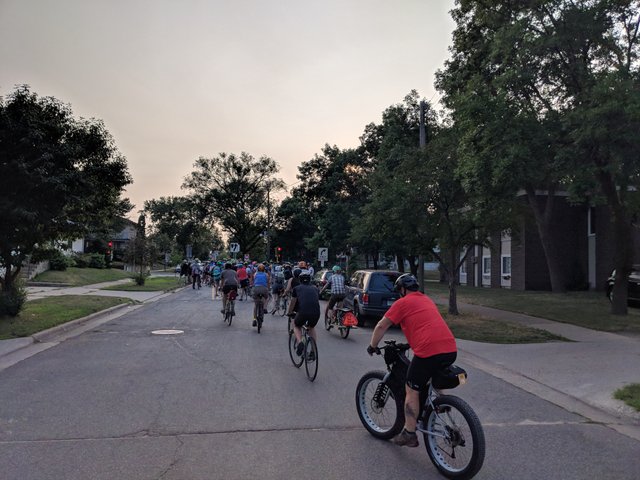 Red light ahead.
Setting up Camp
The Greenway Bicycle Path corridor turns into a campground as participants set up tents, shade structures, hammocks, and chairs for our 24 hour adventure. The day of the ride, I was the first on my team with availability to stake out our claim. The most ideal spots are underneath overpasses because they provide the most shade from the beating summer sun. I passed on this one because of its proximity to the portable bathrooms... No thanks.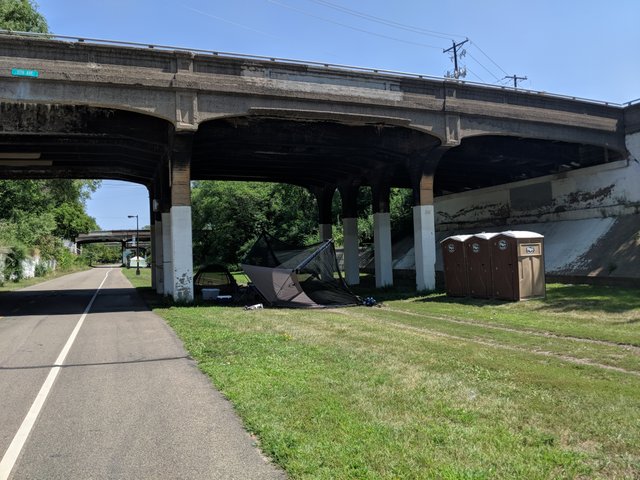 Porta potties
Saving Space
This one seemed ideal because it was the closest to checkpoint four (the finish line) without porta potties. Another reason I was happy to find space here: The wooden staircase (left portion of photo) provides access to the surface streets above for easy access to load/unload gear, for team members who drove from out of town or hauled a gigantic cooler. Some of the bridges don't have ramps or stairs that access the roads. Initially I passed this one by because someone was already setting up a tent. After determining it was the best choice, I took a chance and spoke with her about sharing the space between our two teams. We agreed and I spread out two tablecloths to save space until a team mate could bring over his tent. One of the best aspects about this event is socializing with cyclists and making new connections.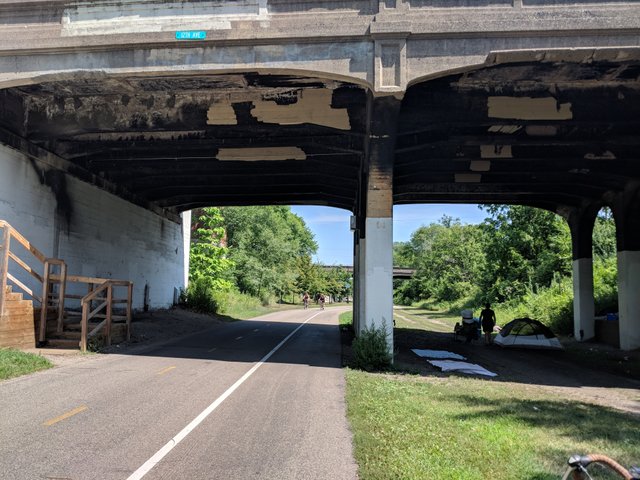 A place in the shade.
Our Base Camp
One of our team members has a huge tent that provided shade and a place to change clothes or rest between our turns riding. Another teammate competes in athletic events regularly as a runner, cyclists, swimmer, and overall badass. He has learned through experience that you'll want a place to hang your sweat-drenched clothes when you peel them off and get ready for your next turn. His drying rack was much appreciated! Also notice the hammocks. This was my first experience urban 'mocking from bridge pillars. I spent a LOT of time in my hammock. In fact, when I wasn't riding I was usually eating, hydrating, or relaxing in my mobile bed.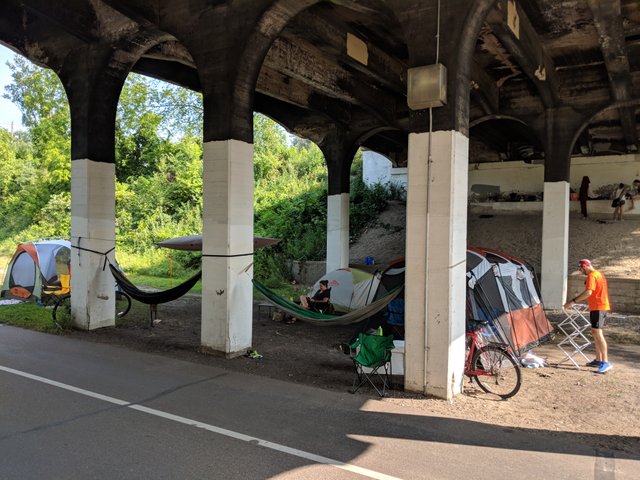 Base camp.
Coolest Campground in Town
Riding and walking along the "campground" was fun as I found familiar faces and met new people in the cycling community. Not surprisingly, I started to recognize the riders who would later be in the top three for their category. They rode insane numbers of miles, passing by after each lap.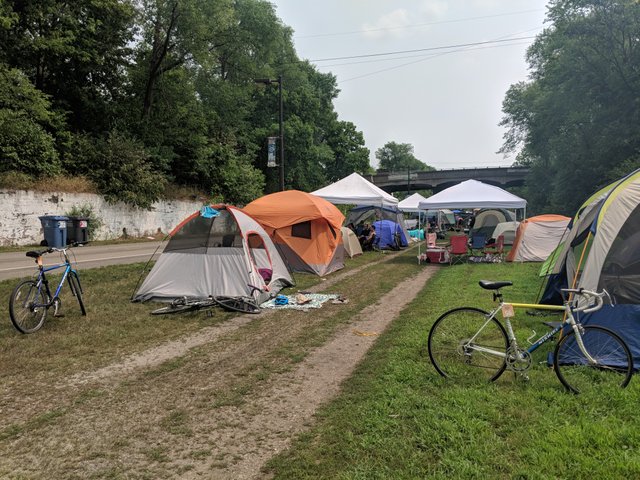 Urban camping.
Ready, Set, Ride!
Each rider attaches a number to our bicycle that is recorded at checkpoint four when we complete a lap. The points are credited to the individual or team and the cyclist starts another lap or hands off the lap card to a teammate. Participants on teams of six are each assigned a one-hour volunteer shift to keep the event going. I spent my hour typing in the rider numbers of cyclists as they got their lap cards punched at the last checkpoint. The time went by quickly and I enjoyed having a role other than riding. It gave me a chance to talk with coordinators and cheer on the cyclists cranking through.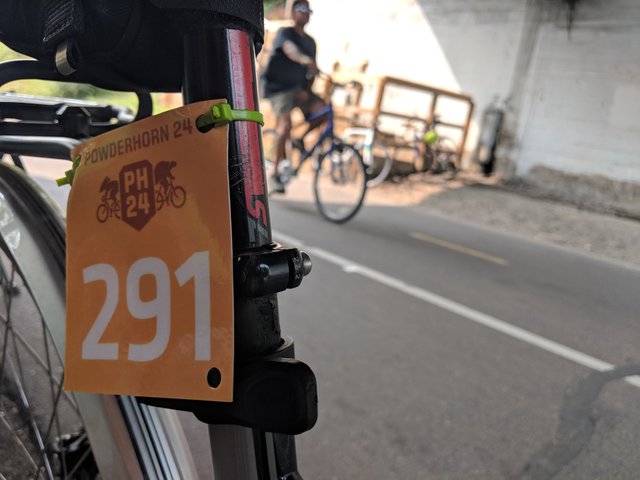 PH24
Bloody Beginning
To start the event every participant is encouraged to do a "slow roll" through the course to familiarize ourselves with the route and ignite community spirit. Once the event starts, there are fewer people riding at any given time because only one person per team typically rides each lap. There are times when teammates ride together and socialize, but this pre-lap is the most crowded because everyone is together. My intention was to not clip-in because I know from experience that sometimes in large groups I get distracted and fail to unclip when I stop. Despite my intention, my feet clipped in, out of habit, and outside of my conscious awareness. At the bottom of a hill we were stopping for a red light. I usually only unclip one foot when I stop, so that I can take off more quickly. Unfortunately, I started leaning the opposite direction and didn't get that foot unlocked in time. Bam! My knee slammed into the pavement. That's never fun, especially with a very large audience. I kept on rolling when the light turned green. If someone had to "take one for the team" it was fitting that it was me, considering women typically have a higher tolerance for physical pain. As the solo woman on my team, it had to be me... I'd been looking forward to kicking off the event by riding our first official team lap. We'd decided on an order and I was excited to be first. Change of plans... The guys talked me into heading to the first aid station so someone else rode the first round. It turned out that the first aid was DIY. A volunteer handed me water, saline spray, and a box of band-aids, saying, "My hands are really dirty. Go clean yourself up in the grass."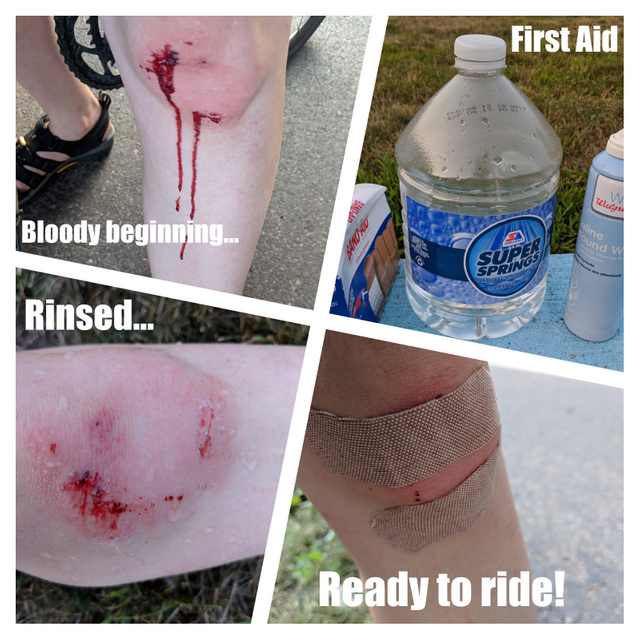 Finally Riding
I was bandaged in time for my teammate to hand off the card after he completed one lap. For my turn, I rode two hours solo. Thankfully, the temperature went down as the sun set. It felt amazing to finally get rolling and feel the team spirit! Each time I passed our base camp teammates and friends cheered. I was not shy about ringing my bike bell and shouting out our team name :)
To be continued...
As this is getting long and I have much more to share, I'll be posting several blogs about this awesome experience... Look for "Powderhorn 24 Hour Bicycle Event: Part Two" as soon as I can type it.
Until my next ulog... ride on, steem on, and blog about it :)
What is cyclefeed?
I'm excited to share with cycling enthusiasts!
This post tells you what's up: How to Participate: Use #cyclefeed in your Posts!
Gratitude to @robmolecule and @mrprofessor for creating and curating #cyclefeed.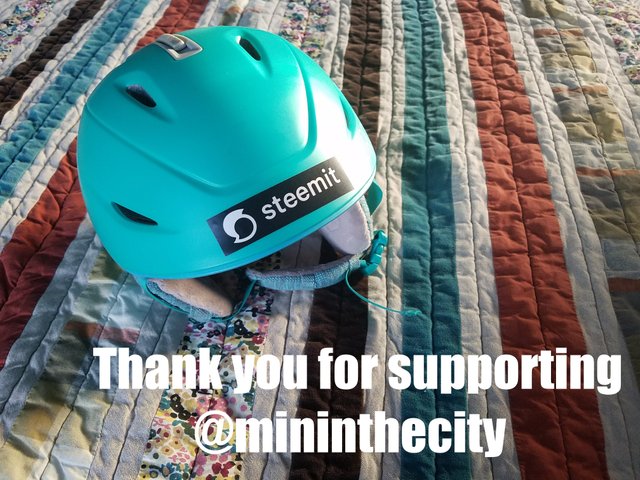 Thanks to @surpassinggoogle for initiating #ulog
All photos are my own.