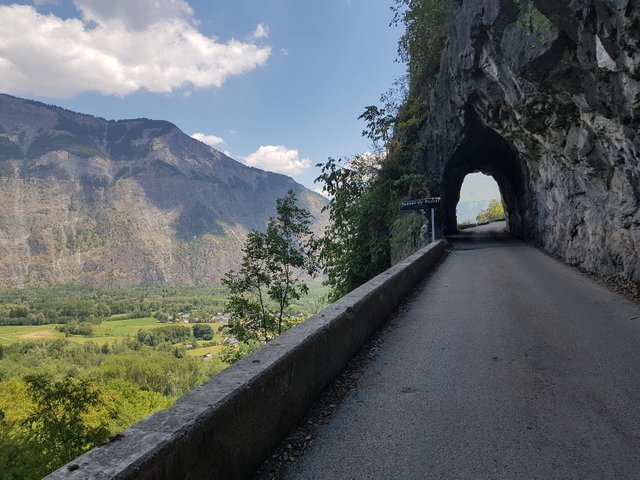 This is a series of posts on my daily rides and other events on our holiday in Bourg d'Oisan in the French Alps. I started to write an account of each ride individually and then thought that I was missing some interesting stuff either side of those rides and thought I would add it for your reading pleasure. It's a daily diary if you will.

So Far So Good
I was feeling pretty good after the ride to Les Deux Alpes. My legs were hanging in there, especially pitted against the much younger Gavin, and I was happy with the the way the bike was feeling in general. After we got back I had a shower and washed my kit for the next days adventure and hung it out to dry. It was now time for the rest of the group to show up.
United Nations
Three different families arrived all at once. One family were sharing the chalet with us, the others in a chalet across the other side of the campsite. We had not seen these guys for two years, so again it was a lovely reunion. They seemed as excited as us to be there and that's always a cool feeling. They unpacked and settled into the chalet easily enough and then we settled down for some food.
Fresh Bread, Cheese and Wine
The meal consisted of various cheeses from the region including goat's and sheep's cheese, saucisson, pate, fresh bread and some local wines that are stunningly good and only a few euros. It is such a simple meal but so satisfying and if I'm completely honest, one of the reasons why I'm so excited to visit.
Friends and Fruit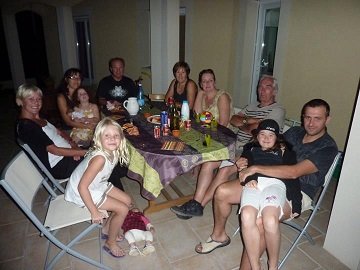 We then moved on to the fruit, compliments of our friends from Andancette. On the way down to Bourg we stopped off at our friend's place in a little village about 50 minutes south of Lyon. Jayne and Delphine have been friends ever since they were on a school exchange many years ago and have stayed in touch. Delphine and Laurent know how much we love the local fruit so they bought a load in for us to take to the Alps. We had white flesh peaches, nectarines and apricots. They are an experience in themselves but beware, you will need a bib or a napkin to protect you, because they are extremely juicy! Eating fruit fresh from that region is not like eating fruit from the UK. I guess eating strawberries in England is the biggest comparison. There is nothing like eating freshly picked fruit as opposed to imported packaged stuff in a supermarket.
Wine and Prep
After the meal we went over to the other chalet to have a few drinks and discuss the cycling opportunities for the next day. Iain had to pick up his bike that he was hiring the next morning so we decided on a relatively close ride to Villard Notre Dame. We finished our drinks and headed for a reasonably early night to be ready for the ride.
The next day Iain and I walked in to town to go to the hire shop. He had booked a bike from a shop called Bleach that has been around a long time and has a good reputation. They are always sold out around Tour time so you must book in advance. I had used them three years previously to hire a Giant Propel with Di2 electronic gears that was great so I knew they would be ok. They quickly sorted him out with his bike and we went back to the campsite to get ready for Iain's first Alpine cycle.
Gavin had cycled over and the three of us left from our campsite at the base of Alpe D'Huez. We cycled through the village and then took a left hand turn and headed back north towards the mountain. As you approach you can see the road diagonally streaking up the hill from right to left at the back of the village. You can also see some of the tunnels that we would have to face but more of that later. We cleared the confines of Bourg d'Oisans and we started our ascent.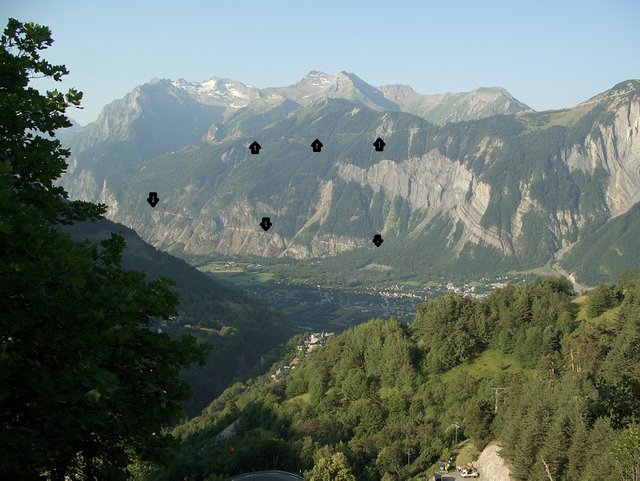 No Short Cuts
What looks to be a nice easy startup ride quickly slaps you in the face and reminds you that there are no easy rides in the alps. It starts on a 10% gradient just like Alpe D'Huez and immediately puts your heart rate through the roof. Iain being a super fit road runner dealt with it well and was starting to drift away from me. Gavin was also looking pretty cool and was holding Iain's wheel. To manage the situation I let them go and rode at a pace that I could sustain.
Ah Heart Rate, There You Are!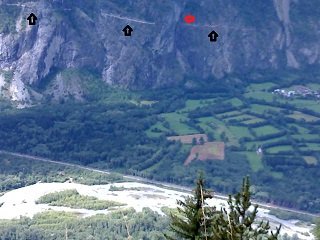 We crossed a small bridge and then the road bent to the left and we were on the balcony with the village rapidly dropping away to our left. The sun was beating down and the temperature must have been in the mid thirties and was causing havoc. Sweat was already pouring out from my helmet and rolling into my eyes. The good news was that my heart rate was settling down along with the gradient and I was starting to get a rhythm going.
The main climb to Villard Notre Dame is approximately 9 km and has an average gradient of 9.2%. There is a series of tunnels on route most of which are relatively short but the longest is 365 meters and is not illuminated. Spooky!
Break Time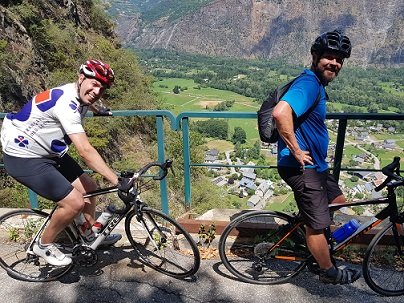 I reached the first small tunnel, more like a big archway really and I found the guys having a water break. They were both feeling the heat but their legs were good. We took a few photos of the incredible view and then continued on. I stayed with them for a little while but again let them go and found my own pace. The village was disappearing behind me but the valley in front looked spectacular and that seemed to motivate me to suffer and win the mental battle.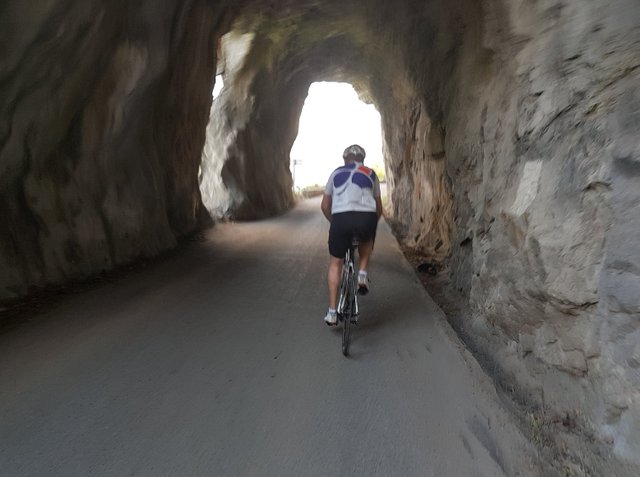 The Psychological Battle
The mental battle of climbing a mountain is a strange one. You would think that it would be consistent and constant but it doesn't seem to work that way. You go through different stages on a climb where you can feel good one minute and then like you cannot go any further the next. You can then go back to feeling good in seconds. It's hard to put your finger on but I guess you could blame the varying gradients, what you have eaten the evening before, breakfast and during the ride, how much alcohol you have consumed (ahem!) and the weather. Through it all you just have to keep turning those pedals!
Here comes the Tunnel
I actually found my legs at this stage and gradually dragged Iain and Gavin back as we approached the big tunnel. This is an unlit narrow tunnel that is 365 meters long and has a slight bend in the middle. That bend means that you cannot see anything up ahead and makes the slightly potholed road a little treacherous. We entered with some trepidation and using the light from behind we continued on with Iain leading me and Gavin.
A New Sport. Cycling in the Dark.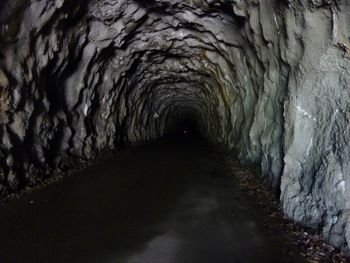 The road to Notre Dame is very quiet, very narrow and seldom used apart from the odd car or motorbike, which is a good thing because passing in this tunnel would not be fun. I could hear Iain ahead of me and that gave me a target but for him he would be pretty much blind apart from the dwindling light from the tunnel entrance. It was slow going and uneven with the best path up through the middle. We were a fair way in when the light had all but gone and it reminded me of my dad and his story of his climb to Notre Dame.
The Phantom Cyclist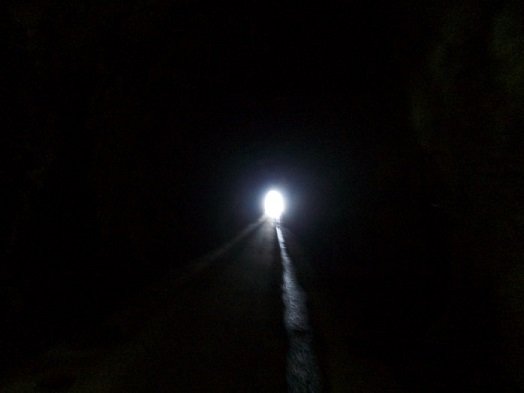 He was on his own when he decided to climb Notre Dame and the climb was new to him and even me at that point. He reached the big tunnel and went for it. He was just hitting the same point that we were at when he could feel someone fairly close to him which made him jump a little. At that point you cannot see so he just continued as straight as he could. He must have reached the bend because a tiny speck of light appeared in the distance and that gives you a focal point to aim at. He was expecting to be overtaken because he could still feel someone fairly close to him. He kept peddling away and eventually the light picked up and he reached the end of the tunnel and stopped for a rest. He waited for the other rider to emerge from the tunnel but no one came out. He was there for a good 5 minutes but not a sausage. To this day he is absolutely certain that someone was riding behind him.
Anyone Have Any Lights? Whoops.
With that in mind I am struggling on, hoping to see daylight soon. After what felt like an eternity, light appeared ahead. We powered on and reached the end of the tunnel and stopped for a quick rest. It was only then that I relayed the story of my father's experience to the guys. It is really spooky without knowing that story and I absolutely recommend using lights to make it a safer and a more law abiding experience. I can't guarantee it won't be less spooky though.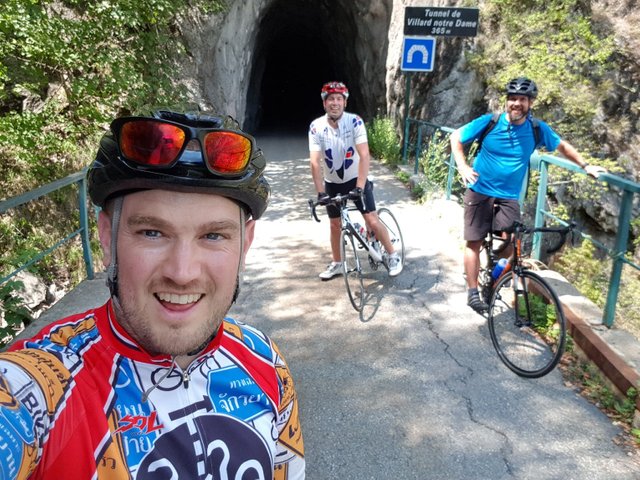 The total distance for the ride was 34.8 kms with a total elevation gain of 1271 meters. The highest point was at 1674 meters.
Water Stop
We continued this beautiful climb at a reasonable pace as the gradient had dropped very slightly. We passed a water fountain and stopped to top our bottles up. It is a real bonus that you can fill your water bottles regularly on long rides in the mountains. The water is very fresh and has a sweet taste to it. The view as we reached the end of the main rock face, and all of the overhangs, turning right was remarkable. It is a real visual overload of peaks, waterfalls, rivers and valleys. You really wouldn't want to suffer anywhere else.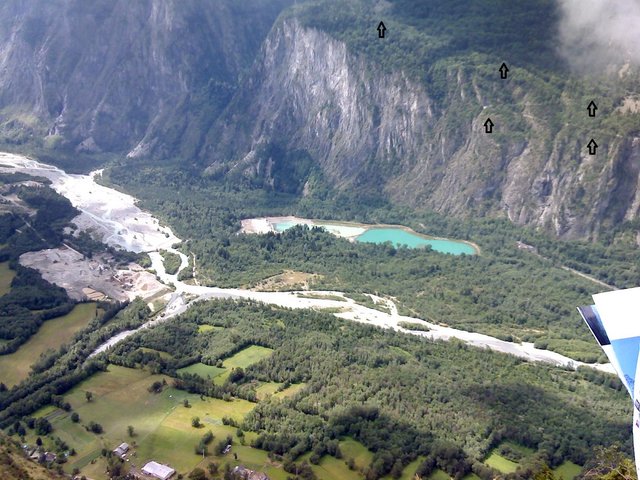 The village was coming up on our left and we had one more turn to go until we entered into a pretty little village courtyard. We stopped in a cafe for a coke and a bit of a rest. There was one other group of riders there but other than that it was very quiet. We finished up, topped up our water bottles and continued on to the next part of the ride.
Cows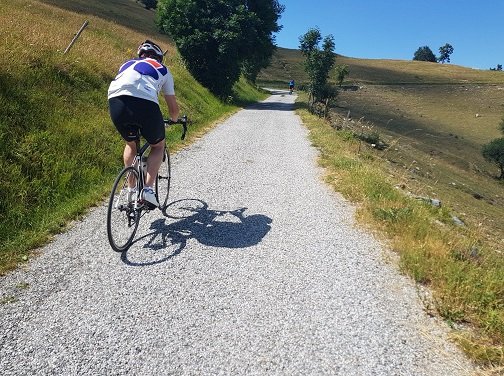 This section is very different than the first part of the ride. The road turns into a gravel track and it opens out into farming land with lots of cattle and the obligatory cow bells. At this point we are on the opposite side of the mountain to the village of Bourg d'Oisans and this section takes you back over to that side so that you can see the valley once more. The track then drops down gently for a little while and the road or pathway becomes a little rough with lots of loose stones. You have to be careful on a roadie with 23 width tyres on. This is all made worth it because at the end of this section you are going to get a breathtaking view of Alpe D'Huez across the valley. This is my favourite shot in the whole of the area. You can clearly see the 21 hairpin bends all the way up to the village. You can even see our campsite at the base of the mountain as it turns left and steeply rises. The campsite is on that corner on the left.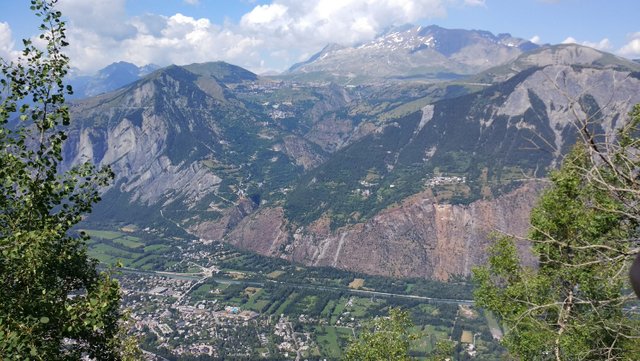 Weeeeeeeeeeeeeeeeeeeeeeeeeee
We manage to tear ourselves away from that awesome view and continue to steadily climb up again across this difficult surface. It's at this point that it swings back over to the other side of the mountain and approaches Villard Reymond and the descent. This is a very technical descent with a few blind corners, some hairpins and lots of zigzag bends. Although the straight line speed is not particularly fast the multiple turns make this feel very rapid and I enjoyed this one a lot. You need to be aware of a little debris in the road from falling rocks and the odd oncoming car, so, like all descents, you cannot switch off for a moment. You hit the bottom after a few exhilarating minutes and turn right and go across a bridge and then have to power up a short sharp climb of about 400 meters to get to the connecting road of Ornon village.
Head Wind
The rest of the descent is a repeat of my Col d'Ornon ride. It is fast and a lot straighter than the Reymond descent. There was a head wind on this section so I did not attain my usual speed and it was surprising how much it did slow me up as I only recorded a 67.3 km/h top speed. Gavin was descending well and for a first descent Iain was descending very confidently. We came back together at the base and sped along the valley and back to the campsite.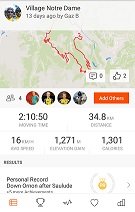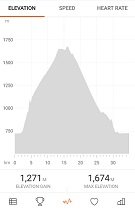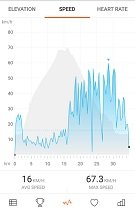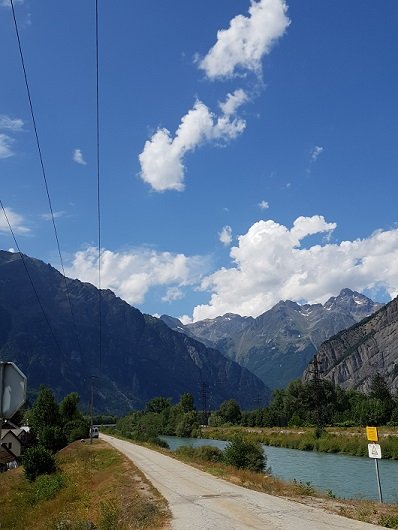 That evening was a special gathering as one of the group of sixteen of us had a birthday. We decided to meet in Bourg for a meal at Le Rive Gauche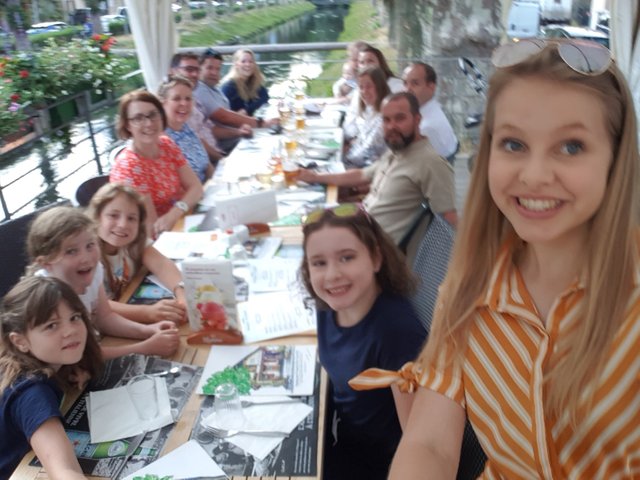 It was a lovely occasion for us all to catch up after two years apart. Although we initially all met teaching in a school in Thailand, we have all gone our separate ways and are now in Malaysia, Kazakhstan, Romania, UK and Thailand.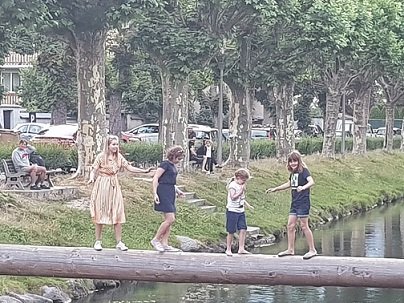 Play Time.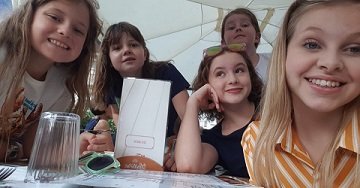 Happy Birthday Astrid.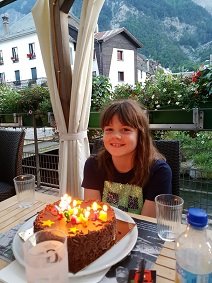 Next time: The Tour de France hits Town and we take on Alpe D'Huez and The Galibier.
Previous posts in the series:
Thanks for reading.
Gaz