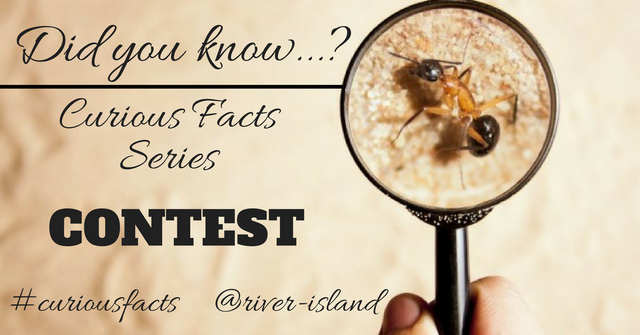 Hey there, previous contest got 12 great entries. Curious Facts initiative is blooming thanks to all of you Steemians willing to write quality content.
Search in #curiousfacts to get inspired and write a post with some fact. It could be anything about our world - animals, history, your country, the human body. Just anything you've read or you know and it's a fact! Please read the rules carefully and follow them.
❗RULES❗
1️⃣ UPVOTE AND RESTEEM THIS POST
2️⃣ YOUR POST HAS TO INCLUDE AT LEAST ONE FACT AND HAS TO BE PUBLISHED WITH FIRST TAG #curiousfacts
3️⃣ COMMENT UNDER THIS POST WITH A LINK TO YOUR POST WITH SOME CURIOUS FACTS
4️⃣ THE TITLE OF YOUR POST HAS TO START WITH CURIOUS FACTS CONTEST #6 and then your own title
5️⃣ ONLY 1 ENTRY PER USER
OLD AND EDITED POSTS ARE NOT ALLOWED (of course you are welcome to use the #curiousfacts tag when you like but only the first post and including the mentioned criterias above will count as an entry)
❗ALL POSTS WITH FIRST TAG #curiousfacts get a RESTEEM and my UPVOTE during the contest
❗PRIZE❗
🔝I am again giving 50% of this post's SBD after it pays out in 7 days.
The 3 entries having most upvotes not as a value but as a count of people who have upvoted them will equally share the PRIZE. Please do not beg others for upvotes and play fair.
🔝 If there are posts with equal upvote count they will again split their share. So it is very possible to have more than 3 winners.
ANY SUPPORT from WHALES 🐋 or DOLPHINS 🐬 to grow the contest's prize pool would be much appreciated.
😁 This contest idea is not only posting and winning some rewards but building a stronger community connections by presenting some valuable information to each other. Shall we learn some new facts? Let's get started posting! 😁
See how the contest has developed in time and what great entries the previous editions have acquired: