Application For Community Curator For The Month Of September 2022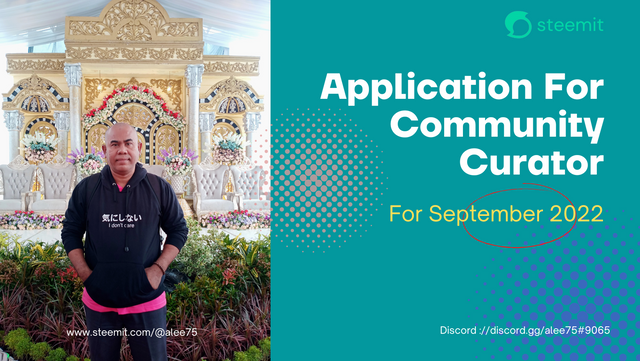 Application For Community Curator For The Month Of September 2022
I am very enthusiastic with the announcement made by steemitblog regarding Community Curator for September 2022.
---
I appreciate to this initiative because according to my experience as a lifestyle theme curator team (International A-Team) for 3 consecutive months and also as a Lucky Dip Team this August, there are some important notes for us.
While carrying out my duties as a lifestyle curator team, I saw a lot of tag abuse and also posts that were of low quality according to the theme used.
Steemians seem to force themselves to make posts that are not their expertise or competence in order to get votes. For example, someone who does not have the expertise or competence in the field of health/medicine forces himself to post the theme like an expert.
They do this by taking shortcuts such as plagiarizing in various ways, such as using voice to text applications, wav to text and others, although it is still detected by our lifestyle curator team.
This August I was entrusted to be the curator of the Lucky Dip Team where we seek and provide curation of quality posts from various themes and communities as well as non-communities.
Our team also provides curation of comments and replies that are positive and in accordance with the context so that it will stimulate posters to be actively involved in commenting on posts.
While being the curator of the Lucky Dip Team, I curated from various themes and across communities and non-communities and I will continue this trend if entrusted as a community curator for September 2022 by the steemit team.
A BRIEF SUMMARY OF YOUR HISTORY ON STEEM
I joined steemit in April 2021 with the initial motivation of channeling my hobby in writing and seeking experience about the world of cryptocurrency.
Every day I try to make quality posts according to my ability and competence as a veterinarian and routinely do power ups from the rewards I get to increase the strength of my account so that I can support steemians and the community.
As long as I'm active, I only make withdrawals once and the rest I always do power ups so that I'm in #club100 with a reputation of 72,842 with a total Steem Power of 15,160.40 (triple dolphin) as of August 22, 2022.
DETAILS OF ANY POSITIONS OF RESPONSIBILITY YOU HAVE HELD ON STEEM
Currently I was Country Representative Indonesia in charge of developing the steemit platform and guiding steemians in my country Indonesia.
For the month of August I carried out the tasks and trust given by the steemit team as Curator Community of the Lucky Dip Team.
Previously I was a lifestyle theme community curator team for 3 months in a row with the International A-Team.
Until now I was Admin, Moderator and curator of Hot News Community who built this community together with other Country Representatives by carrying out the Steemit Engagement Challenge Season 3 contest and have made a Season 4 application. And with this activity Hot News Community was in the trending Community.
I am also a Moderator at STEEM INDONESIA, a community of countries that just launched.
DETAILS OF SPECIALIST OR PROFESSIONAL SKILLS OR EXPERTISE YOU HAVE IN 'REAL LIFE'
I am a veterinarian who has worked for the North Aceh Regency Government, Indonesia since 2000 until now. I have skills in the field of animal health. I have served as Head of Animal Health and Veterinary Public Health at the Department of Plantation, Livestock and Animal Health, North Aceh Regency for 8 years (2013-2021).
My Profession as Veterinarian
---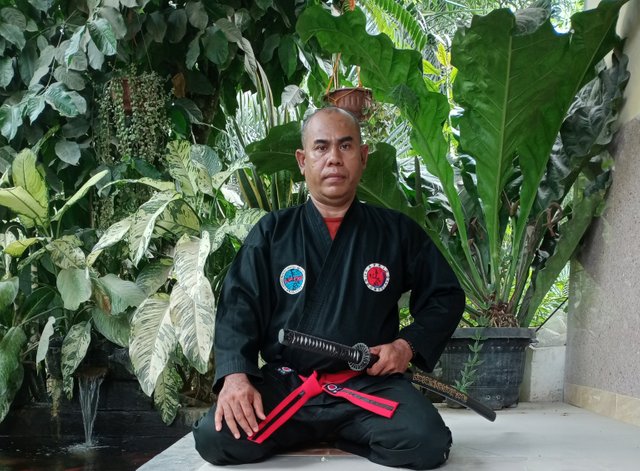 I am also a Hapkido martial arts practitioner since 2016 until now as well as the North Aceh Hapkido Branch Manager and the Aceh Province Hapkido Manager. I train Hakpido martial arts several students including my kids.
---
WHAT COUNTRY YOU LIVE IN AND WHAT LANGUAGES YOU CAN READ FLUENTLY
I live in North Aceh Regency, Aceh-Indonesia Province and fluent in Indonesian and able to read in English.
YOUR KEY STATS - OWN SP, CSI, REPUTATION, DELEGATIONS
I currently have a reputation of 72,842 with a total Steem Power of 15,160.40 (triple dolphin) and 12.8 CSI Voting and delegate 2,525.61 Steem power to several communities.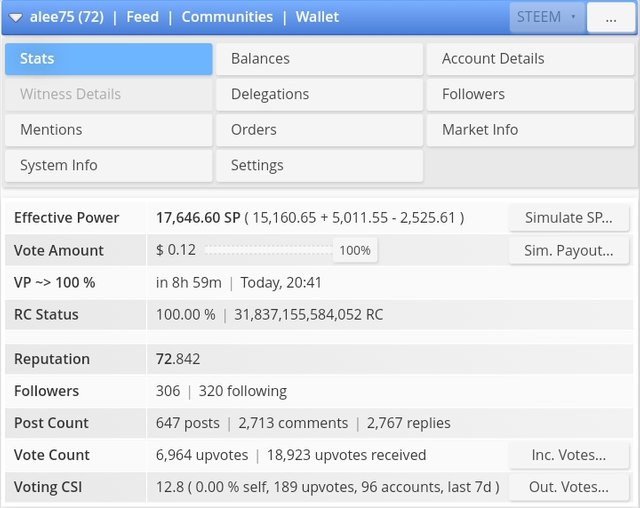 My Key Stats

My Delegations
ANY SUBJECTS YOU PARTICULARLY ENJOY CURATING
Basically I like curating all the themes that exist as the Lucky Dip team. According to my skills, competencies and hobbies, I also curated lifestyle themes (Food, Travel, Garden, Sports, Health, Leisure, Pets, etc.), where the pets theme which was just launched by the steemit team caught my attention as a veterinarian and we have create a contest Steemit Engagement Challenge Season3 Week #4 : My Pets which is quite interesting for steemians.
THE MINIMUM TEAM SIZE YOU WOULD BE WILLING TO SERVE IN (1 - 7)
For me, the number of team members doesn't really matter because I've worked with the International A-Team and the Lucky Dip Team with a team of 6-7 people.
I made this application with the aim of participating in every steemit team program and supporting the platform and increasing my role as Country Reps, Admin / community mods and personally as active steemians.
I will continue and improve my performance as a person and a team as I have shown so far if selected as the community curator team for September 2022.
That's my application this time and thank you for the trust and support of the steemit team to me so far.
Regards
@alee75