Upvote Shares Level 17 Available...
@upvoteshares is a project from @costanza that aims to provide Daily Upvotes based on a fair model that is proving to be sustainable and scalable over time. This Project is mainly aimed towards Steemians with a long term mindset.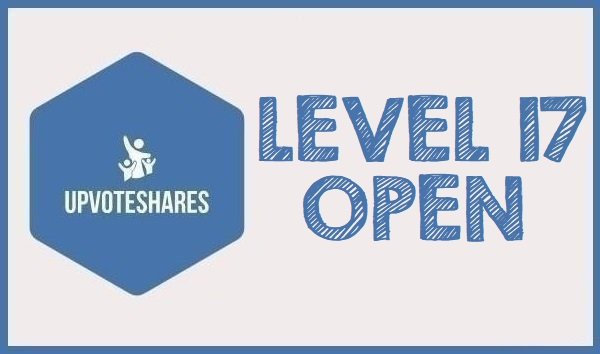 If you are not fully up to date with this project, I highly recommend reading all the details in the Terms and & Conditions! I also made a post about the Upveteshares Model Mechanics and how they solve many of the issues most other daily upvote projects have.
---
I'm a couple of days late to open up Level 17 of the program as HF21 caused some issues and life gets busy. It looks like things are working again even though the rules have changed. The aim of this project since the start has been to create a support/curation model that always at least gives a 10x self upvote value where the minimum returns always increase in time to reward the ones that are committed to the platform. The project took 20% curation before which now switched to 50%. While Active Shareholders still get above the 10x self-upvote value, I am looking to introduce a mechanism that pays out curation dividends based on the number of shares someone owns. More on this in a post likely next week.
Steem Tribe Tokens Update
I continue to increase the Steem Tribe Tokens that give out extra upvotes to all Shareholders that use them. This month I mostly increased the SPORTS holdings and I also set a multiplier on the Tribe Upvotes (thanks @abh12345 for the link).
PLEASE DON'T USE TAGS ON POSTS THAT DO NOT BELONG IN THESE TRIBES!
---
The account has reached 4178 SP unlocking level 17 (See Table) after level 16 opened up over a month ago. This means 50 new shares from the @upvoteshares account that spreads out daily upvotes become available. 49 are reserved and only 1 is still available!.
You can always request shares for this level in case some don't take their reservations up. It's also possible to already reserve shares for Level 18.
---

| - | 50 | Available Shares |
| --- | --- | --- |
| Share Price | 4.220 STEEM | Can be recovered at any given time by selling the share on the market, but comes with a 0.200 STEEM exit cost which benefits all other shareholders. |
| Share Entry Cost | 0.300 STEEM | Will fully be used to Buy Delegation to slightly increase the upvote worth and allows 1 Minnow Share Sponsorship. |
| Total | 4.520 STEEM | The total Steem for 1 Share |
---
Level 17 Reservations
---
The ones who have a reservation can send the required steem to the @upvoteshares account with the memo
Payment Level 17 Shares, I understand how this project works and agree with all terms and conditions (https://steemit.com/steemit/@upvoteshares/upvote-shares-or-terms-and-conditions)
I will confirm when your shares have successfully been assigned in the comments below where you can also let me know who you want to give your sponsorships to. In case you don't have the Steem directly available confirm your reservation in the comments and send it later on (before 15/09/2019). If you don't want to take up your reservations also let me know if possible so they can be taken up by others.The upvotes for each share have been at 3.4% for a while so VP would get drained some more in case something went wrong with the Hardfork which prooved it's use. They wil likely be dropped to somewhere beteen 3% and 3.3%
Level 17 Schedule
Friday 06/09/2019 Upvote Shares Level 17 Available
Wednesday 11/09/2019 Upvote Shares Level 17 Sold Out!
Wednesday 16/09/2019 Upvote Shares Level 17 (100% Complete)
---

| 1 Daily upvote from the @upvoteshares Account | This for as long as this project runs. (the 4.220 STEEM Share Price can be claimed back in case the project ever ends!) |
| --- | --- |
| Tribe Upvotes | 675 PAL-500 LEO-335000 SPORTS is staked by the account which will increase the payouts on posts with that tag! |
| 1 @minnowshares Sponsorship Giveaway | Can be Sponsored to someone by choice or be given away by hosting a Contest. Only accounts with roughly around <500$ worth of STEEM or that currently have between 1 and 8 sponsorships qualify. Current sponsorship count can be found on the @minnowshares account in this post. |
---

At any given time, the amount of SP in the account will at least be 10% higher compared to the current share price based on the number of shares. [ Example Level 17 Price = 4.220 STEEM | Minimum Powered Up SP in Account = (4.220 STEEM x 900 SHARES)x1.1 = 4178 SP ]
Each share represents an equal minimum daily voting % from the account that can be calculated. For Level 17 this is 1000% / 900 Shares = 1.11% Upvote.
This is the Minimum Guaranteed number in case every single share is active and all daily upvotes are used without counting any of the value creating mechanisms the project offers. The minimum value goes up each time a new level is reached because shares will always become more expensive as the account grows and extra SP is being added each new level. Those who got in on previous levels paid less for each share and have increased their minimum return a bit (see numbers).

There are currently plenty of inactive shares that directly increase Shares. Many of the shareholders from previous levels don't make daily posts and I try to have the Voting Power steady around 80%-90% which allow for an increased overall voting percentage to ~1700% and above. Each Level is pre-funded which means most of the SP from Level 18 will already be in the account to increase the upvote value. Leased SP from previous Levels are all still active and this will be increased by buying extra 90 day delegation from all the 0.300 STEEM entry costs. The @upvoteshares account has some savings to maintain the pace of moving to the next level in the future when it gets harder. This SP is powered up on the @minnowshares account and leased to the @upvoteshares account to give a bit extra value to shareholders (210SP).
The change to a non-linear reward curve along with the SPS and 50/50 payouts seems to have made it a lot more complicated to actually calculate the returns and I honestly still have to wrap my head around it to make the proper calculations. Given the fact that upvotes were nearly 3x as big compared to the 10x self-upvote mark, I'm quite sure they still offer good returns even without counting the tribe tokens and curation dividends that are planned. I will put some time into sorting it all out so I have the proper numbers again for next level that opens up.
---
---

Every Upvote Share comes with 1 Minnow Share that can be sponsored. The ones that get sponsored get on the auto-upvote list from the @minnowshares account until the next level is reached. Everyone who manages to get sponsored 8 Minnow Shares over time can claim 1 Upvote Share. (There were 50 reserved in level 0 and more in later levels). There will be a ~10 day delay for Minnow Shares to start spreading out upvotes so everyone has enough time to choose who they want to sponsor or organize a contest.

The account of every Shareholder will be followed by the @upvoteshares account, this will help to increase the followers_mvest needed to get / increase busy.org | busy.pay upvotes and also helps to boost your @steem-ua score.
---
---

Make a reply with a request in this post if you want to get in ad I'll let you know if anyone doesn't take up their reservation. It is also always possible to reserve shares for the next level or to be added on the auto reservations list like many which is the most optimal way to get in.
---
---
That's it, I will do what iI can to make things go as smooth as possible. Feel free to let me know if I made a mistake somewhere along the way.
All the earnings from this post will be used to grow the account which benefits all shareholders and helps to reach the next level! Thanks