@steemgigger Is A Subsidiary Of @steemgigs That Curates All Levels Of Talents & Potential Talents.
Steemgigger is an important subsidiary of @steemgigs. It will begin posting update posts regularly in the near future pending when https://steemgigs.org enters full completion. We want to take curation to an especially new level making sure no level of talent or potential talent goes amiss in the course of curation across the steem ecosystem. Various curation endeavor adopt a variety of style. Our curation focuses on spotting all levels or talents, potential talents and attempts-at-out-of-the-boxness and giving these ones focus and direction by directing them either to our websites or to our community on discord that has accrued more than 5,000 steemians organically so far or the ready-made steem-related organic videos.
The steemgigs community is a home that ever-constantly celebrates these ones; that gradually instill in them the culture of dream-building essential to success in general and historical history. Our curation has been ongoing for months and focused on avenues to inspire. It takes timeliness in to account and our votes represent way more than just bringing valuable content to visibility. We seek to make curation, "fan-style", taking key notice at the human behind the steemian.
While curation daily can be arduous, we recognize that many talents go amiss untended to. Many times, it can be difficult to read entire posts especially on busy days or due to the high frequency of posts and volume of curation; however, there are quick opportunities to curate talent still. Yes, we may not be able to fully read the entire text contained in a post but may have hurriedly spotted an art, imagery etc that spells talent; a video of someone jumping rope in incredible fashion; or a short video of someone trying hard to hit a Mariah Carey squeal-tune and may have walked past as we didn't have enough time to read the full blown post to determine its value. In cases, like this we look to curate talents and all levels of it. This we do by leaving a directional comment of the possibilities that there talents open them too, the ability to earn for these talents by applying themselves to building the dreams of others on https://steemgigs.org or of the possibility to meet like-minded ones in the steemgigs community to stir and sustain their inspiration
Our curation takes different approaches but has the primary focus on not letting talents or potential talent go amiss once spotted, whether we read posts or not. We also make use of organic video responses and template-image-responses among other things.
We also are very conscious when it comes to authors who we perceive of being less confidence or low in spirit as we relish opportunities to uplift them using time curation that involves comments and in the near future feature posts to showcase these ones, celebrating them and bring limelight their way. Our update posts will be follow-up on our curation but will be targeted at celebrating the "humans behind the steemian" a bit moreso than the value in their content. 
We cover a wide-range of tags as we especially seek talents. So a wide variety of tags apply e.g art, design, photography, homesteading etc We especially seek to celebrate "attempts-at-out-of-the-boxness", thus, we also cover tags like untalented etc If we are able to celebrate these ones both by means of comments, timely inspiration upvotes and feature posts etc this has very long term potential in strengthening the steem community inside-out thus, growing it organically.
Moreso, we can explore fully the beauty of curation even on busy days as well as celebrate authors which is a key as celebrate content. Value is what is rewarded overall on steem and this takes different forms. As veteran curators these are things we recognize and apply as well look to spread our curation-vibe across the steem ecosystem and as far-reachingly as possible.
Kindly look out for our posts in the coming days. Note that you can offer your expertise, talents etc as a service on https://steemgigs.org while you can "mine the human" into its awesomest version through the art of #ulogging on https://ulogs.org
We have a vibrant community of more than 5,000 steemians on discord: https://discord.gg/wWrnSXK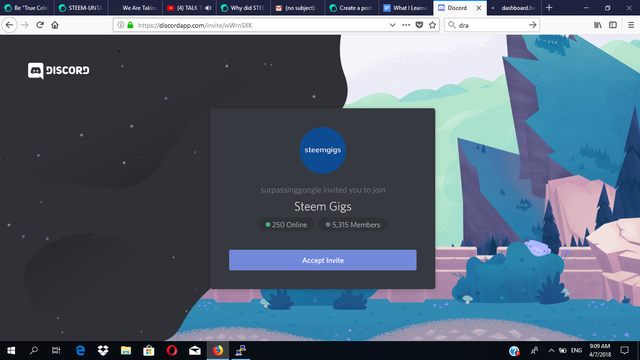 Every weekend on Sunday 12 am Manila time (+8 GMT) we gather live in steem-related talks on this same discord server, where we build dreams together. Kindly join in each week!