Upvotable Day 1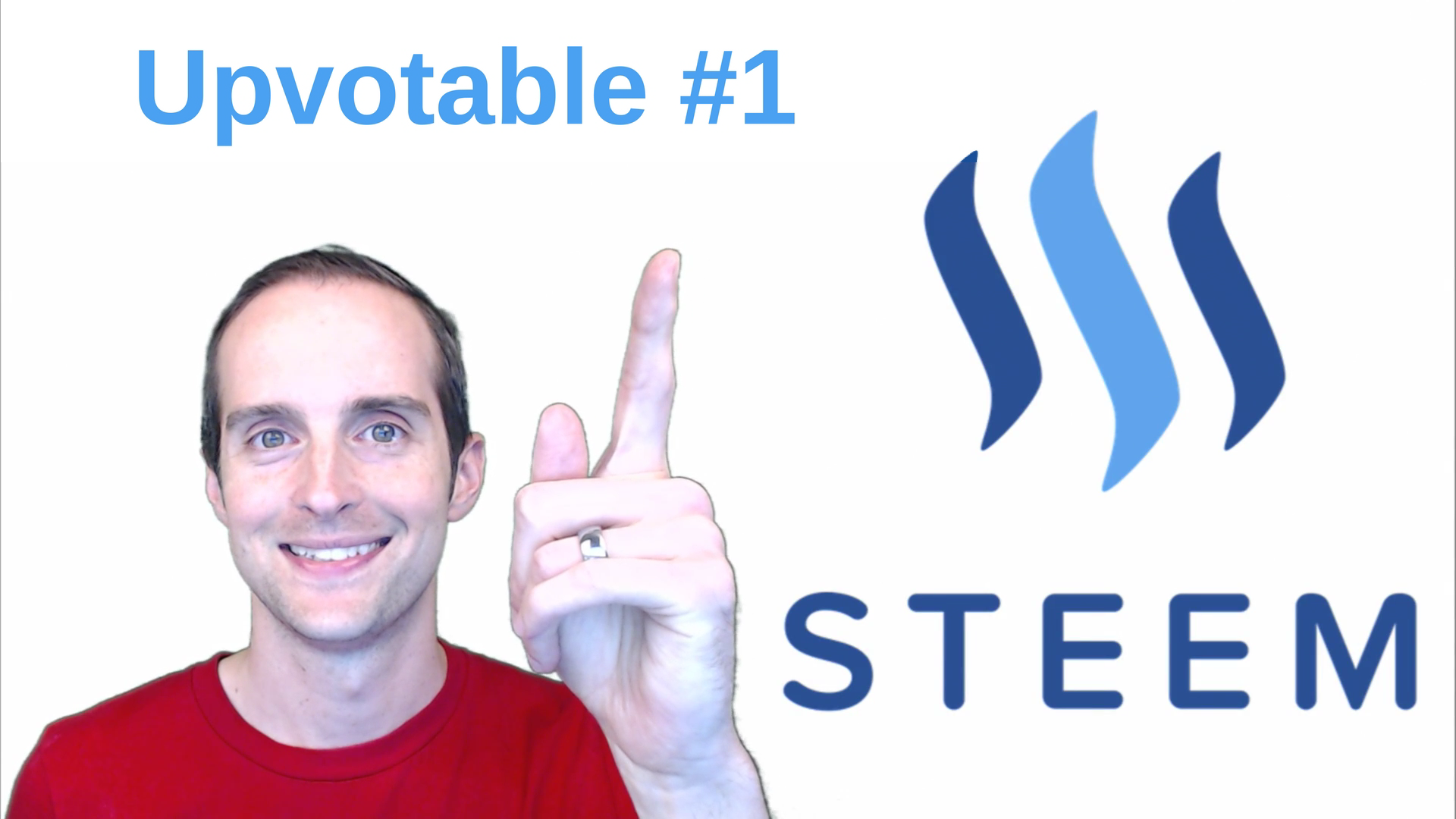 How do we find the best new posts to vote on? Where to earn the most Steem Power? Will Upvotable help make a system we can use to guide our upvotes into the most undervalued and high quality posts on Steemit? Would you let me tell you the quick story of how we got here, propose a solution we can all work together on, and show how each of us can earn $10 SBD for submitting a post that is Upvotable here?
My lame upvoting strategies so far on Steemit.
Make lots of comments and upvote them all.
Vote up posts my friends make.
Upvote posts by those upvoting me from https://steemvp.com.
Vote up comments on my posts to let followers know I read them.
Browse Steemit randomly and vote up whoever I find often quite arbitrarily.
Host a live event and upvote comments and posts by viewers.
Find top followers and vote their comments up.
In summary, my upvoting strategies so far suck and my curation rewards prove it as seen at https://steemit.com/@jerrybanfield/curation-rewards. My objective with upvoting is to contribute the most to Steemit possible especially by rewarding undervalued authors. I am not achieving this at all with the majority of my votes going to myself, established authors, and to comments which have no chance of my vote helping them reach the trending page.
I did a quick comparison with one of the best curators on Steemit https://steemit.com/@curie/curation-rewards. @curie earns approximately 6 times as much Steem Power relative to the same upvoting power I have. I calculated this by dividing our difference in wallets and curation rewards meaning @curie essentially is six times more effective at curation than I am. Why?
How does @curie each amazing curation rewards?
Help. Hundreds of finders submit posts each week to https://streemian.com/guild/curie where the reviewers pick the best posts and then share them with the community. Hundreds of upvoters then all vote on those posts giving greatly undervalued authors hundreds of dollars on a single post after often they have written many previous posts and not even received a dollar. THIS is the kind of curation I want to be doing. @curie offers a 15 Steem reward for submitting a post that is approved giving readers noticing a great post a huge incentive to submit it in exchange for the 15 Steem which is paid out of the Steem Power @curie receives each week.
Why start another curation team?
With @curie already hosting a guild on Streemian and @acidyo running Operation Curation Delegation, what motivation is there for me to start something new? When it comes to curation, I think as our community grows every single effort will be extremely valuable because great curation is the key to us making Steemit awesome. ** The more independent curation teams we have available, the greater value we all see.** Sure I could just set my vote to automatically upvote everyone @curie upvotes and be done with it. I would probably get twice as much Steem Power as I am getting now every week and not have to even think about upvoting.
Each curation team has their own strengths and weaknesses.
The more teams we make with different rules for submission and rewards, the more we will each be able to contribute to great curation. @curie for example is doing so good that I believe that we would all benefit from me making a new team. Operation Curation Delegation just started within the last month and is consistently surfacing awesome posts and leveling up new authors. What I hope to offer is complimentary to what exists by making participation very easy and visible directly on Steemit.
How will Upvotable work?
Each day I will make a post titled Upvotable Day #.
Curators hoping to earn the most Steem Power by voting on the most underpaid posts will see the 10 best posts from the day before and be able to browse submissions live for the newest discoveries maximizing earning potential.
Active readers spending hours every day on Steemit will receive 10 SBD for every successful submission of a post linked in the comments on that day's post which will be featured as one of the top 10 on the next day. For example, submitting a post accepted today would result in a 10 SBD payment plus the post AND the finder of the post being featured in day 2.
Submission guidelines required for post approval.
Posts by others! No self-promotional submissions will be considered because this is about giving to others.
$1 maximum existing rewards because the average post payout is just over $1 and we want those below average in payout while above average in content. Please post a screenshot of the rewards along with your submission because curators may vote it up immediately after you submit it!
New posts! 1 hour minimum and 24 hour maximum from the time the post was published because we want to give every post submitted and upvoted a chance to hit the trending page where it might get a lot more upvotes.
Original Steemit posts because the worst thing we could do is reward people for copying and pasting existing content into Steemit. Will you please double check for this by using http://www.plagium.com/ on the content of the article because that makes it easy to verify that there are no copies already posted?
The purpose of these guidelines are to find the very highest quality posts as soon as they are released and get them shared with the community here on Steemit. I hope these 5 guideposts provide clear instructions to receive the reward!
Earn a "finder's fee" of 10 Steem Dollars per post accepted.
Be the first to share a post matching the description here and you will receive 10 SBD.
Posts AND the finder of each will be shared in the next day's Upvotable post.
Making posts that violate the suggestions above will cancel out equally with any finder's fee earned on other posts. Would you please take the time to verify the posts are acceptable instead of spamming a bunch of new posts and hoping for a reward? For example, if you submit 10 posts with 6 matching the requirements above and 4 that do not, you will receive a finder's fee of 20 SBD instead of 60 because the 40 in invalid posts subtract from the 60 in acceptable posts. Every post not meeting the guidelines takes extra time for our reviewers to process and they will instead receive the payment.
Generally a maximum of 10 accepted posts per day because this will make out my voting power and I am certain I can pay 100 SBD daily. If the results from this are awesome, the number per day may go up in future days. If some days there are only 5 posts that make the cut, then the next day we will take more than 10.
All of my upvotes will go to these posts first.
If I have any remaining voting power over 80% after voting on the posts we have collaborated on to create and discover through Upvotable, then I will vote on comments and other posts.
Who is reviewing the submissions?
@aarellanes just accepted my invitation to complete reviews of the submissions and will be responsible for selecting all of the posts. As soon as Albert finds the post acceptable, he will pay the SBD fee on my behalf and will upvote the post. I will follow him or another account automatically with an upvote using https://streemian.com/profile/curationtrail?page=23. If you would like to follow my votes, would you trail me there because however I set it up you will be able to follow with my vote?
If Albert is unavailable to review the posts, I will recruit another friend to help!
Will you join us by upvoting this post and the posts by others shared here or submitting posts here because we are ready to get started?
Love,
Jerry Banfield