Introduction



Lately I'm discovering more and more really interesting tools to support Steeming. Not sure what it is. I know I'm not trying to find these tool; I just stumble upon them. But maybe it is an unconscious thing, and I notice new cool tools when they appear to me.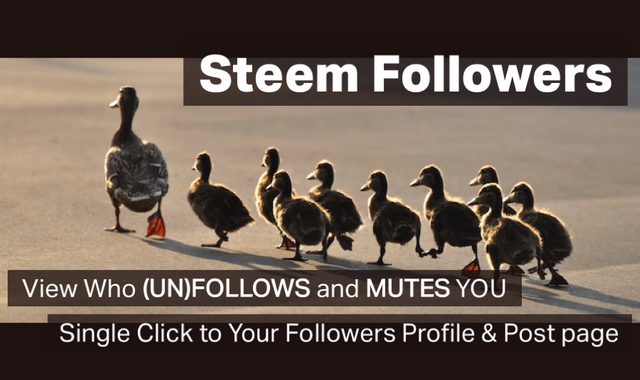 Summary



The tool I tested for you is one that allows you to get stats and details on your follow base. No, this is not the well known SteemDB tool. While SteemDB is a cool tool, and it also shows your follow base; It is just not giving you the whole picture.
Steem Followers does give you the full picture!
And why I'm stating this with full confidence?
Because Steem Followers provides better readable graphics with more information in AND it provides stats on those followers who MUTED you. On top of that, it gives you for each follower direct links to your follower Steemit profile page and feed as well as a direct link to your follower Steem Followers page and data.
This makes Steem Followers more useful than SteemDB for data about your followers and is much more user friendly for analyses of your followers.
Steem Followers



Steem Followers is a tool to help you to view and analyse your followers. It provides all your followers FOLLOW, UNFOLLOW and MUTE actions in a graph that can be switched between 1 month view up to account life time view in gradual steps.
The image below shows my own follower base in account life time view (which is Dec'16 up to now).

Each bar represents a day.The actions taken per day are stacked, starting with the new followers at the bottom (the blue bar). On top of that the number of new unfollowers (the red bar). And finally on top of that the number of followers that muted you (the orange bar).
Hoovering over the bars with your mouse gives the exact numbers which is very useful when looking at anomalies in the graph, ie when really starting to analyse the data.
Below the graph the tool provides a listing of each event, like show in the image below. All events are listed in time chronological order with the latest event on top. Each day is identified with a date, so it is easy to search for data for a particular day.
Note that I set the graph view to 1 month view here.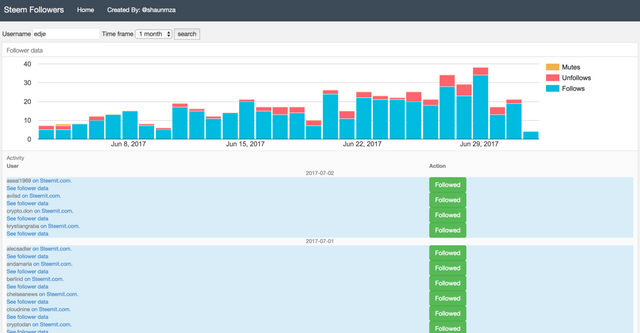 In the left side of the table you see the Steemit username followed by 'on Steemit.com'. Clicking 'on Steemit.com' brings you directly to the profile page of the user to the users 'Blog' page. This gives you an instant view of all the users posts and ReSteems. This is very useful when you like to know a bit more about a particular follower, or when for instance someone unfollowed you or muted you. Maybe you can find the reason why? Or you can use it to win the unfollower or muter back?
Below the username you see 'See followers data'. Clicking on this will bring you directly to the Steem Followers page of the user. This information is also very useful when you like to learn more about your followers.
The table with all the users and their actions comes with different line colours as is shown in the image below.

Each colour indicates something different:
Green: You also follow your follower
Blue: You do not follow your follower
Yellow: You muted your follower
Red: You are muted by your follower
Steem Followers Website Address
Steem Followers Website Address (URL) = https://steem.makerwannabe.com/
Type in the top left corner you Steemit username without the '@' symbol and hit the return button at your keyboard or click the search button the the right of the username field.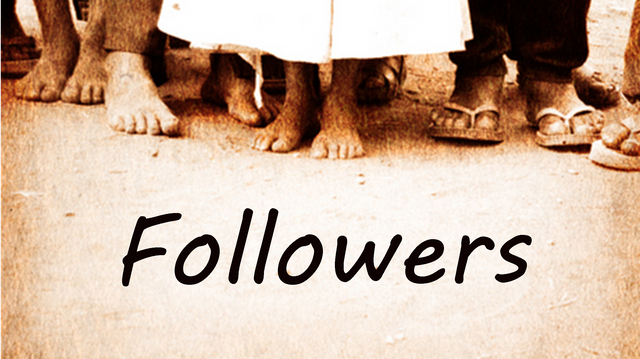 Test Results



The tool is very simple to use and the results are generated reasonably fast.
It is highly user friendly and brings you in single clicks to your followers Steemit profile and post page as well as to your followers own followers pages.
Roadmap?



There is active development on the tool. In a post of about a month ago (here) the developer of the tool is asking us what we like and not like of the tool, as well as suggestions for additions.
Although the tool is good as it is now, it would be great if some 'small' changes and additions could be developed:
List all the unfollows grouped in a table
List all the mutes grouped in a table
Inclusion of primary data of the user in the table such as number of follows and followers and post and comment count
Owner/Creator/Credits



Steem Followers is a tool created by @shaunmza.
All credits to @shaunmza for creation of this tool and making it available to us.


Any suggestions you may have, either comment to this post below, or comment directly to the creator of the tool (here)



My Suggestion: Have a Go With It! :)



NJOY