The Cub1 Initiative Part 1
Hello everyone, this is the first post in a weekly series of posts showing the results for this bot C.U.B. 1 (Christopher Upvote Bot 1). This initiative was created by: @cmp2020 and @remlaps to try to help curate the authors they find who add value to the steemit community. The authors(88) currently on the list are:
@cmp2020, @remlaps, @primevaldad, @justtryme90, @lemouth, @valth, @curie, @merej99, @l0k1, @titin, @soundlegion, @hilarski, @pcste, @robotev, @cryptos, @jrcornel, @daveks, @steemstem, @timcliff, @kooshikoo, @claudiop63, @englishtchrivy, @better, @dragosroua, @thisisbenbrick, @explorertraveler, @bitcoinparadise, @steempowertwins, @paulhallman, @nonlinearone, @charlie.wilson, @xntryk1, @therealpaul, @annielee, @hanshotfirst, @joseph, @finpunk, @baerdric, @lily-da-vine, @whatsup, @jerome-colley, @the-bitcoin-dood, @crowdfundedwhale, @williambanks, @biophil, @steempowerwhale, @steemcleaners, @steemprentice, @bleujay, @extie-dasilva, @renzoarg, @ocrdu, @steemsports, @thegame, @steembets, @warrensteem, @carlee21, @colin73995, @philly.sports, @tracilyn, @busy.org, @music-trail, @luzcypher, @thirstyrecords, @jessamynorchard, @leahmchenry, @michaelstobiersk, @jlufer, @tfeldman, @alexoz, @lukestokes , @marius19, @starttheart, @jonathanyoung, @justhope, @chasingstarss, @batanamatampuhin, @Grisha-danunaher, @vir, @prufarchy, @aprilangel, @stray, @herverisson, @cisah, @nadira, @theanubisrider, @richman, @stephenkendal.
These authors may not be voted on forever as we are planning on making the curating system more advanced than the one that Steem Voter makes possible. 
(Please note that @cmp2020 added typed and added the link for every name on that list).
@cmp2020 is currently on Streemian following the accounts @xeroc, @robinhoodwhale, and @curie
Cub1 is currently voting with 1,082.441 Steem Power. This is his impact on these authors. 
Cmp2020 is currently voting with 3,293.124 Steem Power. This is his impact on the authors the above accounts vote for.
Here is the data from numbers posted on steemwhales.com 7 day curators lists starting on December 15th, as well as curation rewards, comparing cmp2020 and cub1.
Curation Score
Today 12/29/16
cub1 - 1,246
cmp2020 - 762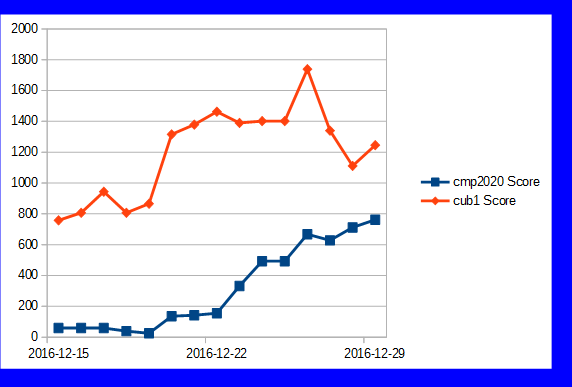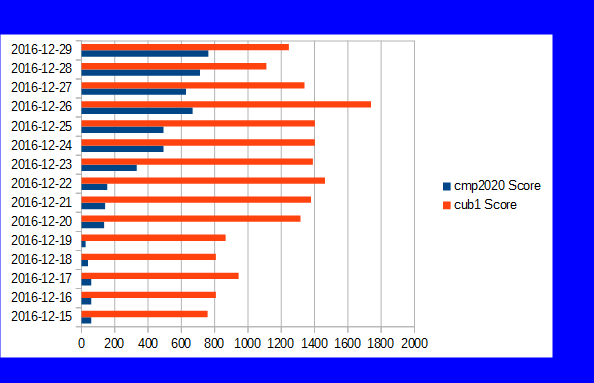 Curation Rank 
Today 12/29/16
cub1 - 138
cmp2020 - 333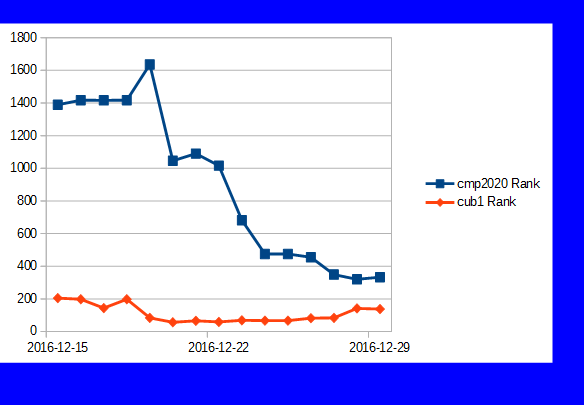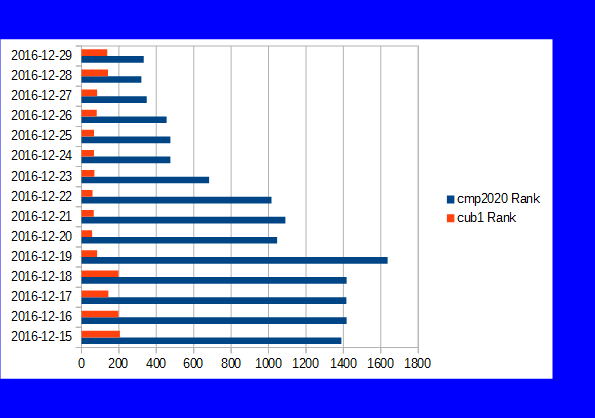 7 Day Curation Rewards
Today 12/29
cub1 - 2.518
cmp2020 - 0.874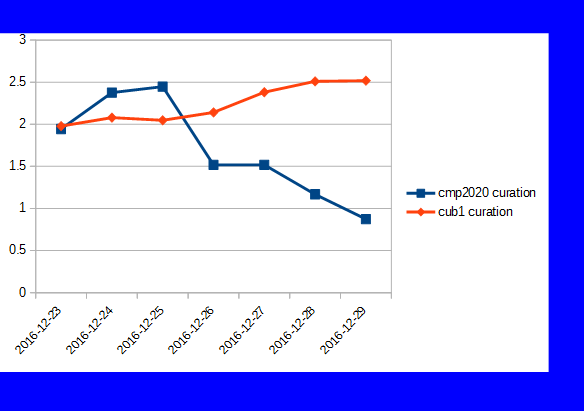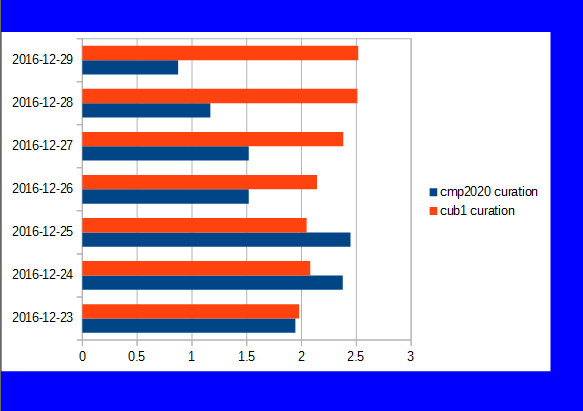 Thanks for reading this! This is the data comparing cub1 to cmp2020.  Please be sure to check out each of the authors on this list, they are on there for a reason. As always, leave feedback and check back next week. Later!