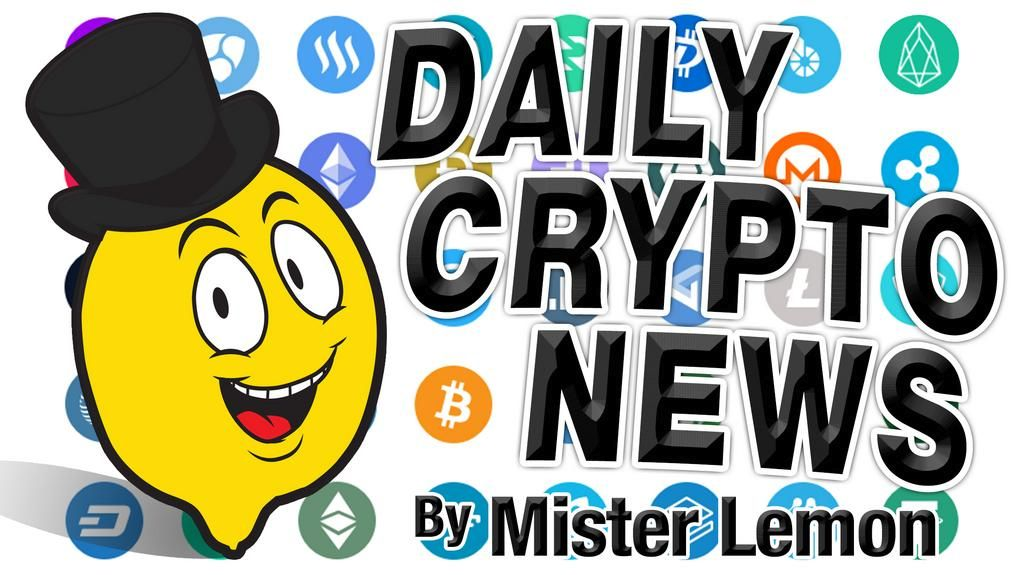 The Ethereum Classic Attacker Has Sent a Bigger Message ;
Dropgangs and Dead Drops: Report Highlights Evolving Darknet Market Opsec ;
How the US Government Shutdown Is Halting Crypto Progress on Wall Street ;
Coinbase, Kraken Join Major Exchanges Supporting Ethereum Constantinople Hard Fork ;
📑 Daily Crypto Calendar, January, 15th💰
STEEM Trading Update
Welcome to the Daily Crypto News: A complete Press Review, Coin Calendar and Trading Analysis. Enjoy!
We reached 11.93 mn visits in December!
There is an important difference between total visitors to a site and unique ones. In this case the 11.93mn include the multiple times a person visited the website.

Traffic Share Evolution since inception of this analysis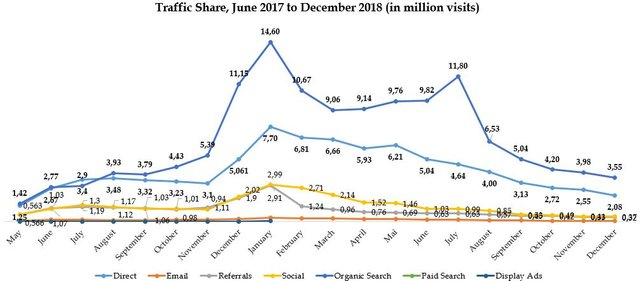 Michael J. Casey is the chairman of CoinDesk's advisory board and a senior advisor for blockchain research at MIT's Digital Currency Initiative.
One of the more disturbing side effects of the crypto market's downturn is it has made it easier for malicious actors to launch 51-percent attacks, making that most fundamental of blockchain security breach more frequent.
But, like all unfortunate events in the never-ending drama of crypto, the real-world losses, in this case, are providing a valuable lesson. In this case, it's a lesson about the role that network effects play in building security, especially for blockchains that have adopted bitcoin's proof-of-work consensus model.
Crypto enthusiasts debate ad nausea about the principles of this or that chain's design, and those debates are important. But if a permissionless blockchain doesn't have a large enough community of users, developers and miners operating in a self-reinforcing manner of value creation and protection, they're vulnerable.
Since the creation and subsequent takedown of the darknet marketplace the Silk Road, the hidden market ecosystem has exploded with inventive solutions that promote private voluntary exchanges. According to recently published darknet market (DNM) research, the cat and mouse game continues with vendors inventing new ways to bolster online black market activities. In the last two years, the DNM ecosystem has popularized methods like 'dropgangs' and 'dead drops' to evade the clutches of the world's law enforcement agencies.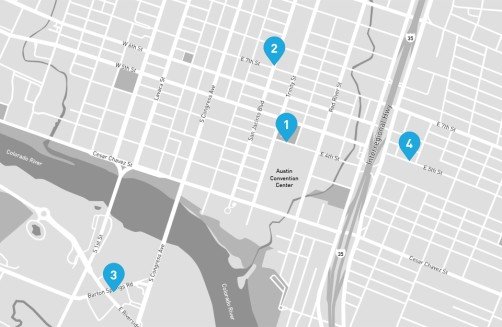 The longest government shutdown in U.S. history is hurting the crypto industry, too.
As the impasse in Washington stretches into its record-breaking fourth week, the closure of the Securities and Exchange Commission (SEC) and the Commodity Futures Trading Commission (CFTC) has put key developments – namely, the approval and launch of products and services involving cryptocurrencies – on hold.
Notably, the launch of Bakkt's bitcoin futures market was delayed in part by the company's inability to secure approvals before Dec. 22, 2018, when the shutdown began. The platform, created by Intercontinental Exchange (parent of the New York Stock Exchange), is in a holding pattern until regulators can open a 30-day public comment period. A new launch date for the platform, which most recently was set for Jan. 24, has yet to be announced.
Major United States cryptocurrency exchanges Coinbase and Kraken became the latest to confirm support for Ethereum's (ETH) Constantinople hard fork, both announcing on Twitter, Jan. 14.
The two major exchanges join Binance, Huobi and OKEx in pledging to monitor the event, which will trigger at Ethereum block height 7,080,000, expected this week.
"Coinbase intends to fully support the Constantinople Ethereum (ETH) upgrade," staff wrote in the post, adding:
"Upon commencement of the upgrade, for security and technical purposes, we will temporarily pause sending and receiving ETH across all of our trading platforms until the upgrade completes and we confirm security of the network."
📑 Daily Crypto Calendar, January, 15th💰
TestNet release in January.
"The Beta version's official launch date is January 15."
Atomic Drop MCX
"Distribution : January 15 12.00 PM GMT +7"
Benz (BENZ), EagleX (EGX)
Desktop Light Wallet released for macOS.
STEEM Trading Update by my friend @cryptopassion
Here is the chart of yesterday :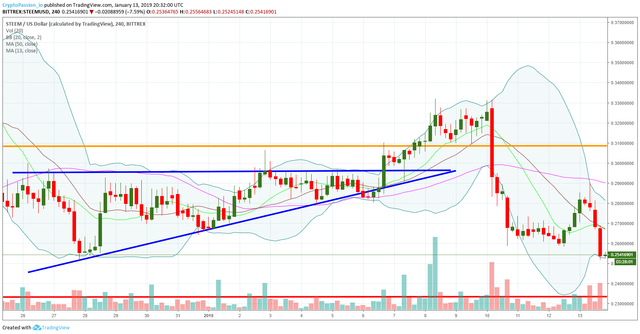 Here is the current chart :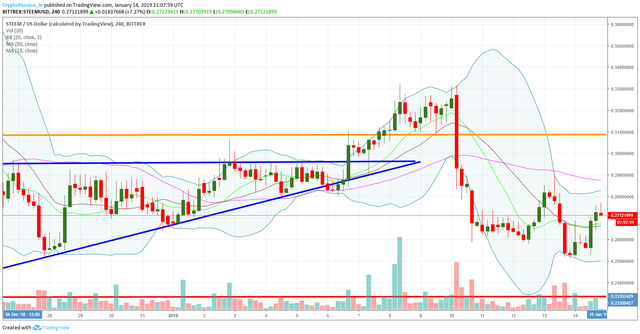 Which line will be broken first? The resistance line in orange or the support line in red. It is becoming hard to predict and even the market didn't take yet a decision. We are back in the middle of these 2 lines and we will start again a waiting period to see which direction the market will take.coinmar
Last Updates
You don't want to miss a Crypto news?
Join SteemFollower and get Upvotes back !