Let's Meet at the Crypto Games Conference!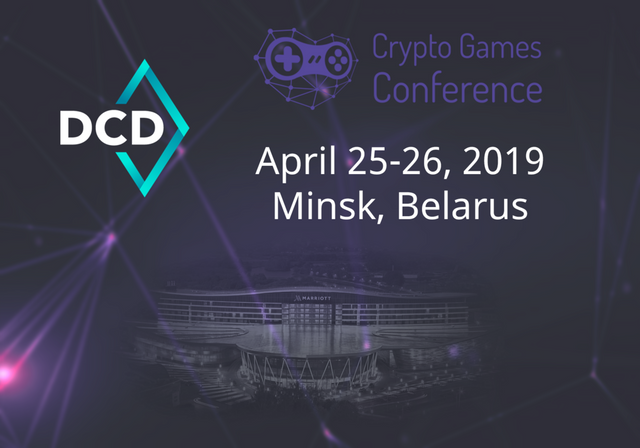 Hello everyone! We are happy to announce our participation in Crypto Games Conference, which will take place on 25-26th of April in Minsk!
Don't miss our presentation of Decentralized Card Deck Ecosystem on 25th of April at 11:10 AM in Blue Hall. Also we'll participate in panel discussion "Crypto Gaming Affiliate Marketing" which will take place the next day at 1:30 PM. Besides that we'll be happy to talk to you at our stand in the exhibition zone:
We guarantee to have a pleasant conversation, to give answers to all of your questions and to treat you with cookies =)
Also you'll be able to test our DApp yourself right by our stand (we'll create 100 free EOS accounts in this regard).
Among other great news - we've decided to give away one "Business Pass" ticket to the conference! It'll give you the access to the Official Party, Meeting Rooms and Business Lounge.
In order to participate in the give-away you'll have to:
We try to follow principles of decentralization in everything we do and this give-away is no exception :) It'll be carried out by the following steps:
1st step: we'll check whether participants meet all the required conditions
2nd step: we'll post the list of partiсipants to http://github.com/grapheneLab at 12:00 UTC on 22.04.2019. If you've met all the conditions but haven't been included to the list, please contact us via Telegram (we'll post the link to the list of participants in our news channel).
3rd step: on the 22th of April 2019 at 15:00 UTC we'll send the transaction from "pokerchained" account to the eosio.null with the link to the list in MEMO. This way we won't be able to change the list at our will (because the link won't be valid anymore).
4th step: we'll wait for the 100th block after the block which contains the transaction with the list and convert its block id HEX to the decimal. After that we'll divide it by the remainder by the number of participants and will get the number of the winner!
The results of the give-away will be available on the 22th of April at 15:00 UTC.
P.S. You weren't the lucky one during the give-away but wanted to participate in the event anyway? Buy the ticket of any category on the official conference site with the 20% discount using our promocode "DCDPROMO". Also you can just follow this link - promocode will be applied automatically. The number of tickets with the discount is limited, so we recommend you to make up your mind quickly!
P.P.S. Also we'll visit the Minsk iGaming Affiliate Conference, which will be held on 24th of April in Minsk. We'll be happy to meet you there too!
Best Regards,
Graphene Lab