Inspired in the previous contest "test your creativity", the new challenge is to draw a cryptocurrency note by using paper and other material of your choice, such as pen, pencil, charcoal, oil, and so on. Digital art won't be allowed for this time.
If your prefer, you can make a stop motion (animation), but only using drawings created with paper and the other materials, as mentioned above. Do not included special effects or digital art into the animation. To find inspiration for a stop motion, see "the food of cryptokitties" by @marpa
Below is an example of a cryptocurrency note. (I hope you do better!)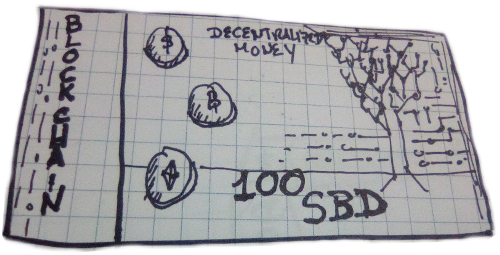 Source: A drawing done by myself
So get ready! the contest will launch next tuesday
The current fund for the contest is 10 SBD, plus a part of the SBD earned in the posts.
You could help me by upvoting or resteeming this post!
---
Inspirado en el concurso anterior "Prueba tu creatividad", el próximo reto es el de dibujar un billete relacionado con criptomonedas, utilizando papel y otro material que quieras, como lapiz, bolígrafo, acuarela, oleo, etc. Por esta vez, no se permitirá arte digital.
Si lo prefieres, puedes hacer un stop motion (animación), pero utilizando solo dibujos hechos con papel y otros materiales, tal como se mencionó arriba. En ese caso, no incluyas efectos especiales ni arte digital en la animación. Si necesitas inspiración para hacer una animación, mira "la comida de los Cryptokitties" de @marpa
Arriba está el ejemplo del dibujo que hice. Espero que hagas un mejor dibujo!
Así que prepárate! el concurso se lanzará el próximo martes!
El presupuesto actual para el concurso es de 10 SBD, más una parte de los SBD ganados en las publicaciones.
Puedes ayudarme votando o dando resteem a esta publicación.