Xtrade.io scam? or just dubious?
This is a quick analysis of the company and upcoming ICO by xtrade.io.
This analysis is done by request to investigate the nature of this company and to see if the claims on the website are credible.
Website:
The domain is registered not very long ago which is strange for a company with a working product but with a pending brand registration: https://trademarks.justia.com/877/28/xtrade-87728624.html
Domain: https://xtrade.io
Registrar: Key-Systems GmbH
Registration Date: 2017-08-21
Expiration Date: 2018-08-21
Updated Date: 2017-10-20
Status: clientTransferProhibited
Name Servers:
ns-cloud-d1.googledomains.com
ns-cloud-d2.googledomains.com
ns-cloud-d3.googledomains.com
ns-cloud-d4.googledomains.com
Also the domain shows no information about who registered it therefore it seems this is protected by a whois privacy service.
Registrant contact
Name:
On behalf of xtrade.io owner
Organization:
c/o whoisproxy.com
Business
Xtrade.io is based at 110 Wall Street, New York, NY 10005



This is actually a WeWork address, a place where you can rent office space.
People:
Alexander Kravets
The founder has a dubious history just like the rest of the team. On his Xtrade's profile the following is read "Kravets is a frequent media commentator and cryptocurrency expert who has been quoted in Bloomberg, CNBC, Forbes, NASDAQ, Reuters, CBS News, and many other major media outlets. "
This cryptocurrency expert is interviewed by Cryptocoin.news on December 17 2017, this article says "It was late Spring 2017 that Alexander Kravets first stumbled over cryptocurrency."
So mr Kravets became a cryptocurrency expert in less than a year. But not only that he is featured in PAID articles placed on Themerkle.com: https://themerkle.com/xtrade-io-will-streamline-cryptocurrency-markets/
Apart from that his appearances in the media are mostly almost exactly the same article.
About Alexander Kravets himself he can be found on angel.co and has founded two businesses: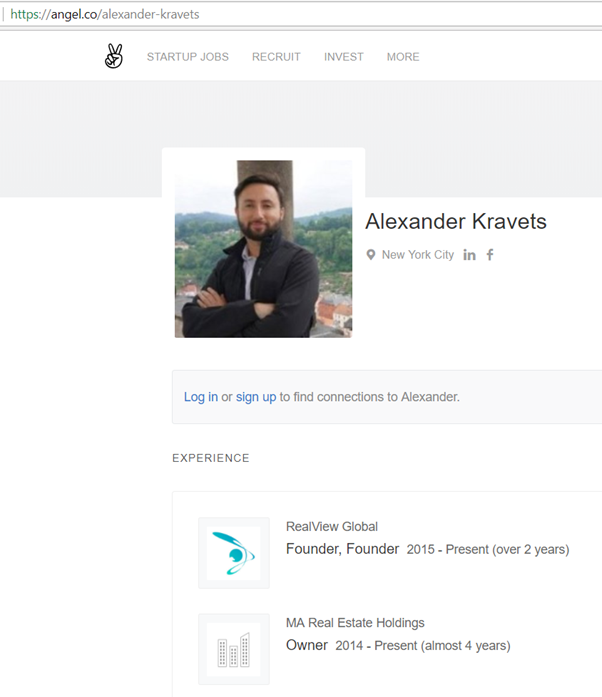 http://realview.global/
And MA real estate holdings (which does not really appear on the internet)
Both don't seem to be real businesses also there's not evidence that he ever ran anything close to "proprietary equities trader and later acted as Managing Director at a self-clearing broker/dealer that provided direct market access (DMA), software, and co-location services while handling 4% of daily NASDAQ trading volume. "
That is 4% of daily NASDAQ trading volume, and nobody knows who he is.
Jon Giacobbe
There is not much evidence that Jon Giacobbe actually worked at Goldman Sachs and JP Morgan for 6 years. What is confirmed is that he worked as an assistant basketball coach from 2009 to 2011.
On 2/8/2013 Jon Giacobbe appears on a fox business show where he states that he is 27 and left "the financial industry" to open two Subway franchises.: http://video.foxbusiness.com/v/2581620686001/?#sp=show-clips
This concludes he must have started working at Goldman Sachs or JP Morgan in 2007, at age 21. Also at one of these big banks he did "specializing in Equity Derivatives, Structured Products, Market Liquidity, Senior Bank Debt, and executing institutional client orders." Which is of course possible at this age, however it seems unlikely that opening two subway franchises is more appealing than "executing institutional client orders" at JP Morgan.
Then on 23/8/2013 Jon Giacobbe appears yet again on fox news as a former analyst at JP Morgan and Goldman Sachs. And he studied at Fordham University: http://video.foxbusiness.com/v/2625514112001/?#sp=show-clips
Sergii Gulko
Sergii Gulko is a founder but also the CTO of the company. He supposedly founded and successfully ran Axon software for more than ten years. Strangely enough Axon software is based at the same address as Xtrade.io (Both a WeWork address). https://axonsoftware.biz/contacts
Axon software is building exactly what Xtrade wants to build, a way to interconnect exchanges.
The most interesting however is the Axon software team. It is exactly the same team as used by Xtrade.io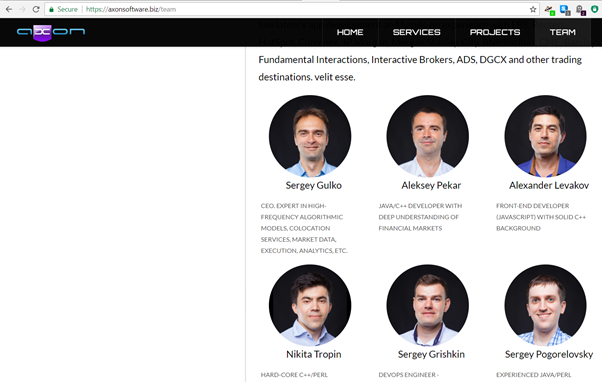 Here is where it gets crazy
This team is also found as a stock image on a Russian photography company while some of them even wear the same shirt. https://martphoto.com.ua/foto-dlya-rezyume/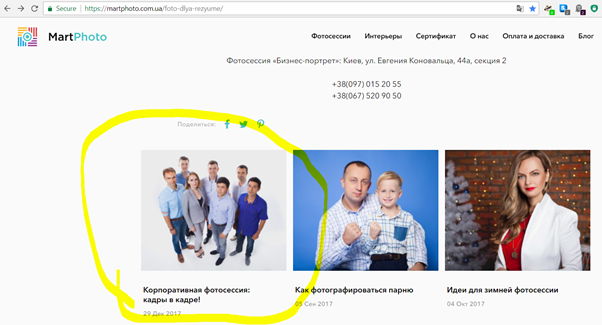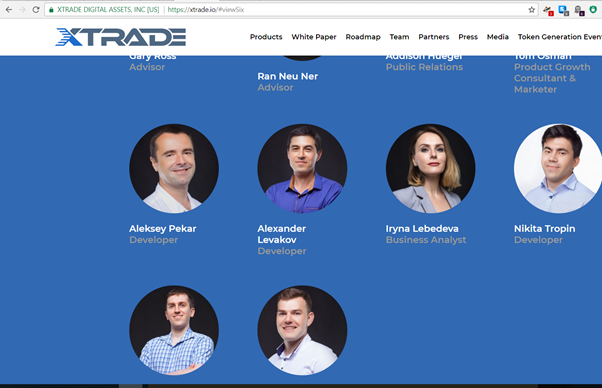 Here is where it gets creepy
On this web page Martphoto.com.ua we suddenly find Xtrade's business analyst Iryna Lebedeva also as a stock photo.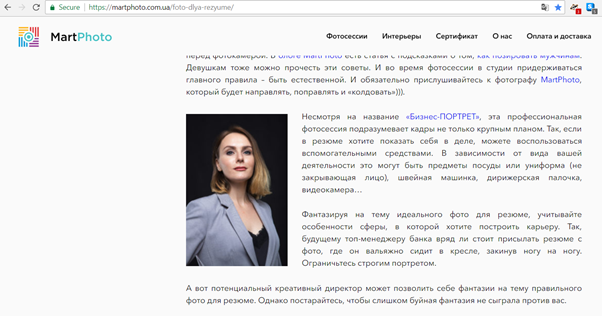 So both Xtrade's business analyst as the entire development team appear as a stock photo on a Ukrainian photography website. Looking at the photo's EXIF data (Xtrade.io has removed all EXIF data) we find that is has been taken on:
DateTimeOriginal 2017:08:04 12:33:13
So it seems the entire team was there for a photo shoot in Ukraine on 4/8/2017 because most of them are wearing the exact same outfit. Which is strange because they are based at Wework in New York.
Tom Osman
Xtrade's Product Growth Consultant & Marketer is Tom Osman the founder of these websites:
http://lovediscounts.com/ https://www.ace.com/ http://discounts.com http://blocknauts.ghost.io/
http://www.teachersregister.co/ (there is not apparent connection between Tom Osman and this company, if it even is an actual company.)
http://blocknauts.ghost.io/ this is allegedly a company by Tom Osman: "He is the founder of blockchain & crypto growth agency Blocknauts that works with companies to tokenize and launch through initial coin offerings."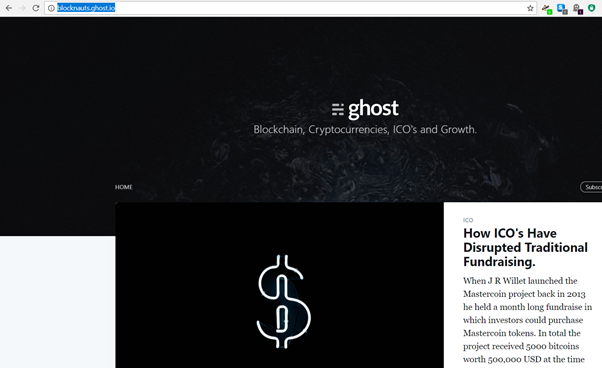 This "company" is hosted by Ghost.io so he does not even host his own website.
Xtrade.io's concept:
They want to build three products: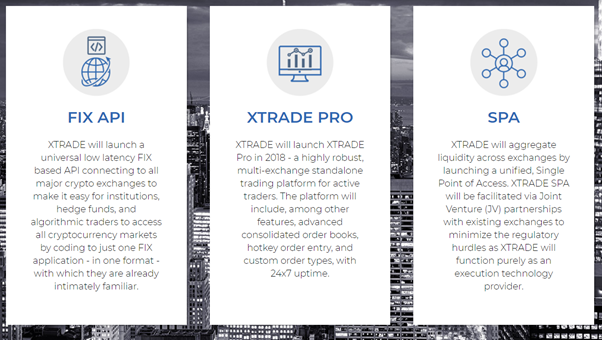 They started xtrade.io at least as soon as 3/3/2017 because before that one of the founders did not know what cryptocurrency was. They filed their trademark on 2017-12-20. Which gives them a maximum of 9 Months to have build their first product which they say is already operational in the video on their website.
They have integrated with 12 exchanges, however only one exchange is a "partner" Cex.io. Also there is no evidence of this partnership.
The other partners are a trading robot, and a couple of insignificant unrelated companies.
ICO
The company is already actively marketing for a pre-ICO with high minimum investments. Or as the website says:
"It is a token presale open to accredited investors, or those with an annual income of least $200k or net assets of $1M, exclusive of their primary residence."
Conclusion:
Xtrade.io seems to good to be true, this is not investment advice, but we recommend staying away from xtrade.io because there are to many unlikely coincidences. Also, the team does not really seem to have the experience they claim to have. And there's rumors of it being a scam: https://www.xrpchat.com/topic/16754-why-the-hot-cryptocurrency-ripple-is-going-down-in-flames/?page=2
-Donation removed-
Which ICO does the community wants us to analyze next?
Comment and we will provide
If Xtrade.io or any of it's members or investors think that I have made a mistake contact me and we will correct it, this is a quick scan of the website and things that I notice that seem out of place, incorrect or just strange. However I might have made mistakes.
Kind regards Xander