The Crypto Market is WEAK
Despite the bull run that was produced in the past week that rejuvenated a slight optimism in the market, the run seems to be running out of steem (haha get it? Ok that was bad ._.) as we have not yet broke past the 9k resistance barrier and with bullish volumes diminishing.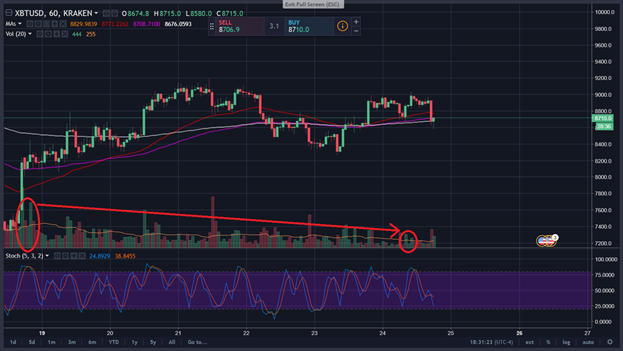 This was surprising but also not so surprising at the same time as I was personally expecting to reach at least 9.5k before a reversal trend. But as with the common theme of 2018 with bad news after bad news, the 15 year old that managed to hack the old Ledger firmware made it to the frontlines and with Japan kicking Binance out catalyzed a premature weakening. Further, considering that volumes for bullish activity has been extremely weak over these few months, the bears should be coming in anytime now to put even more downward pressure on the market.
Another point to keep in mind is the fact that currently the entire market is correlated in that it is not just bitcoin that is experiencing this selloff but every coin. Thus, not only should we be paying attention to bitcoin, we should look at some of the other major players as well. Let's see what Ethereum's been up to.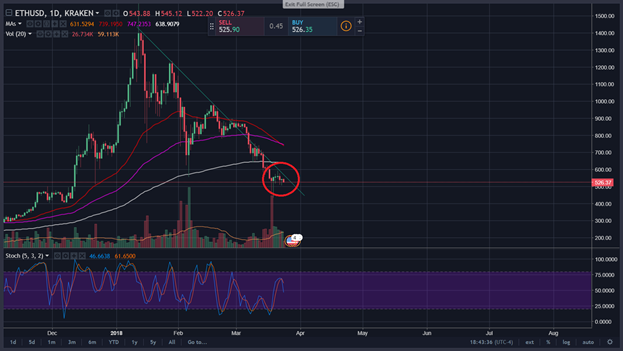 Doesn't look like it's doing very hot but most importantly we are approaching a major point of resistance within the next 2 days. Giving by this downtrend, I see no reason for it to bounce back and as a result, it will probably contribute to bring the entire market down a bit with it.
So where does this all end? As stated in a previous article, the stock market has been going through some rough patches itself with the most recent trade feud with China brewing the storm even further.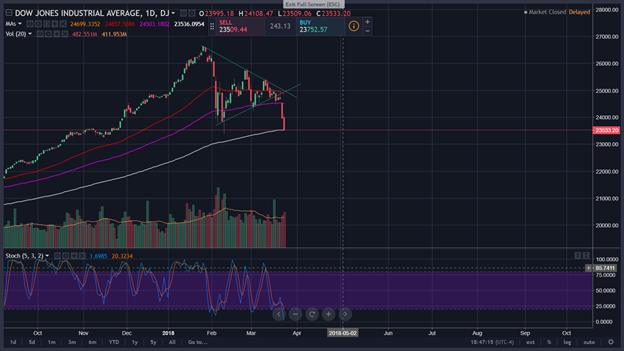 We have broken past the previous resistance as predicted before and once we break through the 200 MA we can officially say that we are in bearish territory. Thus, I expect if any more bulls were to come in, it would be within the next 1-2 weeks.
Good Luck and Stay Safe!