Welcome to the @trangpu sponsored writing contest!
Thanks @OriginalWorks created this contest : Crypterium
Rules & Submission
Write an article about how Crypterium will change the world of banking! Most of us use banks all the time. How will Crypterium change the way you bank? How will this impact merchants? How would this influence cryptocurrency spending? As always, the contest is very open-ended. Be creative!
Feel free to use images and media from their website. You can even make your own video and have it in your submission!
The article must be 200 to 600 words in length.
To submit please do the following:
Add the word "crypterium2017" (without the quotes) at the very end of your article.
Link this post in your submission.
Author must be at least level 30 to submit.
Post the link to your article as a reply to this post.
Resteem this contest post.
This is my article : Crypterium will replace the bank in the near future
So what is Crypterium?
"Crypterium is a contactless cryptobank for everyone. Everything you need in your smartphone: payments, transfers, currency exchange, instant loans. The goal of Crypterium is to replace traditional banking.
Cryptocurrency adoption is growing at an unbelievable pace. Even with this incredible growth, the number of transactions in cryptocurrencies still pales in comparison to traditional fiat money. The Crypterium Cryptobank aims to change this by becoming the new standard in banking.
Forget physical bank branches and dealing with bankers. Crypterium will perform the functions of a traditional bank at a fraction of the cost".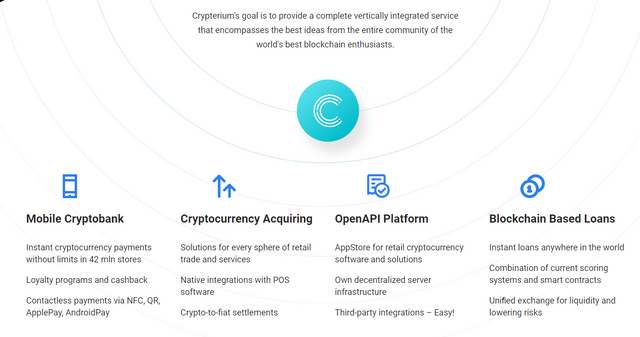 By this time last year, Bitcoin was priced at less than $ 400. To date, Bitcoin has risen 37 times. Only from the beginning of 2017, Bitcoin has increased dramatically.
All virtual forex investors know that the first phase is always a big opportunity, of course, with risk. But the opportunity always comes to those who bravely invest and have a wide vision.
No one expected that Accel Partners would make 800 times the initial investment in Facebook.
For my bank are using
The forms of virtual currency trading are increasingly developed, if the exchange through the bank to be able to provide VISA or Master Card must wait from the bank for a certain period of time, and there are many banks assigned limit For example, I live in Viet Nam, I have a card from ViettinBank, my transaction limit is not more than 30 million VND from ATM and no more than 5 million VND per transaction. This is really inconvenient when you can not go to the bank, and you can not get a refund of% of each transaction, if this number is extremely low,
For Crypterium
There is no longer waiting time for your card to be released.
You will receive a virtual card right after registration.
There is no limit on the volume of transactions.
No need to exchange currency. Instant payments
cash or international deposit.
Integrated with a wallet or third-party payment service
(PayPal, Gyft, WeChat, Alipay, PayTM)
Loyalty programs and refunds per transaction,
Raise the refund for the cardholder.
Non-contact payment methods - ApplePay, SamsungPay,
AndroidPay, QR code mechanics and more.
The return of up to 30% after each transaction is used to thank our CRPT card owners and the most active users through the distribution of CRPT vouchers through a monthly loyalty fund ( MLF)

The benefits to the merchant when using Crypterium are tremendous.
Merchants receive money in cash even when payments are made in cryptocurrency
Ready-to-use solutions for ecommerce platforms and website builders
Commissions are lower than the purchase of a card - only 0.5%
In exchange, the marketing platform and solutions for automated customer programs
Integration with main POS software: R-keeper, Inpass, Cegid, Amber
18 unique solutions for all areas of retail trade and service:
SMB, street retail, HoReCa, ecommerce, traffic, vending,
parking and other types
Crypterium's ambition
Cryptobanks will become the cornerstone in the relationship between the decentralized economy and daily life in the future by expanding the infrastructure and solvency, creating new cryptocurrency payment scenarios and lowering interest rates. . Crypterium is a cryptobank that creates the future, today.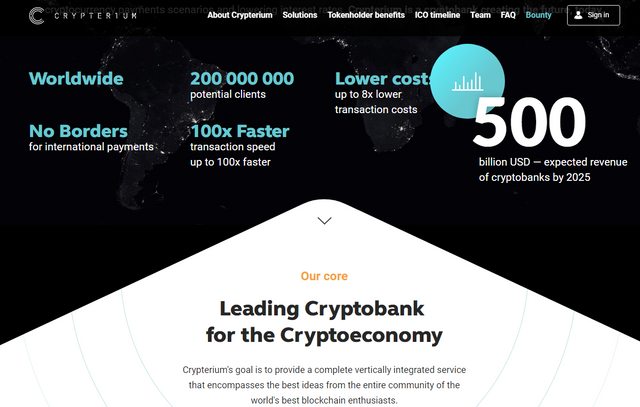 I appreciate Crypterium, the use of Crypterium will help me complete the blockchain transaction more quickly, with the benefits that Crypterium. I think in the near future Crypterium will gradually replace the banks, with the benefit of Crypterium that is sure.
Thank you for watching my article, if there is anything wrong please leave comments. Thank you
crypterium2017