Is EOS on the way to be the Ethereum killer? Dawn 3.0 Alpha Release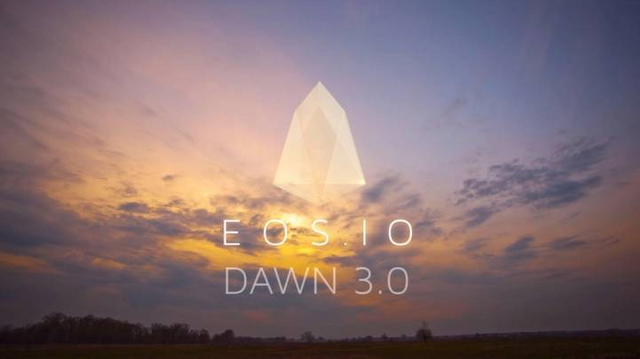 Source: https://steemit.com/eos/@eosio/dawn-3-0-alpha-announcemen
EOS is often referred to in the public media as Ethereum killer. The ICO of EOS runs until June of the year 2018 and there are no actual application examples of the cryptocurrency from the practice to show. Nevertheless, the euphoria and the hype surrounding EOS are indignant.
When comparing EOS and Ethereum, it is noticeable that both platforms pursue similar goals. Like Ethereum, EOS also aims to create a blockchain-based platform on which to develop commercial decentralized applications. In contrast to Ethereum, which already forms the basis for numerous well-known projects (eg Cardano, VeChain and Tron), EOS is still in a conceptual stage and can currently boast only one test network.
Nevertheless, the fan and developer community of EOS is already very big. With a market capitalization of 7.2 billion euros and a price of 11.07 euros per EOS (at the editorial time), EOS ranks 9th in the ranking of all crypto currencies in terms of market capitalization.
The success of EOS, without having a productive system, is probably also due to the many exciting features that the EOS network wants to implement:
No user fees
Scale to millions of transactions per second
Delegated proof of stake (DPoS)
Supermajority Consensus (in place of Hard Forks)
A more detailed explanation of the technical details can be found here.
What is Dawn?

The dawn protocol was released in the first version 1.0 in September 2017. Dawn 2.0 followed in December 2017. The third and final version of the protocol, Dawn 3.0, was announced a few days ago on Twitter by Dan Larimer and Block.one.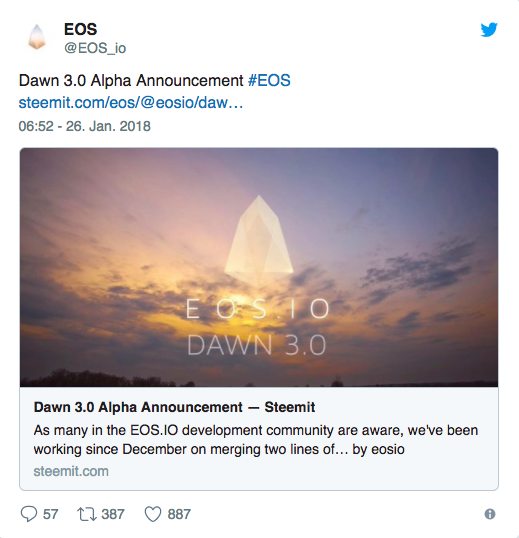 The announcement sparked great enthusiasm in the EOS fan base. The EOS team has announced via Steemit Post that the Dawn 3.0 protocol code has now been released on GitHub (as Master Branch)
Additional features of the Dawn 3.0 Alpha release include:
deferred transactions
Staking pools for the DPoS
new currency contracts
a new token standard (new emerging token standard)
Why could EOS Ethereum become dangerous?

The EOS supporters believe EOS will replace Ethereum as the next big dApp platform in the future. Accordingly, they eagerly wait for EOS to leave its conceptual stage and be put into production, usable for everyone. With Dawn 3.0 now the last step, even if only in a first alpha trial version, was released.
Presumably, the supporters and investors of EOS but have to be patient. The ICO of the token ends only on 01. June 2018. Before that is probably not to be expected with a launch of the productive system.
If published, however, EOS may, as of now (assuming EOS can deliver on its promises), overtake Ethereum in the two key factors of transaction cost and transaction speed.
Compared to ETH, EOS basically offers free transactions. Each developer can decide whether or not to charge for their EOS-based currencies. In addition, EOS should be infinitely scalable. In contrast, Ethereum has struggled in recent months with rising gas prices and slow transactions. It is therefore all the more important for Ethereum to promote its own scaling solutions (raiding, sharding).
From an investment perspective, however, EOS could be an interesting option for 2018 as soon as the platform starts and first dApps are developed and released on EOS. The EOS course could benefit greatly from this.

Don't miss out on my next post! Follow me @tradewonk