Siacoin breaks them all!

If you are into proven team with working projects, then I guess you are into Sia.
This morning I launch tradingview and see that SC/BTC broke the daily MA-30: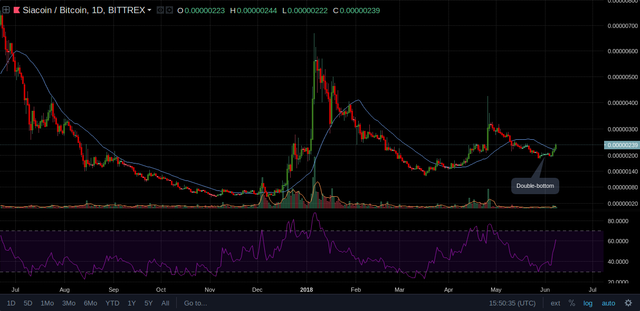 This is a big move due to the history of this moving average for altcoins: look how it's been a sure resistance between July to December 2017 then how it goes above every times it's rallying.
There is also a double bottom that could have triggered your attention early.
Sia v1.3.3
A new version have been released today. The big new feature is the possibility to stream videos from the Sia network.
From there you can imagine sites like Vimeo having the possibility to use cheap and secure storage, and saving bandwidth.
OKex listing
The biggest of all crypto exchanges added SC deposit yesterday.
It will open trading of it against BTC, ETH and USDT on June 11th, 16pm (UTC+8).
Withdrawal will be available on June 12th, 16pm (UTC+8).
Those are the dates to watch carefully. The uptrend being seemingly backed only by news, without having been preceded by accumulation, could get dumped rapidly, the same way it happened with UpBit.
Legal disclaimer: Sue me if you lose. I will go to jail  and give you my money. I am responsible for what you do. By reading the article, you did accept to comment, vote, and resteem it.