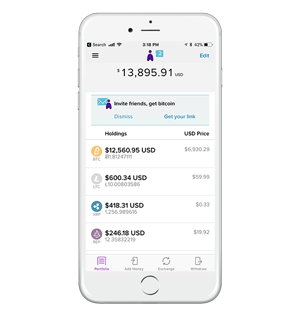 Quick Info
Abra Cryptocurrency App
(Sign-up here and get $25 in free bitcoin)
Fiat Currencies AUD, USD, GBP, EUR, JPY, SGD, HKD & 40+ more
Cryptocurrencies BTC, BCH, ETH, XRP, ETC, LTC, XLM, ADA, BTG, TRX, REP, BAT, DASH, DGB, DOGE, GNT, LSK, XMR, XEM, NEO, OMG, QTUM, SNT, STRAT, TRX, XVG, VTC, ZEC, ZRX
Deposit Methods Bank transfer (ACH)
Cash
Credit card
Cryptocurrency
Wire transfer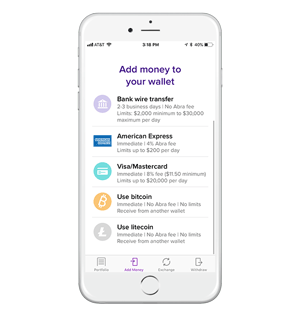 Trading Fee Spread applies
Deposit Fees Bank transfer: None
Cryptocurrency: None
US-based AMEX card: 4%
Abra teller (PH): Up to 2%
Withdrawal Fees Bank: None
Abra teller (PH): Up to 2%
Cryptocurrency: Fees vary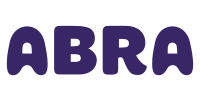 What is Abra?
Abra is more than just a cryptocurrency wallet, and more than just an exchange.
It aims to be an all-in-one tool for helping you manage your crypto and fiat currencies however you want from the convenience of your phone.
Firstly, it's a cryptocurrency mobile app that also allows you to buy and sell cryptocurrency directly through its wallet — 28 cryptocurrencies and over 50 fiat currencies at the time of writing.
It also works as a money transfer app, letting you quickly and easily send funds to others and switch your balance between any of the supported fiat and cryptocurrencies on demand.
What sets Abra apart?
With Abra, all your balances of any currency on the app (with the potential exceptions of BCH and LTC) are actually being held as bitcoin. When you choose to denominate certain parts of your account as different currencies, these are then fixed to that price rather than bitcoin's price.
Why does Abra use this system?
Abra uses this unique system because it can provide people quicker, cheaper and more complete control over their money.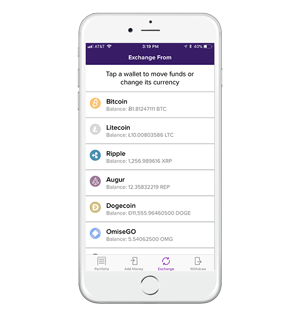 By using bitcoin as a base, you can exchange money without going through money changers, and you can send and receive money without transacting via traditional banking networks or other money transfer providers.
It also lets Abra automate this system using smart contracts. These are capable of automatically handling bitcoin's price changes to create cost savings in other ways.
Using bitcoin as its base is how Abra can pack so many features into its app without it getting too expensive or complicated for some users.
Which cryptos can I store?
Abra supports the following cryptocurrencies. Note that with the exception of LTC and BCH, your balances will typically all be held as bitcoin and that Abra does not support withdrawals or deposits of most of these currencies, although you are still able to gain exposure to their price movements.
Supported fiat currencies: AUD, USD, GBP, EUR, JPY, SGD, HKD & 40+ more
Supported cryptocurrencies: Approximately 28 cryptocurrencies
(Sign-up here and get $25 in free bitcoin)
What cryptocurrencies are supported?
BTC
ETH
XRP
BCH
XVG
LTC
ADA
XLM
TRX
NEO
DASH
XMR
XEM
ETC
QTUM
OMG
ZEC
LSK
BTG
ZRX
REP
STRAT
DOGE
GNT
SNT
DGB
BAT
VTC
How do I add cryptocurrency to my Abra wallet?
To deposit BTC, BCH or LTC cryptocurrencies, open the app and go to the portfolio screen.
Tap "+Add Money" and select the cryptocurrency you want to deposit.
You should now see a QR code and a cryptocurrency address.
To initiate the deposit you can either scan the QR code with the depositing wallet or use the address provided.
Is Abra safe to use?
Abra has been around since 2014, is a registered company in California and its founder and CEO, Bill Barhydt, is an experienced and relatively well-known fintech engineer in Silicon Valley.
Abra's received over $35 million in funding from venture capital firms and other investors, including American Express, has won multiple start-up awards, has clear customer service channels and has built up a strong customer base. At the time of writing, the app has been downloaded almost 40,000 times in the last month.
However, it's also unconventional, complex and technically secretive by cryptocurrency standards. It's not open source, and has not published technical details on how its complex system really works.
Check out ABRA and easily invest in 28 cryptocurrencies or BIT10, an index of the top cryptos. Use my link to sign up and get $25 in free bitcoin after your first Bank/Amex deposit, or 1.5% cash back when you exchange cryptos (T&C apply):
(Sign-up here and get $25 in free bitcoin)
Pros
-Allows in-app conversions of fiat and cryptocurrencies
-An all-in-one exchange and wallet
-Works as a money transfer app
-Buy, sell and transfer from your phone – wherever you are
-Guard against crypto falls, or look for rises, as needed
Cons
-Rates for in-app purchases are higher than elsewhere
-Bitcoin-based funds storage system may present additional risks
-Rates may vary depending on currencies being used
-Verification is required to deposit or withdraw funds
(Sign-up here and get $25 in free bitcoin)
---
Other great resources I use
Trade smart and safe with CryptoBaseScanner: https://cryptobasescanner.com?a=iLwcE9Z5sDnL28dw
Best crypto exchanges get a signup bonus
Join Binance with me: https://www.binance.com/?ref=35181698
BEST Bitcoin faucet check out my last post! - https://freebitco.in/?r=320572
Get CryptoTab Browser: https://get.cryptobrowser.site/4629357
Earn free BTC with Moon Bitcoin- http://moonbit.co.in/?ref=c69b1e844696
Mine Crypto with any device passive- https://minergate.com/a/3acfa834fd5c6e289a33dd41
2 of the most effective crypto advertising platforms below
Advertise and earn faster for Cryptotab or any crypto Referrals- https://ref.adbtc.top/959159
Advertise and earn faster for Cryptotab or any crypto Referrals- http://www.easy-hits4u.com/?ref=jam199716
BTC- 17iN9xNLU4EFvBVCbuB9cz425EL8tuZnJb
ETH- 0xFC18Dc7Cf9f1340C7d2Aa6771176C6580aBc2651