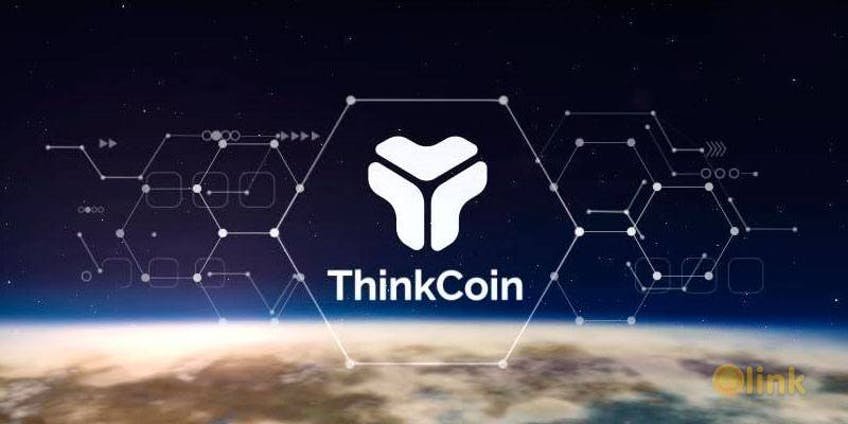 There has been a tremendous improvement in technology in all sectors of the economy and the financial sector has not been left out. Prior to now, banks, financial institutions and market participants operating via fiat currencies and legacy settlement processes continue to dominate the global financial markets. There were so many challenges associated with this global financial market including costly and time consuming process moving funds between providers, no single provider to connect all markets (crypto, equities, CFD, physical and futures), difficulty in switching from trading cryptocurrencies into trading other assets classes and requirement of multiple trading or exchange accounts and are mostly dependent on fiat.
A thorough observation has been made which prompted a team of experts to come up with a unique and brilliant idea called ThinkCoin. ThinkCoin will create a network called TradeConnect which is a cutting-edge new multi-asset trading network which will connect all traders to all markets. With this unique network, there will be seamless trading across all kinds of traditional and non-traditional financial markets with the use of cryptocurrency accounts which are made possible by blockchain technology and distributed ledger.
ThinkCoin will be launching an ICO so as to generate funds to design and develop the TradeConnect network. The TradeConnect network will connect all participants to global markets while utilizing a cryptocurrency ecosystem. This simplifies trading experience, expand access and increase functionality. Also, trades will be recorded on the blockchain so as to enable greater transparency, lower cost of trading vastly and speed up settlement significantly.
FEATURES OF TRADECONNECT
• Reduced fees with blockchain technology.
• Cutting edge artificial intelligence.
• Direct trading without intermediaries.
• Full transparency on blockchain
THINKCOIN ICO DETAILS
ThinkCoin will generate a token called TCO tokens. These tokens will be issued by TradeConnect in two stages, which are Pre-ICO to enable early development and engage participants and ICO to enable systems and structures to be built.
PRE-ICO: base price will be $0.30 USD and there will be two phases for bonus. First bonus phase starts 3rd April to 23rd April 2018 (45%) and second stage commences 24th April to 18th June 2018 (22%). All unsold tokens will be burnt so as to maintain the distribution as specified.
Hardcap of the Pre-Sale, Pre-ICO and ICO will be $30, 000, 000 USD.
TOKEN DISTRIBUTION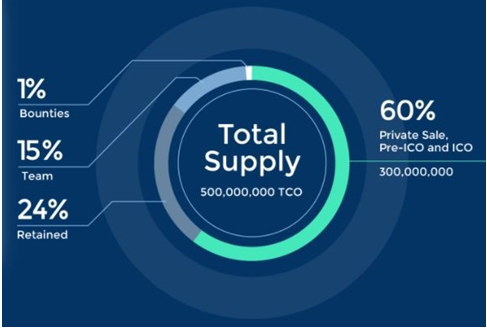 PRE-ICO & ICO PARTICIPANTS: 60%
RETAINED: 24%
THE TEAM: 15%
BOUNTY: 1%
FUND ALLOCATION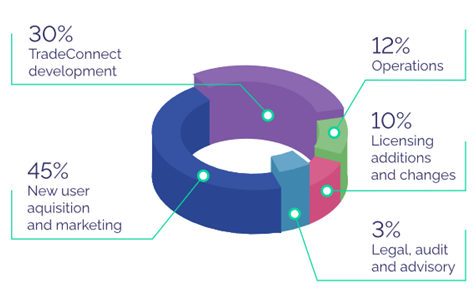 NEW USER ACQUISITION AND MARKETING: 45%
TRADE CONNECT DEVELOPMENT: 30%
OPERATIONS: 12%
LICENSING ADDITIONS & CHANGES: 10%
LEGAL, AUDIT & ADVISORY: 3%
ROADMAP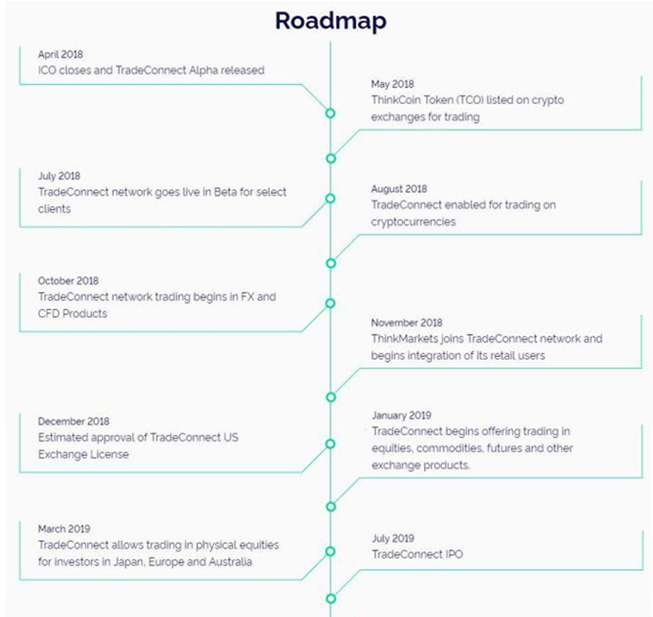 APRIL 2018: ICO closes and TradeConnect Alpha released.
MAY 2018: ThinkCoin Token (TCO) listed on crypto exchanges for trading.
JULY 2018: TradeConnect network goes live in Beta for select clients.
AUGUST 2018: TradeConnect enabled for trading on cryptocurrencies.
OCTOBER 2018: mTradeConnect network trading begins in FX and CFD Products.
NOVEMBER 2018: ThinkMarkets joins TradeConnect network and begins integration of its retail users.
DECEMBER 2018: Estimated approval of TradeConnect US Exchange License.
JANUARY 2019: TradeConnect begins offering trading in equities, commodities, futures and other exchange products.
MARCH 2019: TradeConnect allows trading in physical equities for investors in Japan, Europe and Australia.
JULY 2019: TradeConnect IPO.
TEAM
NAUMAN ANEES: Chief Executive Officer and Co-Founder
FAIZAN ANEES: Director and Co-Founder
RODOLFO FESTABIANCHET: CEO and Co-Founder of TradeInterceptor
MICHAEL HERRON: Strategic Advisor
ADIL SIDDIQUI: Director of Operations
KEITH GOLDSON: Marketing Advisor
ALLA POLYANSKAYA: Audit and Compliance Manager
NAEEM ASLAM: Chief Market Analyst, ThinkMarkets
RYAN CASE: Head of Sales Trading & Partnerships – Europe at ThinkMarkets
MARK GOSHA: Senior Project Manager
JAI BIFULCO: Marketing Director, ThinkMarkets
HARLEY SALT: General Manager, ThinkMarkets
CAROLINE OLSEN: Marketing and Social Media Manager – TradeConnect
ANDREW LOWRY: PR and Content Manager
IMANE BENHIMA: Digital Marketing Manager
JACOB GALEA: Head of Sales, APAC
You agree with me that this project is indeed unique and will surely make a positive impact on the world. I strongly encourage all to participate today and together we will achieve success. For more information about the project, please kindly visit the website and whitepaper given below;
WEBSITE: https://thinkcoin.io
WHITEPAPER: https://docsend.com/view/qgyaq2y
TWITTER: https://twitter.com/ThinkCoinToken
TELEGRAM: https://t.me/ThinkCoinToken
FACEBOOK: https://www.facebook.com/ThinkCoinToken
PUBLISHED BY: thankyoulord
BITCOINTALK URL: https://bitcointalk.org/index.php?action=profile;u=2076086
ETHEREUM WALLET: 0x2859DD117e5E186B2dec97b50012C66D0E7597Ad