StakeCube - Passive Income Opportunity With Masternode Pools & Collaboration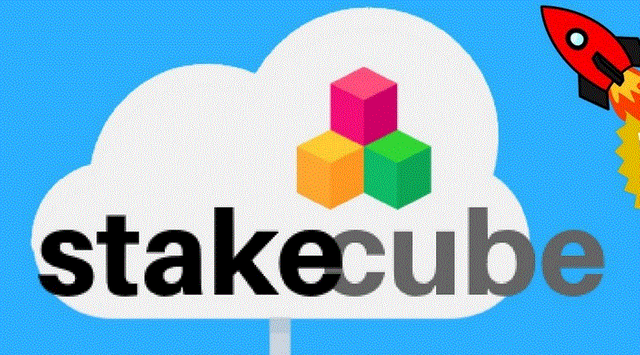 Tokens & coins that offer rewards from owning a masternode is an excellent source of passive income. For those of you who are not familiar with or those who are just beginning to scratch the surface of getting involved with owning and operating a masternode for passive income, it may be best to get a basic technical understanding of what a masternode is and does and how you actually earn passive income from them. So here it goes!
Masternodes are computers that run a wallet and make decisions, such as locking transactions, coordinate mixing of coins, and voting on budget funding. Masternodes require a fixed amount of tokens or coins as collateral, a dedicated IP address, and need to be able to run 24 hours a day without a more than a 1 hr connection loss. Masternodes get paid a percentage of the block reward on every block, which is distributed to masternodes one at a time. For example, owning a DASH masternode typically pays out around 2 DASH to each masternode every 7 days. However there is a minimum requirement of 1000 DASH to run a DASH masternode and the cost associated with this type of masternode could potentially be far too expensive for most people. At the time of writing this post the cost of 1 DASH is $167.77 (according to CoinMarketCap) making the amount of collateral needed to run a DASH masternode of $167,770.
*Please note: Aside from providing a basic outline of what a masternode is and how it works I will be providing an option for those of you who are interested in earning passive income from running masternodes however may not have the amount of collateral (tokens or coins) needed to run a masternode.
Masternodes enable the following services:
InstantSend (instant transactions). In contrast, Bitcoin takes about 10 minutes to confirm a payment.
PrivateSend (anonymous transactions). In contrast, Bitcoin transactions are totally public and traceable. Only the identity of the addresses is anonymous.
Decentralised Governance (masternodes govern, while the blockchain funds development). In contrast, Bitcoin is controlled by a few big miners and funded by 3rd party centralized institutions with self interests.
Think of a decentralized payment processor.
Masternodes are also given voting rights on proposals. Each masternode has 1 vote and this vote can be used on budget proposals or important decisions that affect the coin or token.
HOW MUCH CAN I EARN FROM A MASTERNODE?
Masternodes cost money as mentioned earlier and as well technical effort to host so masternode operators are paid a share of the block reward to incentivize them. With current masternode numbers and rewards masternodes earn approximately 2% - 12% return. This reward falls off in subsequent years but as the value of the token rises and the supply goes down, masternodes should still be sufficiently incentivized. This projection also doesn't count the fees that masternodes earn whenever someone uses its payment processor services.
VISUAL OUTLINE OF MASTERNODE PAYOUT STRUCTURE: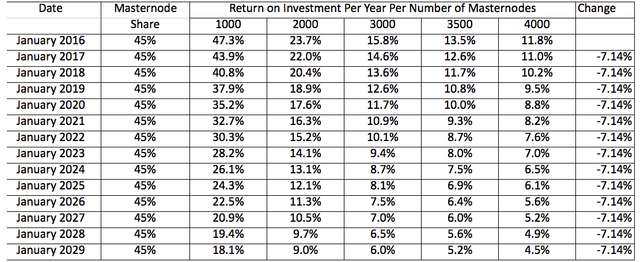 WHAT DO I NEED TO HOST MY OWN MASTERNODE?
As mentioned earlier, to host your own masternode you would need the minimum amount of tokens. Different masternodes have different token and coin amount minimums. Some as high as 250,000 coins per masternode. For example, a Graft Tier 3 masternode requires 250,000 Graft. A tiered masternode system usually offers levels as it pertains to the amount of coins you hold in that wallet. Masternodes that have a large amount of coins in their wallet could earn a larger percentage however not all masternodes offer tiered payouts. For example a DASH masternode does not offer a tiered payout for the amount of DASH held however Graft does offer a tiered payout with a minimum of 50,000 Graft being a tier 1 and 250,000 being a Tier 3. (*Please note: you may see Graft call their nodes "supernodes". In this case, a supernode is no different than a masternode other than it may have more tokens than a masternode however Graft has chose to call all their masternodes supernodes).
The next component for setting up and hosting a masternode would be a VPS, dedicated IP address and the technical know how to setup and manage your masternode. In addition to the setup process of a masternode being a bit complex it is also very important to have the technical know how and ability to know when your masternode stops running due to the VPS stalling or from a connect loss as well as knowing how to kick start the masternode back up in the quickest possible time so you will not continue losing money from the masternode down time. Some masternodes have a required maximum connection loss time. This means that if you are hosting a masternode on your VPS you need to get the masternode back up and running within 1 hour or you may lose your ability to host and earn from that masternode. This is another important reason why it's crucial to have the technical know-how to operate a masternode.
While masternodes can be a very profitable form of passive income, technical wise it just is not for everyone. That is why there is a platform called StakeCube that allows users to not only run and earn passive income from a masternode without any technical know how but they also allow its users to earn passive income without having the total amount of coins required for running a masternode.
With StakeCube you can earn from a series of popular and profitable masternodes with just a fraction of the required coins needed to be held in a wallet to be able to run a masternode. They have created "masternode pools" similar to what a mining pool would be. With mining, you can either solo mine or join a mining pool. Up until now, there weren't any chooses for running a masternode without having the minimum required amount of coins. With "masternode pooling" you can now add masternodes as a means of generating passive income to your income portfolio.
I suggest opening up a free account so you can get a feel for the platform as well as see what masternodes are available for you to begin earning with their masternode pools. You may always have some of these coins in your wallet just sitting there. Now you can begin monetizing those existing coins instead of them just sitting there or you can buy some to enter any of the pools you like. You will also move up a level when you make your first deposit which makes you eligible to receive all of the airdrops on the platform. All you need is to deposit a small amount of any of the masternode coins on the platform. Coins such as ReddCoin, DeviantCoin, Bitcoin Green, etc. You can get 5 Bitcoin Green on CoinExchange.io for $10 just to move to level 3.


GET YOUR STAKECUBE ACCOUNT HERE:
Register here to open a StakeCube account and begin earning
BELOW YOU WILL FIND A SHORT LIST OF COINS YOU CAN PURCHASE TO EARN WITH ON STAKECUBE:
Deviant
Bitcoin Green
Logis Coin
Bean Cash
Crop Coin
Linda Coin
Zest Coin
Vsync
LightPay Coin
APRCoin
DraftCoin
Bitrewards
-add a bunch more! Plenty of small cap coins & tokens to build up your STAKECUBE account with!
YOU CAN ALSO VOTE FOR NEW COINS SUCH AS PIVX, WAVES & MANY MORE!
AFTER YOU CREATED AN ACCOUNT & VERIFIED DON'T FORGET TO CLAIM YOUR DAILY FREE COINS!
HOW TO CLAIM FREE COINS ON STAKECUBE?
STEP1: Register for a StakeCube account here
STEP 2: Once you registered for an account make sure to verify your email.
STEP 3: Once you have registered & verified your new account, login into your new account go to Menu >> Faucet
STEP 4: You will see a list of coins with a "CLAIM" button under each coin. Click the "CLAIM" button under each coin to get your free coins.
STEP 5: Log in every 24 hours & perform "STEP 4" for free coins daily!
StakeCube Video Review
Register for a StakeCube account here!
BONUS PASSIVE INCOME OPPORTUNITIES BELOW


EARN FREE COINS WITH MINIMAL EFFORT!
Sign up here for free payouts every 5 days of $MANNA Coin as part of their nonprofit universal basic income project!


SOCIAL CRYPTO TRADING! LET OTHERS AUTOTRADE FOR YOU! REGISTER BELOW!
JOIN HERE


Get 10 NoLimitCoin for Joining NoLimit Fantasy Sports Platform
THANK YOU TO EVERYONE WHO UPVOTED & COMMENTED! FOLLOW @telegramairdrops FOR MORE FREE TOKENS & PASSIVE INCOME OPPORTUNITIES!