Top 5 Crypto Currencies to Buy & Hold for year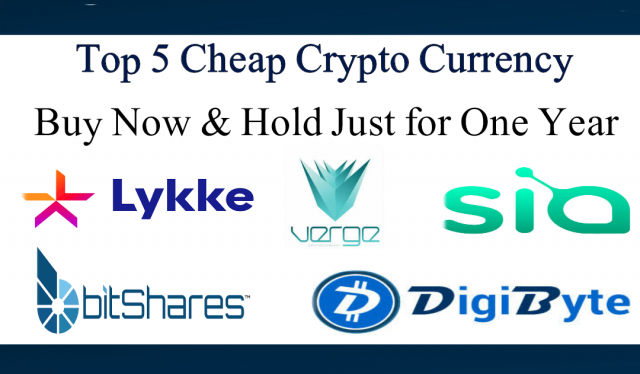 As you know many crypto currency turn from $0.01 to $10 Just in Year! SO In crypto world it can happen if we buy some good crypto currencies at low price in pennies or cents or even less. So we can get good profit at the end of year or may be in few years...
Disclaimer: Crypro currency involve high risk so invest only that amount which you can lose.
Our Strategy buy these all top cheap 5 coin for $10 each for one year so we can get good return
Our analysis is depend on base market value, coin reputation , price falctuations over years .
Here are list of top 5 cheap crypto currencies!
1: Bitshares (BTS)
Bitshare is also top coing to buy for longterm now its trading at $0.086510 with all time high $0.40 above so we can target this coing for more than $5 to $6 this is top coin base on one year price flactuation.
Here are market cap data
Market Cap
$225,102,741
31,440 BTC
Volume (24h)
$3,869,890
540.51 BTC
Circulating Supply
2,602,040,000 BTS
Max Supply
3,600,570,502 BTS
2: Lykke (LKK)
LKK coin start November 2016 at $0.0468 Now LKK is trading at $0.36 around at 63 rank we can hold it for year for target of $1.50 to $2.3
Here are market value status
Market Cap
$96,478,643
13,475 BTC
Volume (24h)
$186,689
26.07 BTC
Circulating Supply
262,355,586 LKK
Total Supply
1,285,690,000 LKK
3: Verge (XVG)
Verge coin is also our recommend currency to hold for long term this currency is also top rank just this january 2017 its price was $0.000020 its touch high above $0.009000 above. Currently trading at $0.006560 we can target it from here to $1 to $1.9
Market Cap
$93,614,441
12,988 BTC
Volume (24h)
$2,902,240
402.65 BTC
Circulating Supply
14,270,494,022 XVG
Max Supply
16,555,000,000 XVG
4: Digibyte (DGB)
Digibyte is also top rank coin
This coin trading at $0.008941 all time high around $0.06 so we can target this coin for year $1 to $1.70
Here are marketcap data
Market Cap
$84,131,979
11,678 BTC
Volume (24h)
$3,436,950
477.06 BTC
Circulating Supply
9,409,767,562 DGB
5: SiaCoin (SC)
Siacoin just start at Aug 26, 2015 $0.000046 now its trading at $0.004290 its already touch high above $0.009494 so we can consider this coin for hold upto year for target $0.085 to $0.90
Here are coinmarket cap value rank is 51
Market Cap
$132,501,360
18,506 BTC
Volume (24h)
$1,693,870
236.58 BTC
Circulating Supply
30,885,881,909 SC