Telos Central – Jan 2019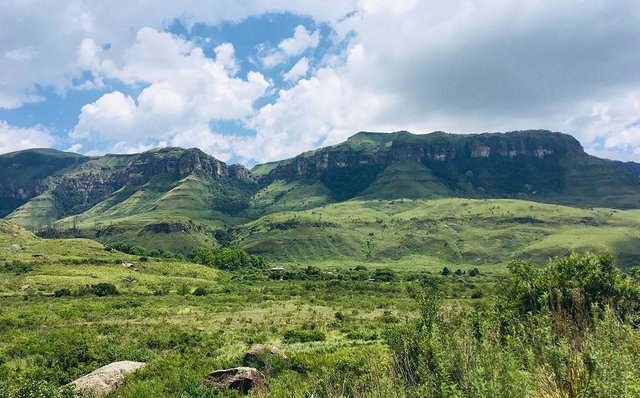 Writing to you from the beautiful "Drakensberg" mountains in South Africa.
Background
The world of blockchain is a fast-moving industry and since the release of the EOSio software, developed by Block One, the speed of development just went hypersonic. It's incredible to see just how much development has taken place on the EOS blockchain since it's inception on the 1st of July 2018 and for the first time it seems like blockchain has unlimited potential.
Once we came to hear about the Telos project and the improvements that Douglas Horn and company were planning on making to the EOSio software, we just couldn't sit on the sidelines as investors anymore and had to get involved. With the fast pace of development, it's difficult to keep track of everything, so we decided to create a directory where everyone can easily get access to everything related to Telos, from one centralized website. Telos Central were born.
We started working on the website, ordered two servers and joined the Telos Testnet in October.
Airdrops
From an investors point of view, dividends are quite a big factor and, on the EOS blockchain, these dividends come in the form of Airdrops. We searched for a website that was tracking airdrops on the Telos blockchain but found none. We decided to take action and created the Telos Airdrop Tracker website.
Here developers and Block Producers can go and easily submit the details about the Airdrops related to their projects and make it available to the public. The more development, and in turn Airdrops there are on Telos, the more investors will be drawn to this platform which will lead to an increase in demand and higher token prices.
With the lower inflation, which is 2.5% on Telos vs. 5% on EOS, the RAM speculation prevention and the weighted voting system, Telos has a promising future and the potential to be among the top, if not the best example of what blockchain should be.
Bounties
In an effort to involve the community as much as possible, we'll be subcontracting some of our work to the community in the form of bounty hunts. We currently have a bounty hunt open for the design of a logo for our Telos Airdrop Tracker Website.
See the "Rewards and Bounties" section of the Telos Central Website where the bounty is posted, or our Steemit post for more information.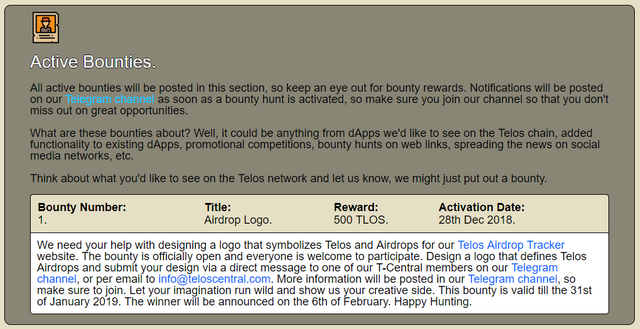 Campaign 52
Telos Central is very community focused. Our aim is to create a web directory that is easy to navigate and rich with information, from the community's point of view where no technical experience is required in order to partake in Telos.
It is sometimes difficult tough, to look at things from the viewpoint of someone that just stepped into the Telos realm and not knowing where and how to start, which is why we're running a rewards campaign in an effort to involve the community in more ways than just investing.
Campaign 52 was an idea that was part of Telos Central from the very beginning. We'll be rewarding members of the community on a weekly basis for informing us about links and useful tools that are not currently part of our directory, as well as constructive feedback on how to improve our platform. Starting in January 2019 we'll be running this reward campaign to the end of 2019, 52 weeks in total, hence "Campaign 52".
See the "Rewards and Bounties" section of the Telos Central Website for more information regarding rewards and bounties. Make sure to join our Telegram Group to avoid missing out on potential rewards.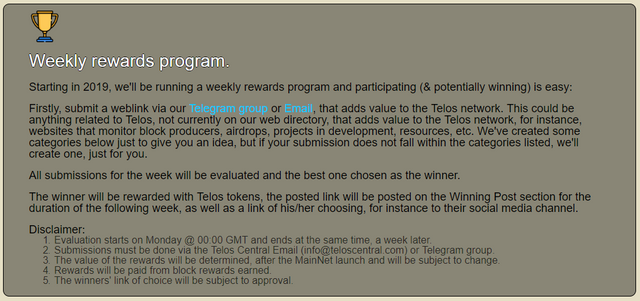 Web Traffic
The Telos Central web directory has started to gain some traction as web traffic is picking up. In November we had 107 unique IP addresses visit our site and in Dec this number jumped to 539. We're only 5 days into January and we're already at 140 unique IP's. We're not just creating a platform where community members can find everything they need, but also one where Block Producers and Developers can showcase their products and raise awareness about their projects and products.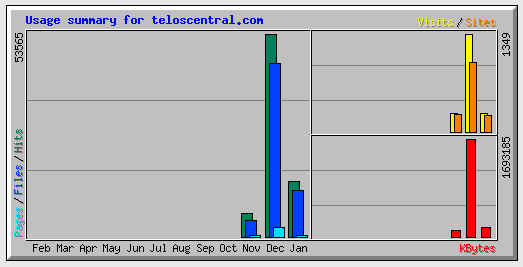 Culture
In a Rugby team, individual players are in competition with one another until the team is chosen. Once the team is chosen, you want every one of your team members to be as good as they can be in order to have the best performance as a collective team. The focus shifts from competing against fellow team members to competing as a collective team against other teams and helping your fellow team members reach their full potential becomes very fulfilling.
This culture is one that you'll definitely find in Telos once you start speaking to some of the block producers and it's one we're proud to be part of. We want to promote and raise awareness about the projects our fellow BP's and developers in general, are working on to the best of our ability for the good of the Telos blockchain and everyone involved.
Note: We grew up in South Africa where Rugby is as vital as water and air, so the Rugby analogy is the first one that came to mind.
Conclusion
We're committed to helping make the Telos blockchain one that sets an example for the true potential that blockchain has to offer. You'll see many great things to come from Telos Central, so watch this space.
You can support us by voting "teloscentral".
Join our Telegram Group and stay up to date.
Stephan
Telos Central