Traderdaddy.com Tutorial
For those of you who don't know about TraderDaddy, it is a completely automated, web-based trading program and algorithm that ANY cryptocurrency trader is able to use. It's entirely web-based so there are no binaries to download, meaning there is no potential risk of malware harming your computer and best of all you will literally be trading while you're asleep. It currently works only on Bittrex (Steemit account @bittrex), but in due time more exchanges will be added.
How it Works
Traderdaddy is comprised of a very sophisticated trading algorithm that is not only a combination of some of the methods you are already familiar with, but some new and unique concepts as well. Over time TraderDaddy will learn from trades, market movement, other users, their trading bots, and continue to improve its trading algorithm.
The simplest way to explain how it works is the bot places a spread on the books and as the orders are filled the bot automatically places a "mirrored" order that has a target of 1% profit, meaning that the bot will NEVER sell at a loss. As the market swings down the bot catches the lower prices and buys get filled, then as the market rises again the mirrored sell orders are filled. You can selected any market on the exchange to trade!
You can start with just Bitcoin, just Altcoins, or a combination of both, but it is recommended to start with only Bitcoin. Starting with just Bitcoin will be a quicker start to trading since TraderDaddy does not need to sell off altcoins first.
Lets Get Started
First and foremost, TraderDaddy comes from the Rubycoin developer with intent to increase the usability and demand for $RBY. Users must hold 500 $RBY on the exchange in order to be granted access to the bot platform, thus TraderDaddy is considered to be "conditional freeware." When the bot detects 500 $RBY in the user's account it will automatically put them at a very high sell order so that they are not traded when the bot is active so you don't have to worry about the bot selling them off.
1. Read the FAQ on TraderDaddy's website
It's important to go through the FAQ in order to properly understand the in's and out's of the bot before getting started.
2. Make a brand new account at Bittrex
This is extremely important. Even if you already have an account you must create a new one to use exclusively for TraderDaddy. The reason for this is that any kind of manual interference (i.e. withdrawing altcoins or manually trading) will alter your account's database and prevent mirror orders from ever properly placing.
MANUALLY MAKING TRADES ON YOUR EXCHANGE ACCOUNT WHERE TRADERDADDY IS ACTIVE WILL RESULT IN YOUR ACCOUNT BEING MESSED UP.
DO NOT MANUALLY TRADE!!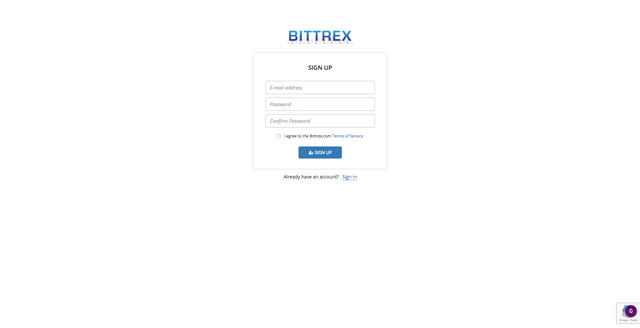 3. Enable 2FA at Bittrex
TraderDaddy works by using API keys unique to your exchange account. You must enable 2FA (two-factor authentication) before you can generate new API keys. Log into your Bittrex account, click "Setup" and on the Setup page click "Two-Factor Authentication." From there you will be required to use an app to scan the QR code. Google Authenticator is what most use.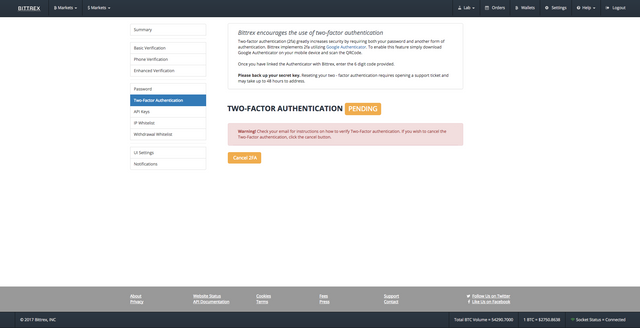 After enabling 2FA you will get an email from Bittrex asking you to authorize 2FA which will take you to a page that looks like this: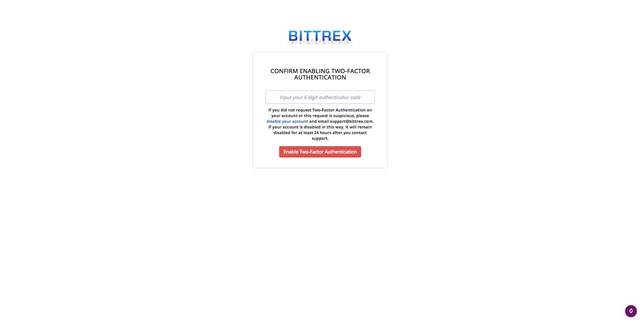 Enter the code displayed from your Authenticator app into your Bittrex screen and click the "Enable Two-Factor Authentication" button.
4. Create a new API key for TraderDaddy
Navigate to the API page on Bittrex, click "Add new Key."
Its extremely important that you select the proper settings for your key. As seen in the picture below, only the first 2 options should selected: "READ INFO" and "TRADE LIMIT"
After selecting those 2 options, put your 2FA code from your app in and press "Update keys." This will display both your Key and your Secret.
DO NOT SHARE THESE WITH ANYONE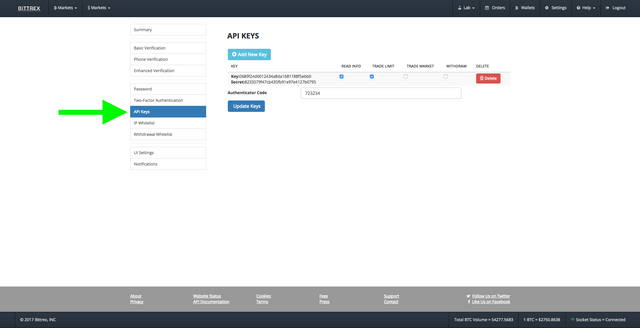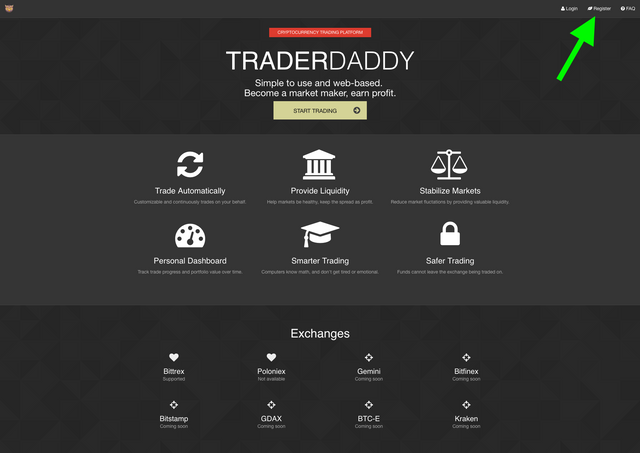 After clicking "Register" enter your email and a secure password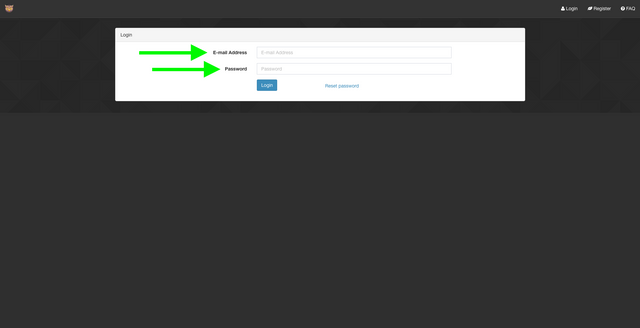 You will then receive an email from TraderDaddy asking you to confirm your account.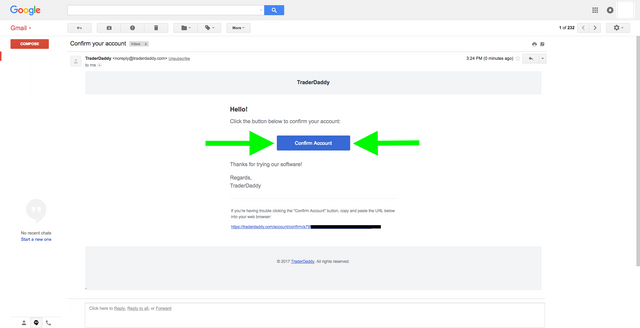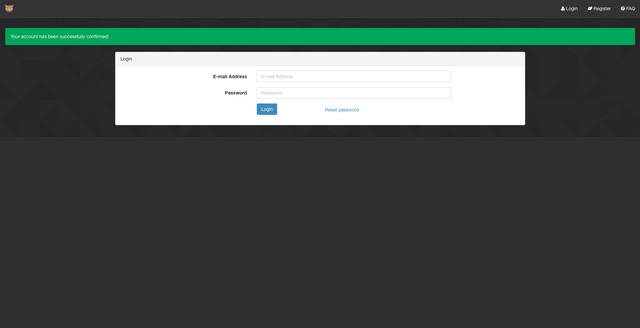 You may see this page below after attempting to log in. If that is the case, please be patient as new users are being added regularly. While you wait for account activation you may join the TraderDaddy & Rubycoin Slack and/or TraderDaddy & Rubycoin IRC channels.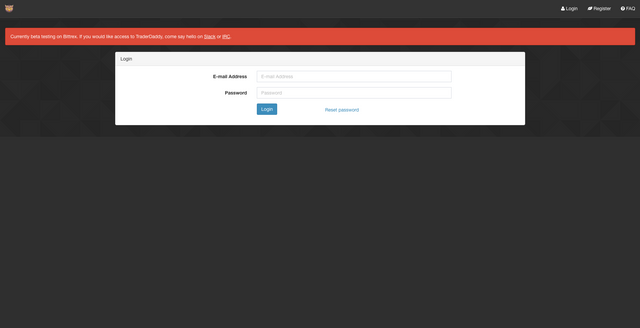 6. Review the FAQ
Now would be a good time to review the FAQ again so you have a very clear understanding of how this program works before you gain access into the program. Its also very important that you understand how the budget and allocation work. TraderDaddy will attempt to use ALL of the Bitcoin and Altcoins deposited into your accounts to trade on the markets you have activated within your TraderDaddy account.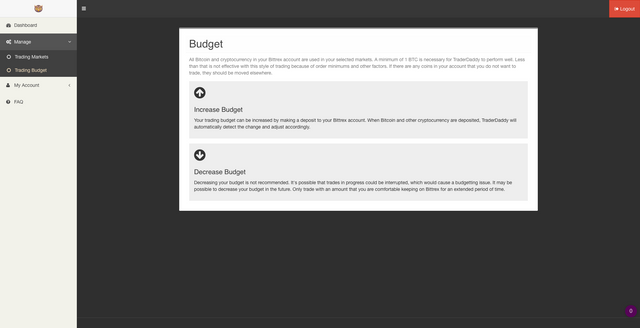 7. Set up your TraderDaddy account
After your account has been enabled, TraderDaddy will walk you through the steps in order to get started. First, you must put in your unique API key and secret that was generated in your Bittrex account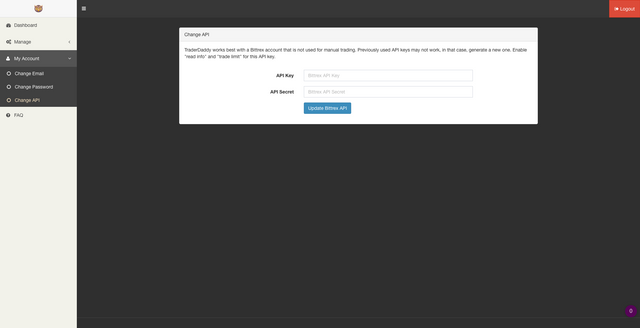 After successfully putting in your key and secret, press the "Update" button and TraderDaddy will navigate you to a page where you select the markets you wish to trade on. You may select UP TO a maximum of 5 markets.
** Please note, it is required that you have a minimum of 1 BTC in your account, and recommended that you have no less than 1 BTC per market selected available for the bot to use. This is due to the way the trading algorithm works and is necessary in order for the bot to be used to its fullest potential.

After selecting your markets, press the "Save Changes" button at the bottom of the page. TraderDaddy will then take you to your Dashboard where you can see your selected markets, adjust your budget per market, and view your account stats.
As you can see in the picture below, you cannot enable TraderDaddy until it detects 500 $RBY in your account.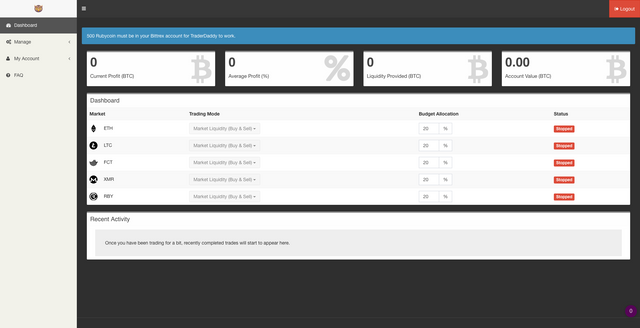 You can adjust your BTC budget allocation between your selected markets at any time. It is not necessary to turn TraderDaddy off in order to make these changes.
You may also change your selected markets at any time by navigating to the "Manage" section on the left side of your dashboard and selecting "Trading Markets."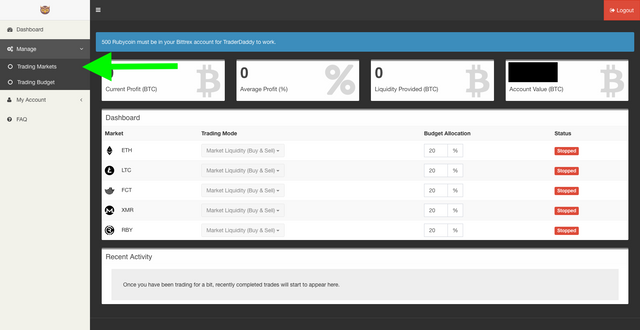 Select your new markets (up to 5) and press "Save Changes" at the bottom of the screen again. When you change your markets, it could take up to an hour to reflect those changes on Bittrex, as the user accounts are updated hourly.
If a market is deselected TraderDaddy will continue to place matching mirror sells until all of those altcoins have been sold. There is nothing you need, nor should, do manually in your Bittrex account. Let TraderDaddy take care of it!
---
Extra notes for new users
Please keep in mind that it is a "slow start," meaning that you may not see many active orders until it has been trading for a minimum of a full day. The longer it is active, the more it trades.
Your dashboard updates are not instant. They could be delayed by up to an hour.
It is not recommended to only chase the high-volume markets when deciding what to trade. Select markets based on your own research and decisions about what markets and projects you wish to support. Of course, it is recommended to select the $RBY market, as that is what is powering your bot.
TraderDaddy is designed to be a long-term trading solution for users, so constantly changing your markets will likely result in lower gains.
Review the FAQ regularly so that you have a clear understanding of everything.
One last time...Do not manually make any trades on your account!!
Have fun and let TraderDaddy work for you!
Please consider following Rubycoin on Twitter.
---

Follow me on Twitter @CryptoCoining