By now I'm sure you've heard the buzz (and the sound of thousands of people's simultaneous face-palms) from the newest DApp to hit the blockchain space. CryptoKitties is here!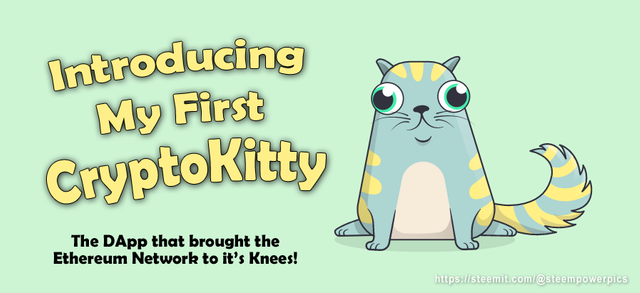 The concept itself is great...
You buy, sell, and breed virtual kitties that gain random traits through evolutionary generations. When the DApp launched on Monday it instantly went viral which was a BIG WIN for the progress of decentralized blockchain-based application until it took down the network it was created on.
Let's discuss the experience
So after making a few MEMEs for @OfficialFuzzy's contest to put a spotlight on the Ethereum Network's inability to scale and handle sudden and large increases in transaction activity, I decided I needed to test out the CryptoKitties DApp for myself. I wanted to experience a real-world DApp running on Ethereum to truly understand the drawbacks and roadblocks to scalability we have been warned about.
I took advantage of the sky-high price of SDB today and traded my recent post earnings through Blocktrades to my new MetaMask ETH wallet - it's a Goolge Chrome extension wallet. Easy enough.
I then went though pages and pages of possible kitty candidates and selected a few inexpensive, but cool looking, kitties to purchase and get started. The plan was to get two(2) so I can test out the process of breeding to make more, a blockchain process that requires ETH/GAS.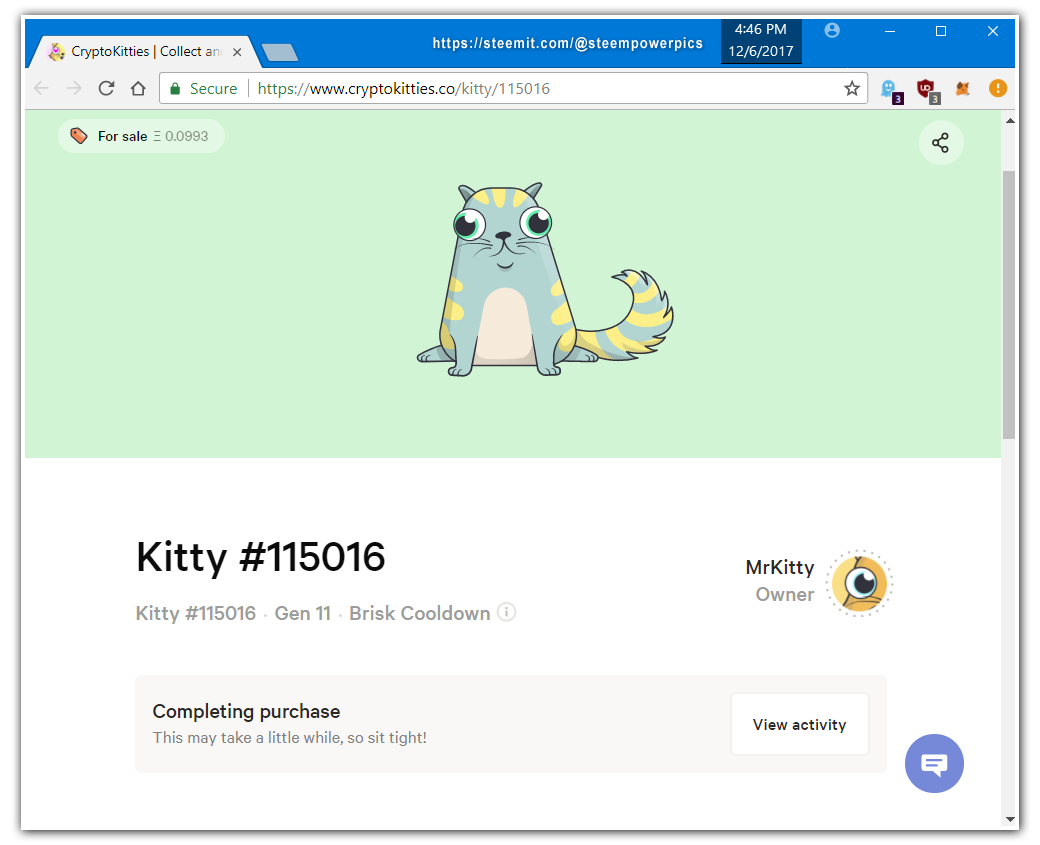 I selected two I liked, click the button to buy and waited... and waited.... and waited. About 30 minutes later the first kitty purchased failed, I assume someone else got in on it just before I did. So I searched out another option only to come back and find the next one had failed.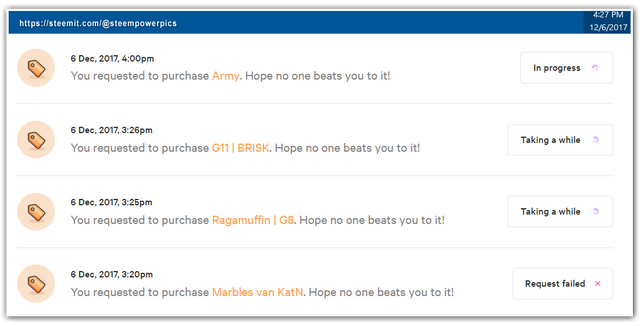 I seemed to have been experiencing the bottleneck that was continuing to hold the Ethereum network hostage since Monday. I jumped over to take a look at Blocktivity.info and found the blockchain activity to be maxed out at 100% capacity with over 22,000 transaction in the backlog. Bitcoin was having the same issues, while the glorious DPOS blockchains of STEEM and Bitshares were performing perfectly at 0.18 - 0.21% capacity.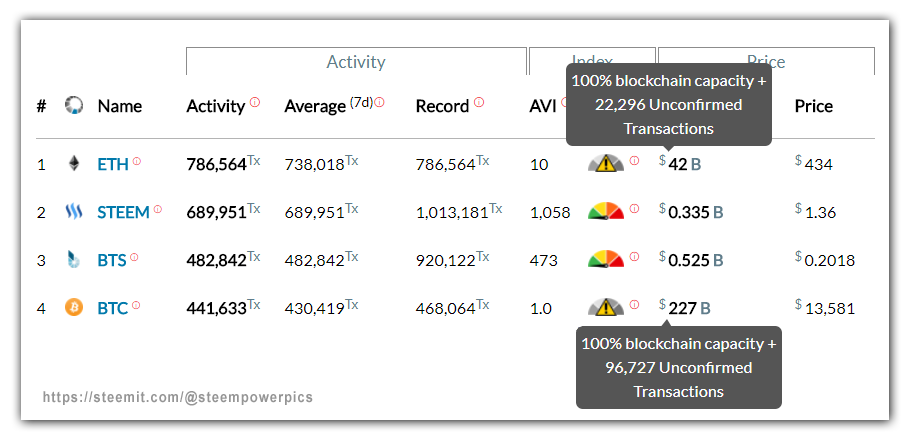 Success!
So this went on for about 2 hours before my last, but favorite, kitty was finally purchased. He is really cool looking, but was more expensive than the others I was trying for first.
We can only imagine how perfect this DApp would perform on the upcoming EOS network, heck it would work flawlessly even over on the STEEM/Graphene blockchain. CryptoPuppies anyone????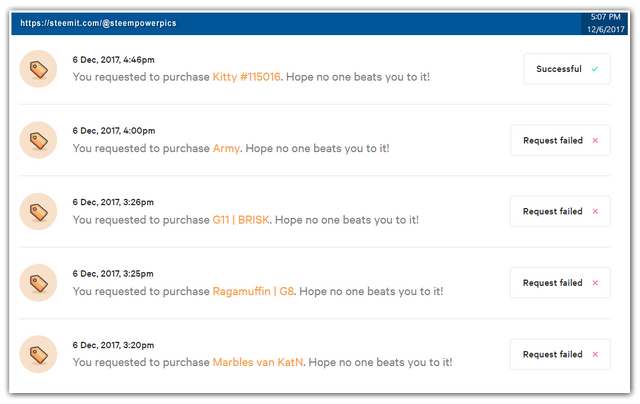 I now have my first CryptoKitty, with the less than creative name of "Kitty 115016", sitting pretty in my account. The was the first thing I realized after getting it, you cannot edit it's name or bio text. I assume at this point you get a chance to do that only during the breeding process. I will find out as soon as I get my second kitty.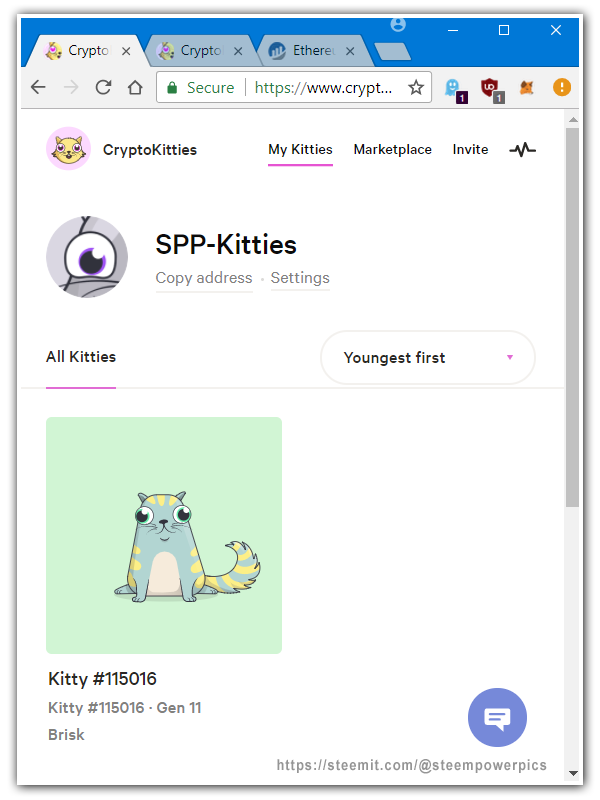 So What's the Point?
Well it's generally like any other virtual pet program you may have encountered on the internet or computer in the past. Disney had virtual pets years back, so did Pokemon, and a few others. The difference is the crypto-value your virtual kitties gain over time. Just like any other crypto coin/token the genesis kitties will only be created through a limited timeframe, through 2018, then new ones can only be created through generational breeding keeping the maximum available semi-limited.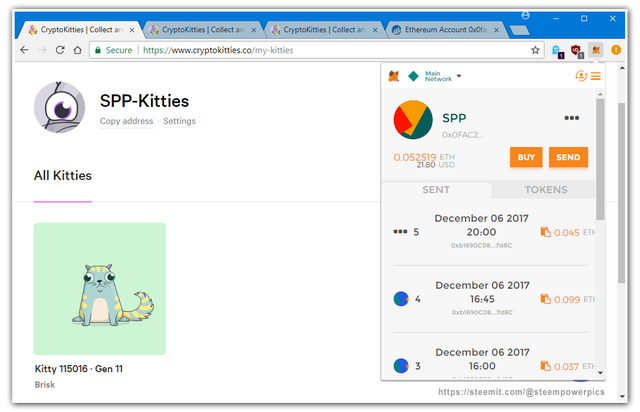 Here is a quick look at the MetaMask ETH Wallet in Google Chrome. You can see my second kitty transaction still pending. With any luck I will have it before Christmas.
---
UPDATE: (3 Hours Later) Looks like the one I was waiting for had a network error in the ETH transaction so another person was able to grab it before it got resubmitted to the network Off to find a replacement.

---
Let me know what you think, please leave your comments below.
As always, please upvote this post and follow me
if you like my work and want to see more.
If you think others will enjoy this
Please ReSteem it!
Thanks for reading!