Might Litecoin & Monero Eventually Join Forces?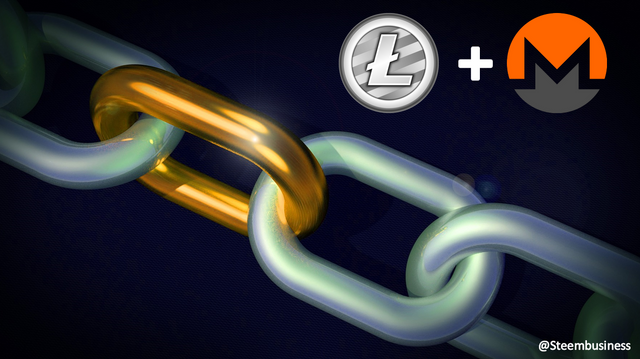 Atomic Swaps between Litecoin and Monero? Might this eventually become reality in the near future, bringing two huge communities closer while combining the benefits and advantages of both blockchains involved? I would really love to see this happen but so far it´s all still just a rumor, or is it?
It all began with a tweet from Riccardo Spagni aka @fluffypony in which he´s pretty much obviously kidding about a possible merger between the Litcoin and Monero Enterprise Alliances. But somehow the retweet of Charlie Lee made it sound a bit different after all...
---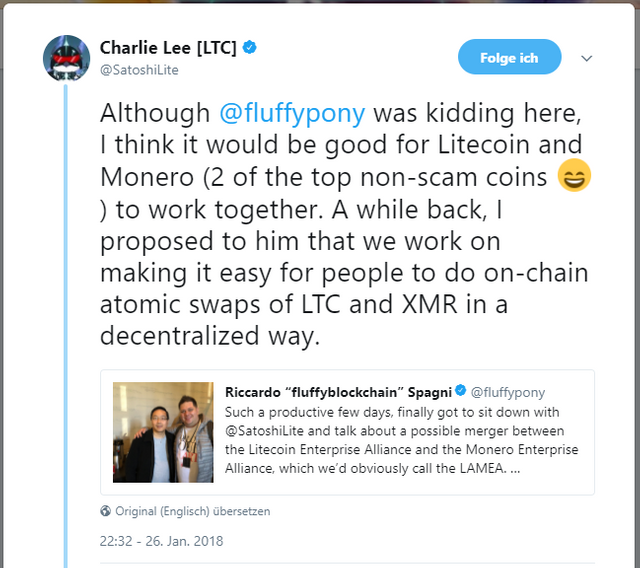 As you can see Charlie claims to actually having proposed this idea to Ricardo before, which makes the whole thing sound less like a joke right away. In my opinion it makes it actually more sounds like it´s pretty likely to happen but that they don´t want to announce anything publicly yet eventually.


Further he adds two more tweets on it, in which he explains the benefits for both projects that would arise through it and finishes it all with the words, that it wouldn´t be an "unexpected surprise" anymore in case it happened.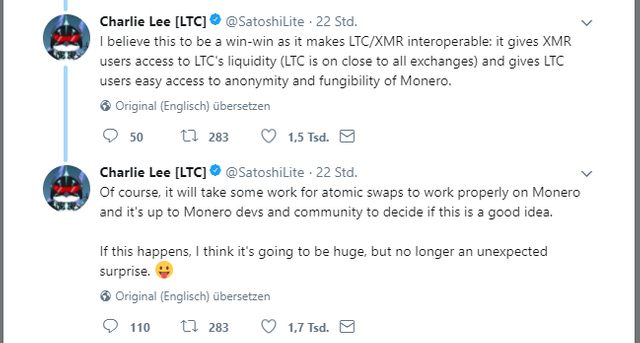 Regardless of whether it might eventually happen or not one got to admit that Charlie Lee is simply a master in spreading rumours about litecoin without telling us any lies after all. That being said, I´m bullish on both those coins as they are legit projects with a huge potential and backed by awesome teams!
What´s Your Opinion On This Story & The 2 Coins?

Follow My Streemian Trail For Good Curation Rewards!
(I Upvote Quality Comments - Support Me Doing So 😉)
---
Follow @Buildteam!
A Crypto Startup Revolutionizing Steem!

---
---