Neufund is an investing platform with potential to shake up the way that businesses are funded. The German start-up makes it possible for companies to legally tokenize their equity, and democratizes investing by allowing anyone to participate in Equity Token Offerings (ETOs) on the Ethereum blockchain.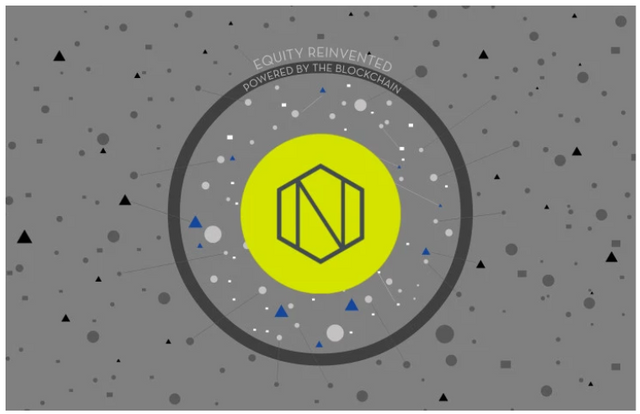 Problem to be Solved
Despite the rise of crowdfunding platforms and angel investors, it's still a massive challenge for new (or indeed established) businesses to raise capital. Hunting for investors is a time consuming process that is full of intricacies. On the other side, for the average Joe, investing in companies has always been difficult, expensive, paperwork intensive and dependent on intermediaries. Many of the best opportunities are open only to high net-worth individuals or VCs with accredited investor status.
Here is where Neufund steps in, with a mission to:
Open private equity to everyone.
Make real world private equity fully liquid by tokenizing it.
Create a decentralised capital pool for funding innovation.
Onboard off-chain companies into the crypto economy.
Provide a fully legal and regulated setting for token investment and trading.
Solution
In order to fulfil these goals, Neufund is building a community owned fundraising platform to match entrepreneurs with the right financiers. Participants provide capital in exchange for Neumarks (NEU) - tokens that represent equity. Neufund's legal and technical framework allows companies to produce actual shares granting full shareholder rights (i.e. reports, voting in shareholder resolutions, anti-dilution protections, etc.), which are represented on-chain in the form of equity tokens. The tokens reflect the value of the business operating in the real world and importantly are highly liquid, so it's easy to sell or buy more as desired. This is achieved by linking traditional contracts with Ethereum smart contracts through mutual reference and code correspondence.
Such a synthesis provides certain benefits over traditional investment in companies:
the process is accelerated,
barriers are lowered,
interests of entrepreneurs and investors become more aligned,
transaction intermediaries are eliminated,
based on the decision of the company, equity tokens can be transferred or traded on external secondary markets.
As the total amount of investment through the platform grows, investors will be able to reap the benefits by holding the Neumark, which guarantees economic co-ownership of Neufund and automatically distributes proceeds to all equity token holders. All Neumark token holders have an aligned incentive to pick and invest into projects of high quality. As issuing companies also become Neumark token holders the entrepreneurs themselves have an incentive to help and support each other. Dividends or proceeds from a given company's exit can be claimed by a simple UI.
Currently, Neufund has a range of interesting companies as pioneers of the ETO model. These include:
Brille24 (online optician),
Uniti (electric cars),
Emflux Motors (electric superbike),
mySwooop (re-commerce platform),
Next Big Thing (IoT & blockcahin incubator),
BlockState (financial products)
More details on these companies can be found here: https://blog.neufund.org/meet-the-first-companies-tokenizing-their-equity-on-blockchain-8dd2a9c4091f
Token Analysis
NEU can of course be purchased through various exchanges (HitBTC, Liqui, Yobit, ForkDelta, IDEX, Etherdelta), but the main idea is for them to be earned by investing into ETOs. The on-ramps for getting hold of NEU are pretty good; it's possible to get them through the platform with ETH, or with a Euro pegged stablecoin - EURT, which aims to bring off-chain capital on-chain.

Although designated as an 'Equity Token', NEU essentially functions as a security token.
Holders of NEU are entitled to revenues from platform fees for ETOs taking place on Neufund. With each successful Equity Token Offering, a small fee is deducted from the invested amount. This platform fee is then distributed to Neumark holders pro-rata.
In addition, holders can benefit from Neufund's 'portfolio pool', which keeps a small amount of every ETO ever conducted. This is a clever idea, as investors not only have 'skin in the game' through the particular ETO that they decided to support, but also some exposure to the whole ecosystem. The more NEU that an individual holds, the greater the stake they have in Neufund's entire token economy.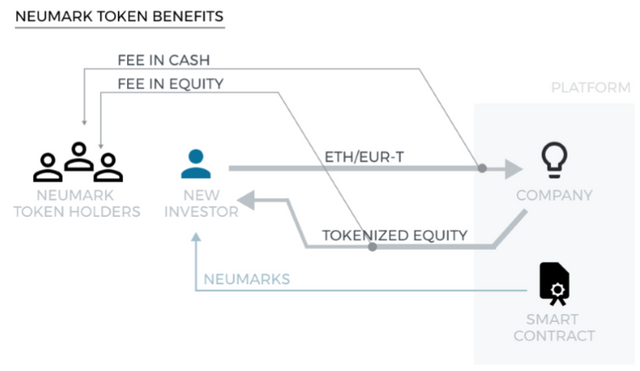 NEU's issuance model incentivizes early investors, who will receive more NEU for the same amount committed by latecomers. Additionally, NEU will be issued alongside investment transactions on the platform so the total supply of NEU will increase over time.
Current Supply: 53,020,957 NEU
Max Supply: 1 500 000 000 NEU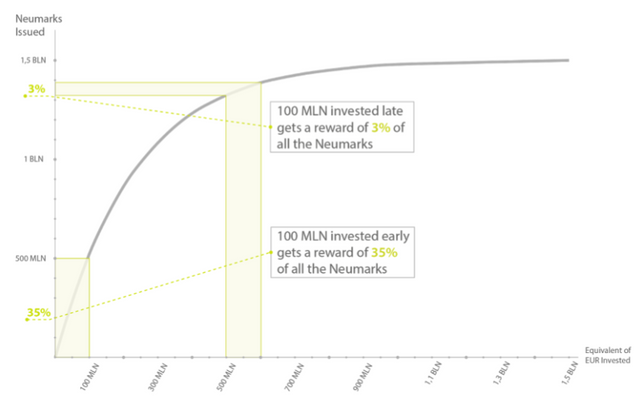 NEU launched what it termed an Initial Capital Building Mechanism (ICBM) for early adopters, which ran during Nov-Dec 2017, and raised €12.5M. NEU was issued to investors in the ICBM, who will use it for future investments on the Neufund platform. 100% of capital raised in the ICBM will be used to fund innovation, with Neufund promising not to take any of the committed money. In the days of the smash and grab ICO, this is quite refreshing! Should participants decide not to invest on the Neufund Platform, 100% of funds can be released after 18 months (and anytime with a fee of 10%).
Stats
Price - $0.48 - https://coinpaprika.com/coin/neu-neumark/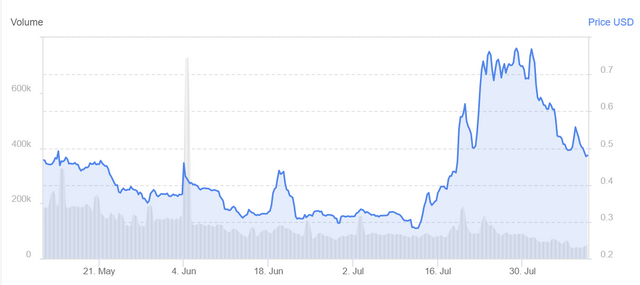 Holders - 1,551
Top 20 addresses own 75% of supply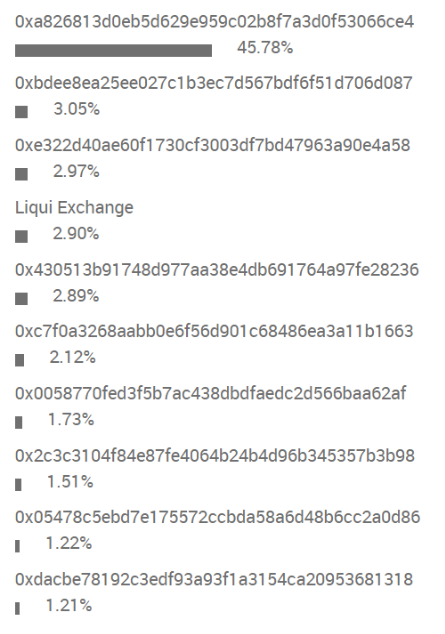 [Data Source] - https://trivial.co/t/0xa823e6722006afe99e91c30ff5295052fe6b8e32
Token Activity
The transactional activity for NEU is low, but as the platform has only just launched and is yet to gain significant traction this unsurprising.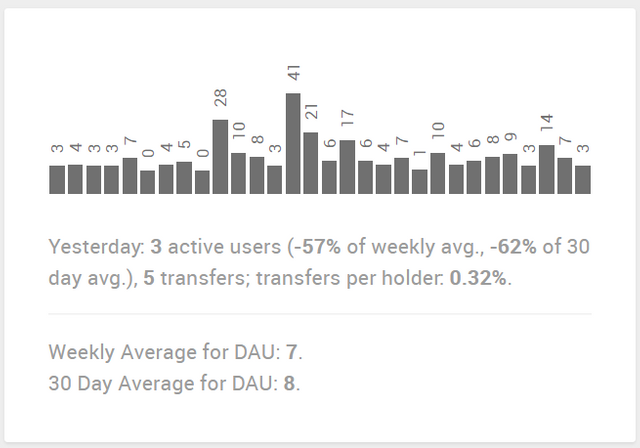 [*Active User defined as unique senders who sent tokens using ERC20 transfer() method]
Team, Advisors & Partners
Neufund is led by its by co-founders ​Zoe Adamovicz​ (CEO) and ​Marcin Rudolf​(CTO), who are experienced entrepreneurs that are passionate about building impactful technology businesses. Prior to Neufund, Zoe founded Xyo (app discovery), Priori Data (app store intelligence) and Concise Software (software development & engineering services).
Marcin currently leads the technology development at Neufund. Before joining Neufund, he also led technology development at Xyo. He has been a developer and team leader in projects involving messaging and telecommunication (Orange), cryptography and mobile devices (Jamba Music), as well as insurance and government (Fiat, Hewlett-Packard).
Further Team profiles here: https://commit.neufund.org/#team
Additionally, Neufund is supported by an expert team of advisors from the blockchain, legal and finance worlds. These include:
Fabian Vogelsteller (Ethereum and Mist Developer),
​Michael Jackson (Partner at Mangrove Capital & Board Director at Blockchain.com),
Julian Zawistowski (CEO and Founder at Golem),
Adam Stradling (Crypto Investor and Entrepreneur & Former Co-founder of Bitcoin.com in 2011/12),
Max Kordek (President of Lisk Foundation), ​
Christophe Maire (Founder and CEO at Atlantic Labs),
​Paweł Bylica (Ethereum Core Developer),
Alexander Lange (VC Earlybird & Board Member Shapeshift​),
Minh Ha Duong (Investment Manager at Project A Ventures).
Recently, Neufund has been busy working on some interesting partnerships. They have announced plans to work with the Malta Stock Exchange & Binance to create a regulated and decentralized global stock exchange for listing and trading tokenized securities alongside crypto-assets. In addition, they are partnering with BitBay crypto exchange to provide a secondary market for trading equity tokens issued through ETOs.
Competitors
In addition to traditional crowdfunding platforms such as Kickstarter or WeFunder, there are a few other blockchain based solutions working on similar crowdfunding-type solutions:
KickCoin, a platform providing online fundraising tools to launch ICOs and crowdfunding campaigns.
BnkToTheFuture, an investment platform that allows qualifying investors to invest in financial innovation including FinTech companies, funds and other new alternative financial products.
Tokenomy, a global token market with the ability for anyone to issue proprietary tokens and plug themselves into a crypto liquidity pool for crowdfunding.


[Data Source - https://trivial.co/#Crowdfunding,TableView
Counterpoints
Perhaps the main weakness of Neufund is that is currently excludes would-be investors from the USA. This is due to a fear of the SEC, so Americans will have to sit on the sidelines until a favourable, firm regulatory framework has been established.
The platform is also heavily skewed to early investors, so it will be interesting to see if the platform can remain attractive for investors who are late to the party. In order to do so, Neufund will have attract a steady stream of innovative and exciting business who want to give away equity via their platform.
Crucially, Neufund will also rely on a few of the businesses funded through its platform becoming quite successful. The platform will not look very attractive if there is a high proportion of failures. Considering 75% of VC-backed startups don't make it, this is going to be interesting to watch unfold. Due diligence and the ability to leverage a network of support and advisors will go a long way in mitigating this risk however.
Summary
As it's name suggests, Neufund is new way of funding ventures, that could prove to be an attractive alternative to more traditional crowdfunding platforms. ETOs will be easy to invest in, and allow all sorts of capital to flow into projects on the platform. The portfolio pool also helps give the concept some added value, and it will be interesting to keep an eye on the sort of companies that utilise Neufund, and the amount of investment they can attract. Certainly it will be an interesting option for businesses to consider when it comes to funding, due to the ready-made regulatory and technical framework that could usher in a new era of legal and secure ICOs.
---
Further Reading
Great brief history of investing from Alex Shelkovnikov and Ramon Recuero and detailed look at ICOs, how to value them, and regulations. https://blog.ycombinator.com/the-decentralized-future-series-a-new-age-of-investing/