Social Wallet : BuildTeam is Now an Official Advisor in Pursuit of Changing Social Media
---
Social Wallet is thrilled to announce our new working partnership with the revolutionary blockchain innovator BuildTeam. We welcome them onboard to help us bring cryptocurrency to everyone through the power of social media. Furthermore we would like to announce that BuildTeam is now an official advisor to Social Wallet.
With this advisory partnership, Social Wallet is now working with BuildTeam on warmly offering invitation to and including Steemians in our new and revolutionary platform. We understand and value that Steem was the first, practical, and successful social media integrated with cryptocurrency and the blockchain in mind.
To further this engagement, we are developing a reward plan by airdropping our token, WIRE, into Steem users accounts. We are humbled to be associated with such a strong team, and we hope that this partnership empowers more people in adopting cryptocurrency into their everyday lives.
The importance of a partnership with a Steem innovator, like BuildTeam, cannot be underscored enough. Steem has an incredibly powerful platform that allows users to post and share content, and be rewarded for the work that they do. This kind of closeness in community is rarely felt on any other social networking platform. Their innovative program of integrating a blockchain based voting system, allowing their creators to get paid, changes how content is created, and how we view said content.
Think of getting paid for your Facebook likes, or Retweets. Would this refine how you posted online? Also, Steem's integration of cryptocurrency and blockchain technology shows the adaptability of it. Steem's flexibility with the blockchain is just the tip of the iceberg.
---
What is Social Wallet
---
Social Wallet is an innovative and exciting social media platform that integrates blockchain technology into existing social media networks such as Facebook, Twitter, and all email providers.
Our platform enables everyone to send cryptocurrency to any user on social media. One of the great features of our platform is that it's so easy to use and also that the receiving person doesn't even have to know what cryptocurrency is in order to receive it. We wanted to take the difficulty and mystery out of cryptocurrency, so there is no prior setup or technical expertise required on the receiving person's end.
Because of this, Social Wallet is the easiest, fastest, and least expensive option when wanting to send money anywhere in the world. With our competitive advantages over traditional companies like Western Union and Paypal, we are revolutionizing how money is sent. And with our integrated Social Wallet Debit Card you can easily spend your funds anywhere.
Social Wallet Is More Than An Electronic Funds Transfer
---
Providing an inexpensive and easy way to send money is one thing, but our true passion comes from our ability to teach people about the power of blockchain. Through our social media platform we will encourage our community to seek out individuals that can be helped by the gift of receiving cryptocurrency. Helping someone in need can be a powerful learning opportunity.
Through our reach on social media we will amplify these stories so that soon everyone will have heard about these amazing compassionate acts of Social Good. It's not enough to tell someone what cryptocurrency can do, you have to show them. These amplified stories of Social Good will speed up the mass adoption of cryptocurrency.
The whole team at Social Wallet feels a responsibility to use our position as pioneers in this space to educate the world about blockchain technology and its potential to change the world.
Social media has showed us that there is limitless potential when we synergize and develop a working community. Social Wallet's combination of social media and blockchain technology is an explosive combination that can and will affect positive and lasting change the world. Take a moment to visit us on the web at www.socialwallet.io.
---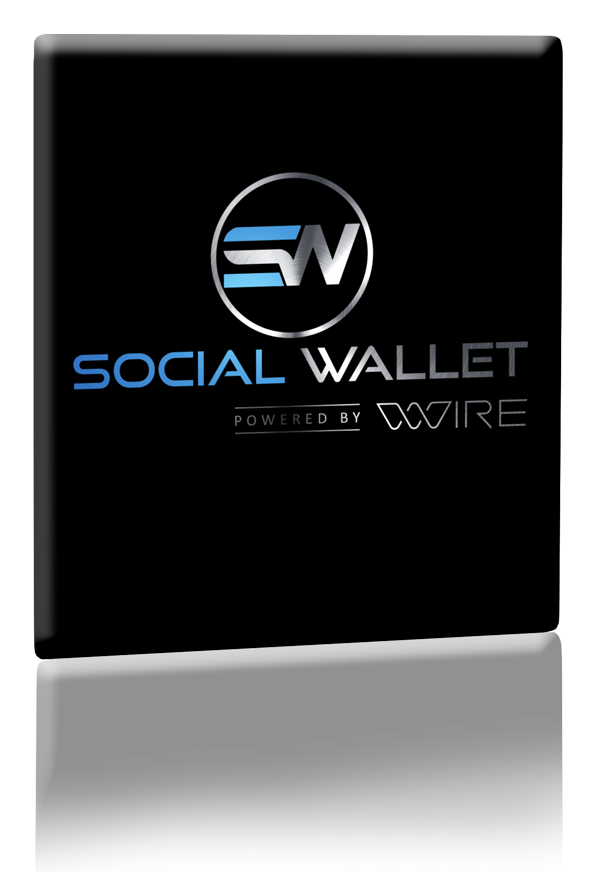 ---
Give us feedback
Social Wallet is a platform that has specifically been created for our users. We want people who have very few technical skills to have an opportunity to join the cryptocurrency community in an easy and fun way. Take a moment to leave a comment below and tell us how we are doing!
---
---
Join the Social Wallet Discord chat
Do you have questions left unanswered? Would you like to be part of the Social Wallet community? Take a moment and join our discord room by clicking on the 'Join discord chat' button below!

---