Poloniex To Require All Accounts to Verify Identity (SSN) Next Year
Poloniex announced on 12/27 that they will require all Legacy accounts to become verified to be able to trade on their platform in the upcoming year. This isn't very surprising considered Poloniex is based in the USA and with the new Tax laws in respect to cryptocurrency. Considering you have to provide Poloniex with your social security number to become verified I expect this will make more than a few traders shy from the platform.
You can read Poloniex's statement below or at their website.
---
NOTICE TO OUR LEGACY ACCOUNT HOLDERS
We have recently completed a major upgrade to our customer identification and verification systems. As a result, we will soon require legacy accounts to become verified through the latest version of our verification portal. The exact date for this deadline will be announced in Q1 2018. While you will be given advance notice before this requirement goes into effect, we encourage you to verify your legacy account now to avoid any potential interruptions in your ability to trade on the platform.
Check your profile to determine if your account is Legacy or Verified: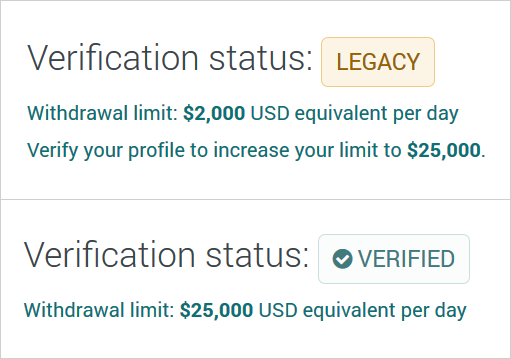 As with any change, we understand you may have concerns about how this requirement impacts you and the consequences of not meeting this verification deadline. Here are further details on what to expect.
On the date of the deadline, legacy accounts will be placed in a state where:
Trading and lending will be disabled;
Open orders will be closed;
Loans will have auto-renew switched off;
Margin positions will be given an 8 week wind-down period where they can only be diminished or closed. After the 8 week wind-down period, they will be closed;
Deposit addresses will be revoked. Any deposits sent to a revoked address will not be recoverable until the account is fully verified;
Withdrawals will remain enabled at the daily withdrawal limits prior to the deadline.
If at any point you verify your legacy account, full functionality will be restored and your daily withdrawal limit will be increased to $25K USD equivalent.
As a registered money services business, Poloniex is committed to compliance with all applicable law requiring identification and verification of its customers. If you have questions about these or any other Poloniex terms, we encourage a careful and thorough review of our terms of service and privacy policy.