In a surprising revelation, XTRABYTES has showcased its blockchain in relation to the leaders in the crypto-sphere.  Crypto-currency is highly speculative.  Many coins raise millions of dollars and have nothing to show for it.  With no ICO funding, this image is the type of speculation that can drive up price quickly and drastically. 
Blockchain Solutions Compared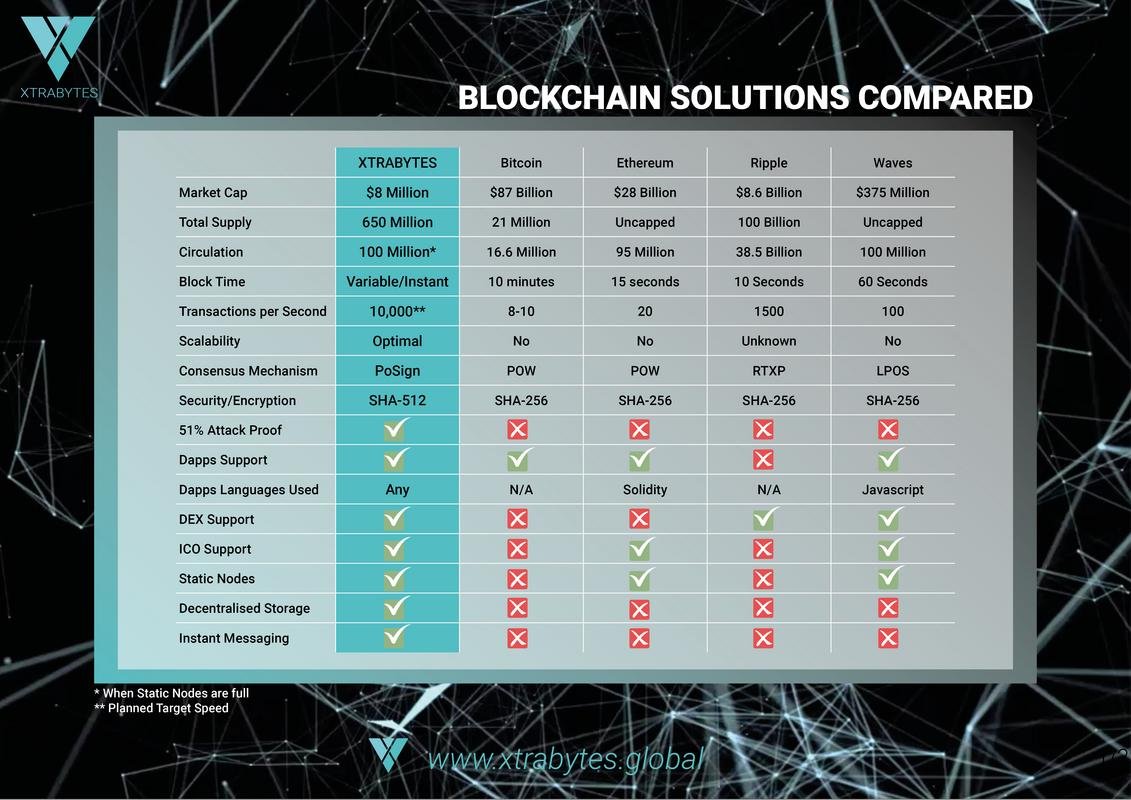 This is the current information at the time of writing on Coinmarketcap

Are you a Growth Investor?  I know I am
If we go down each column in the graphic and compare them with each other, XBY is offering some very fantastic things to blockchain technology. The project is currently in-development.  Is it possible that all the features in the image come to fruition?  Sure.  Absolutely.
In an article published on CryptoCoinsNews, many features were explained. Of particular interest to me, was this quote about a 51 percent attack: 
 In response, the main developer of XTRABYTES, Zoltan Szabo, has created a unique, revolutionary blockchain solution known as the Proof of Signature (PoSign) consensus algorithm.  In addition to being eco-friendly, the core protocol is based on an initial 512 decentralized STATIC nodes (which will slowly expand to an even more decentralized 3,584 STATIC node network) that solves the 51% attack dilemma.  
PoSign and the Static node network is further expanded upon in the whitepaper:
 Comprising the backbone of the XTRABYTES network, the STATIC nodes play several critical functions. These nodes provide the security, consensus, and governance of the entire blockchain on which the XTRABYTES platform resides. STATIC node owners are issued transaction fees and service fees for the modules. As a security feature, it is a requirement of nodes to sign each block, as this mandates that the nodes must be able to communicate with one another rapidly and seamlessly. To address these requirements, XTRABYTES introduces VITALS (Virtual Information Transmissions Aligning STATICS). 
The XBY technology is complicated.  I do not profess to understand exactly how it all works.  But what I do understand is potential.  Technological potential and profit potential. 
In this ever expanding sea of cryptocurrencies and ICO's, the ones that will last must be innovative. They must offer something that others do not. They must have strong communities.  They must offer a solution to a problem.  
What do you guys think?  Will XTRABYTES solve the problems?  Does it have the potential  to?  
Additional Reading:
https://www.cryptocoinsnews.com/xtrabytes-already-rendered-top-cryptocurrencies-obsolete/