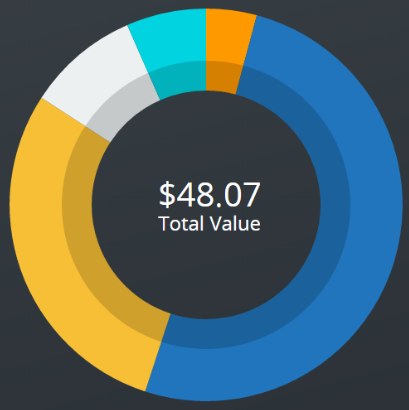 By: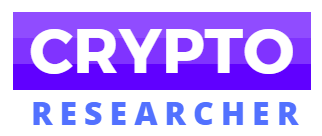 First I want to start off by saying that there are so many options out there, that you can get a headache figuring out which way to go. Most options have their pros and cons. I'll try to show the ones I'm aware of, and hear from you guys about the ones I'm not.
Also English is not my native language, so if you see any bad spelling or grammar, please feel free to use the comments and point it out so I can correct it. Right now I don't have the money to pay for an editor, however if this is something I get enough donations from, I might be able to hire an editor for future Crypto Research Reports.
What I'm sharing in this report is subject to change in the future, since new and better wallets might arise, so make sure you look at the date of this report because it might be outdated in the future.
My use of the Exodus wallet is for daily use of crypto-currencies and not for long term storage. For example moving money to fund my crypto debit card, or to buy a plane ticket and deposit money on an exchange etc. This is the kind of use I have chosen for my Exodus wallet, and in this report I'll go over why I made that decision.
I welcome any arguments for or against the wallet which will help me learn more about it, or discover a better option that I'm not aware of.
This is my very first CR report and welcome all the feedback both positive and negative.
WHAT ARE MY FIRST IMPRESSION OF THE EXODUS WALLET?
The first time you open Exodus Wallet you will realize that it's something special. It's self evident the extraordinary amount of work that is put into this software. Somehow it just comes across.
Making this just work and flow and look great takes a ton of work and that work shows.
Even the waiting (a few seconds) is so nicely designed that it's actually pleasant to wait for the login for example or for the portfolio screen to update your balance.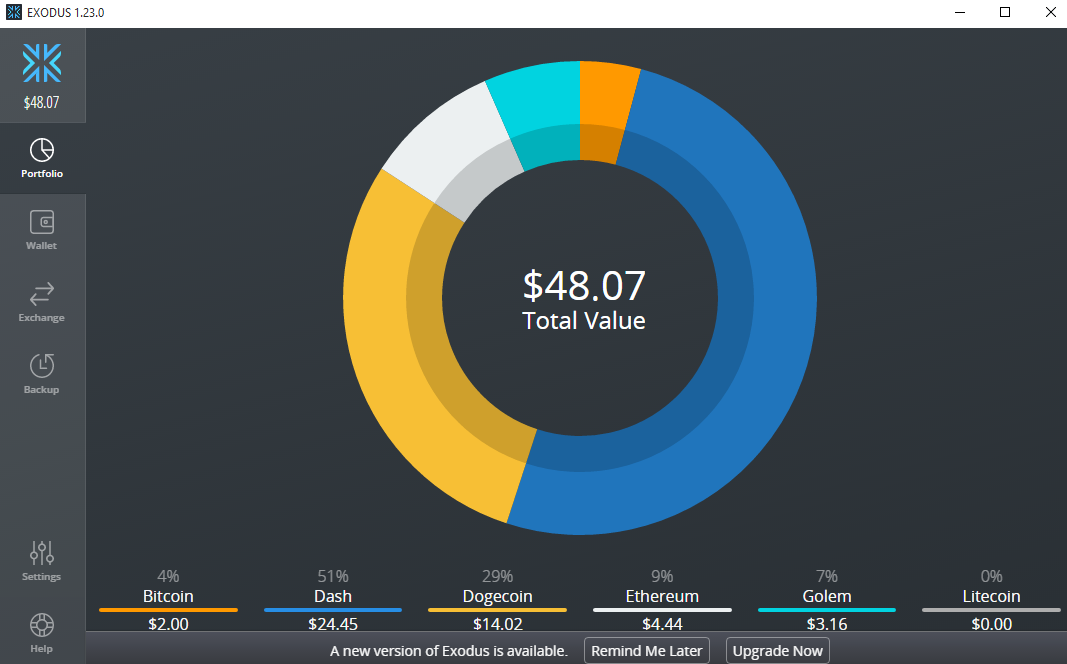 IS THE WALLET BEING MAINTAINED AND IMPROVED BY THE DEVELOPER TEAM?
The Exodus Wallet was first released in mid 2015 and ever since then it's been continuously improved. That is a good indicator that this wallet is possibly here to stay with us for a long time to come.
It also shows that the team behind the wallet listens to community feedback and improves on the wallet.
I noticed after just a few days of use, that at the bottom of the wallet I got a message that a new version was available: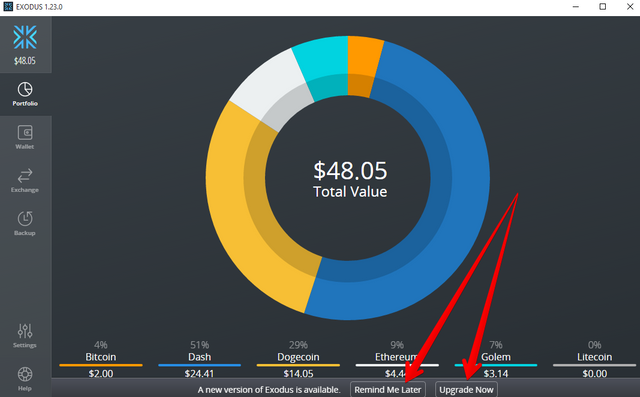 You have the options to be reminded later or upgrade now.
So when I click on Upgrade Now, it opens my default browser and takes me to the release page on the Exodus wallet website: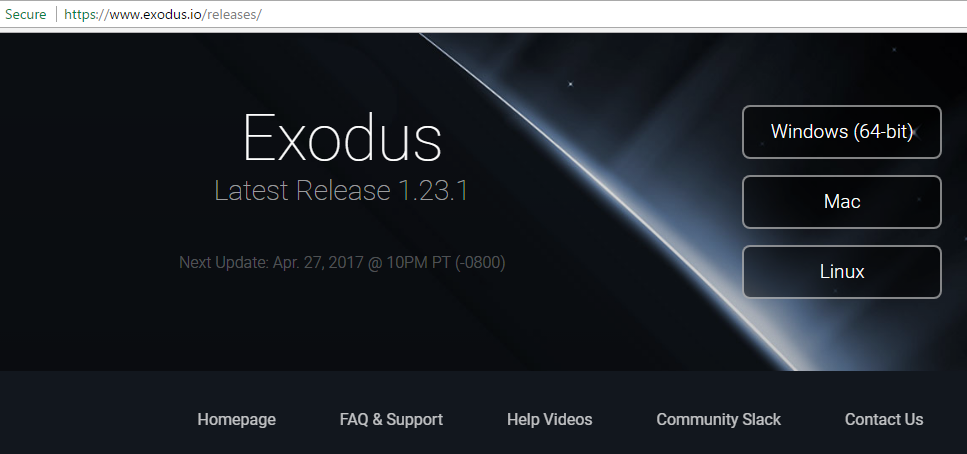 In this case version 1.23.1 and I'm running 1.23.0
If I click on the "Remind Me Later" button then the upgrade footer just disappears. I'm imagining it will remind me in the future soon. But there is no indication when it will remind me, which is ok.
SUPPORT FOR MULTIPLE CRYPT0 CURRENCIES
Right now the Exodus wallet supports 6 crypto currencies. I included pictures of each of my sub-wallets so you can see what they look like (feel free to help fund future reports with a micro donation, it will be greatly appreciated):
BITCOIN (BTC):
15FHY2dbnLmatWM7P4GRTmxcNgPHFtW6gH




DASH (DASH)
XotHMP4K1ZiR4P2GXAWsJai21RwpW4SWVu


DOGECOIN (DOGE)
D5JtZwwJWrjt82LfqWpVak73FM5Git2Kk2


ETHERIUM (ETH)
0x3CCecBF185D64A2e93523411189212608045A872


LIGHTCOIN (LTC)
LbxgBzmFdziUbB3yRht8QvDYkS4JEjmn3A


GOLEM (GLT)
0x3CCecBF185D64A2e93523411189212608045A872



This is one of the benefits of the wallet that I like. I do hope they will add more crypto currencies in the future but this is a very good start.
DO I LIKE THE DESIGN OF THE EXODUS WALLET?
One thing that I noticed with the walled I download for Bitcoin and some altcoins is that they are all made out of the same mold. They seam to follow the same layout and just change the theme a bit like the colors, icons etc. In other words when a new alt coin is created they don't design a new wallet from the ground up. I'm sure there is an exception to this rule but I haven't seen it yet.
So when I first opened the exodus walled it was very pleasing to look at it. Here is what the portfolio page looks like:


It's a very nice design and also I like the audible sounds you get like when you receive money it makes a nice sound.
CAN YOU CUSTOMIZE YOUR WALLET?
This wallet has a "Settings" tab which has two sub-tabs: "Assets" and "Skins":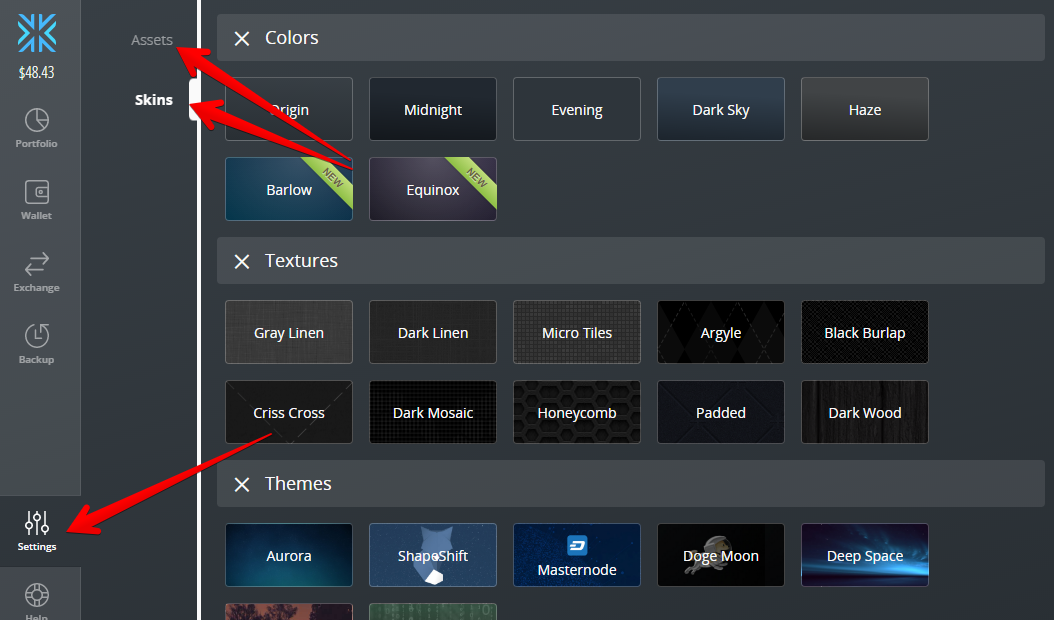 This is what the "Assets" sub-tab looks like: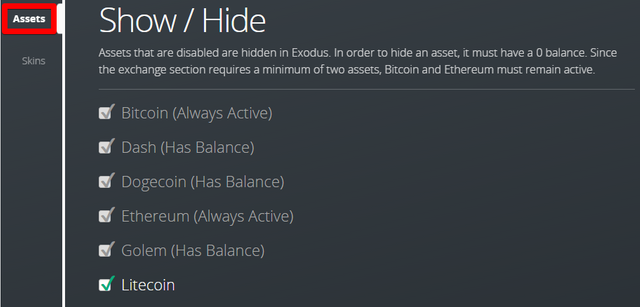 From the description what I'm understanding is that you have to have at least 2 assets and you can only hide them if the balance is zero. For example in my wallet right now the only asset I could hide would be Lightcoin since it's balance is zero.
Anyway I don't plan to hide any assets since I plan to keep a little of every coin.
When you click on the "Skins" sub-tab you have four sub-options: "Colors", "Textures", "Themes" and "Personalities":

Looks like they are adding new ones. The process of changing the look is simple; just click the button you like. If you don't like the result you just click the next one.
What I did find interesting is that there are three "Personalties" options under the skins; "Craig Grant", "Trevon James" and "BritVR":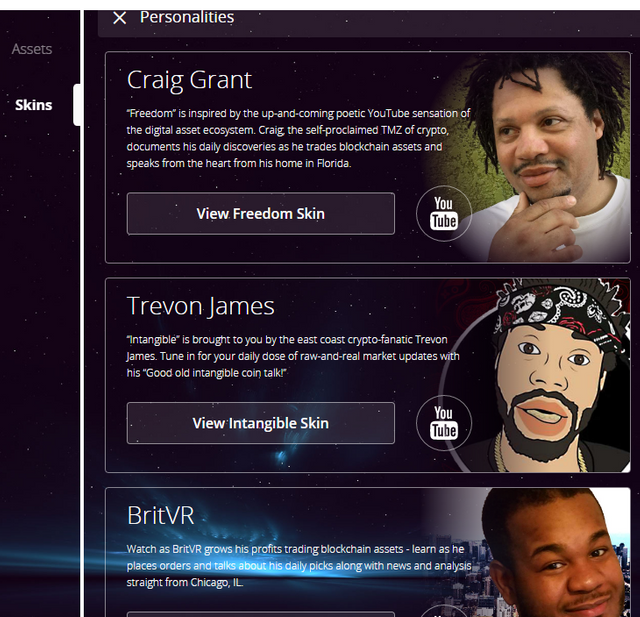 I have run into the Trevon's Youtube channel so my guess is they picked Youtubers, but I might be wrong. Anyway it's interesting that they did that. Who do you think the next personality to get a theme on the Exodus Wallet will be?
CAN YOU EXCHANGE THE CURRENCIES USING EXODUS WALLET?
One of the cool benefits of the wallet is the ability to quickly exchange any of the 6 crypto-currencies among each other using ShapeShift.
The process is simple and intuitive. Lets say I wanted to get some Lightcoin since I have 0 LTC right now.
What you will do is first click on the "Exchange" tab which is the the fourth icon from the top left: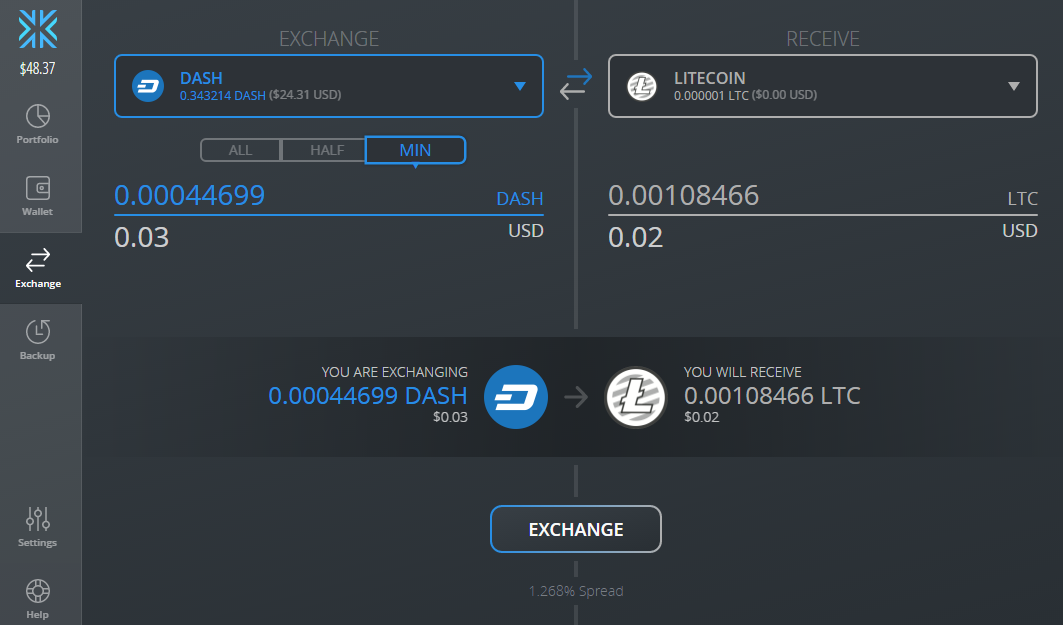 You will see a left column which is labeled "EXCHANGE" and a right column which is labeled "RECEIVE". Under each of the labels there is a drop down that when you click on you can select which currency you will exchange: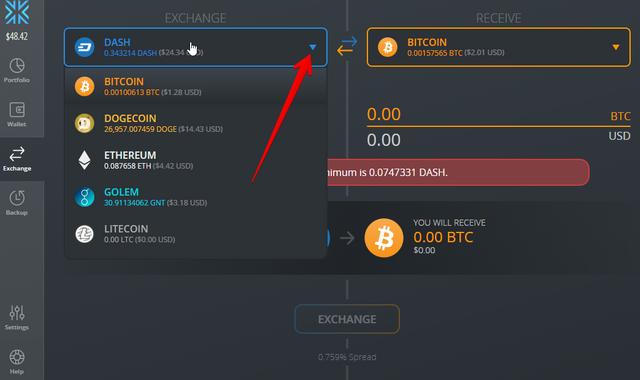 Once you selected what currencies you want to exchange then you need to select the amount you want to exchange. There are three sub-tabs labeled "ALL", "HALF" and "MIN":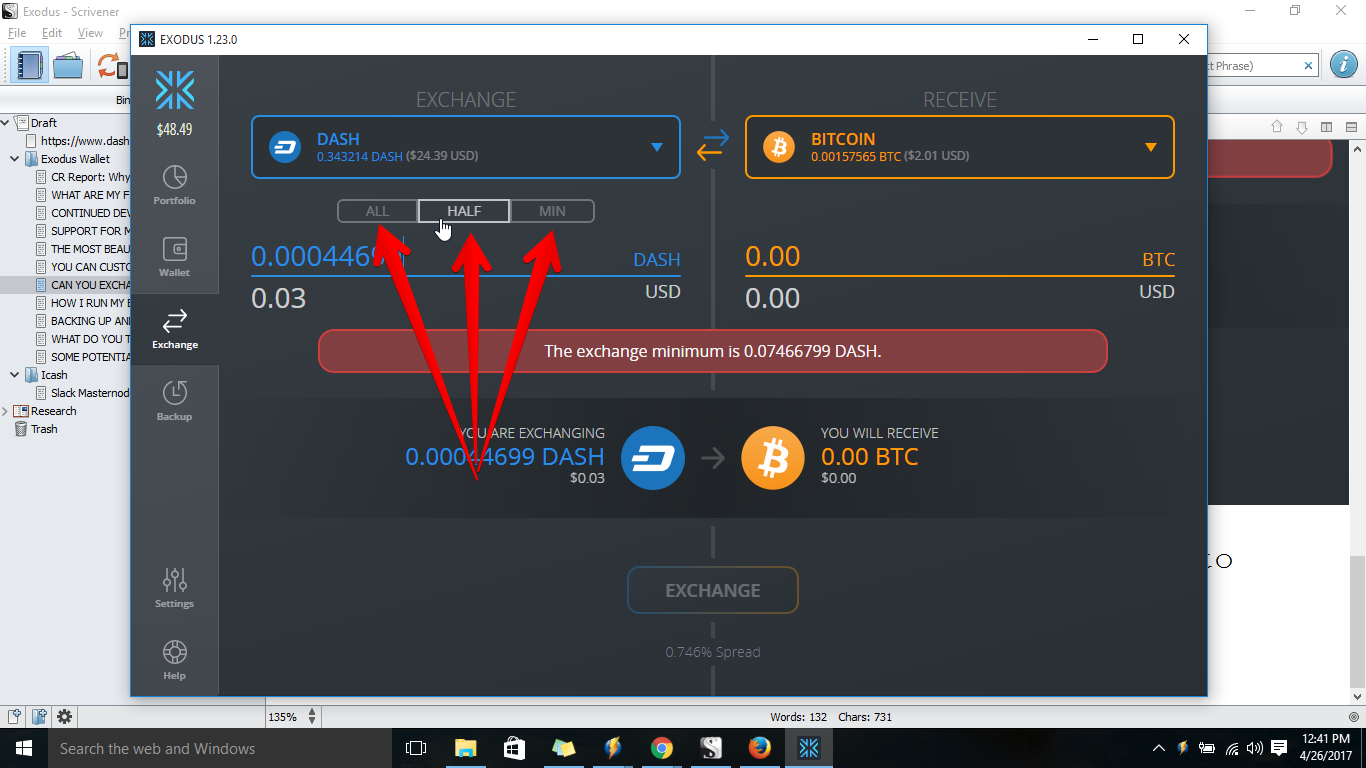 When you click on any of them the amount of source currency will be adjusted to the said amount for example in my case the "ALL" sub-tab being clicked will fill the amount of DASH to: 0.343214 DASH, which is everything that I have right now in the Exodus wallet.
If you want a different amount you can simple click on the box with the DASH amount and start typing your desired amount: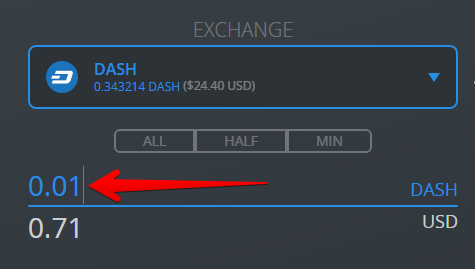 As you type on the right side you will automatically see what you will receive in your desired currency in my example LTC: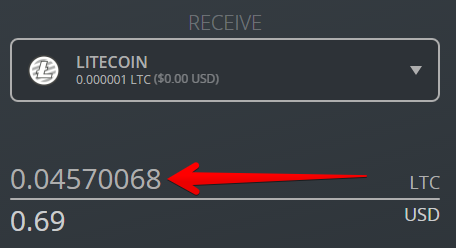 As you can see I would receive 0.04570068 LTC.
After I double check everything then I simply click on the bottom center button labeled "EXCHANGE":


And in my case I got a failure: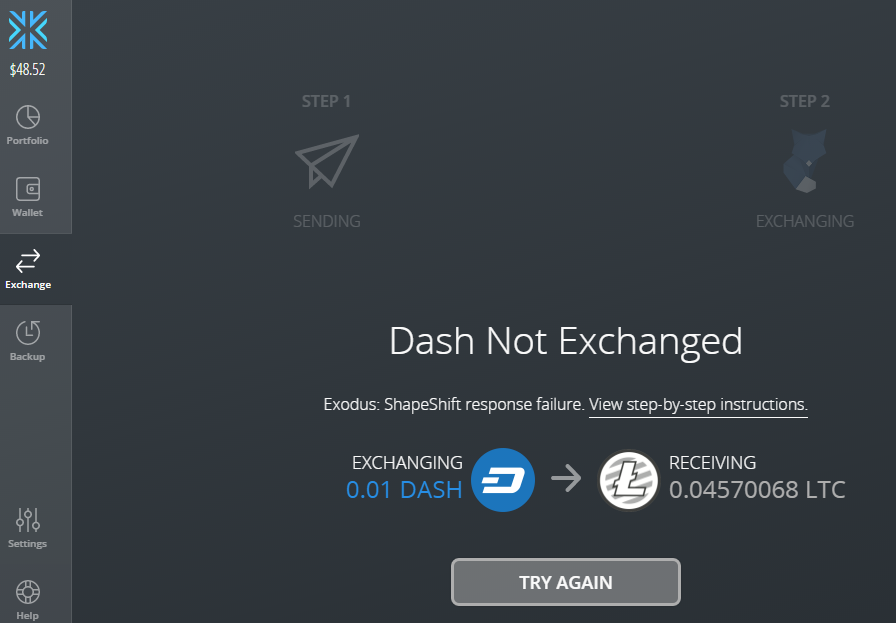 Looks like the minimum amount is above 0.01DASH and maybe that is what caused my error:

So I'll run another test and increase the amount of DASH to 0.015 which should get me 0.06873455 LTC.
This time it worked. You first get a screen stating that DASH is being sent to the exchange: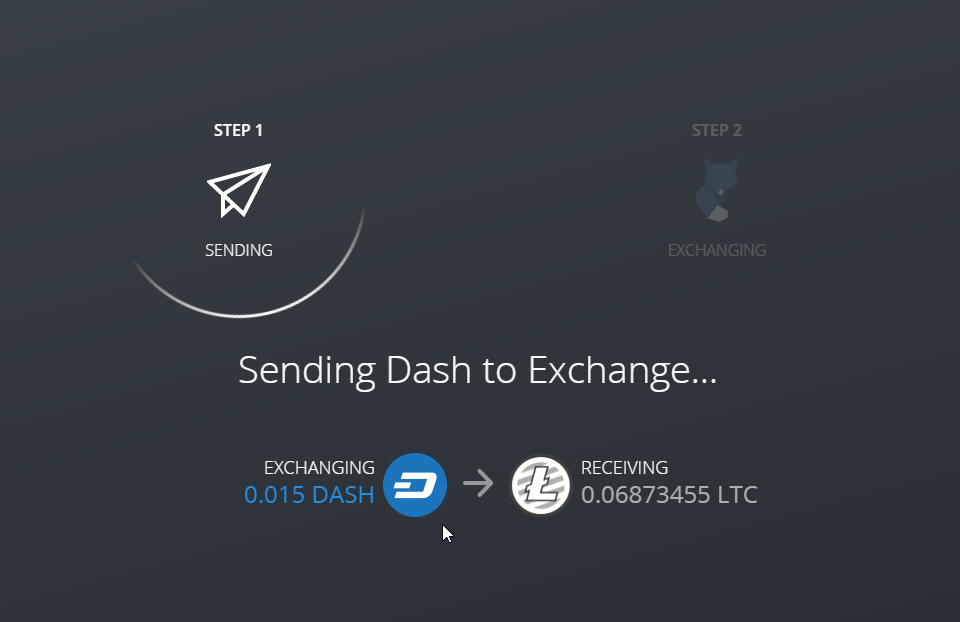 And after that a slight change stating that your exchange is in progress: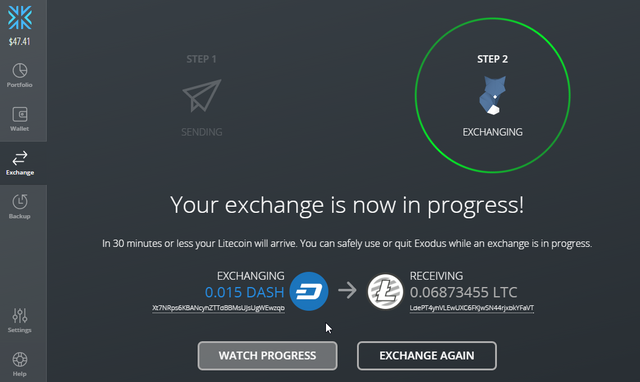 It takes some time to do the exchange. It also states that it's safe to quit the Exodus wallet while the exchange is in progress. I haven't tested this yet.
You have the option to click on the bottom left button labeled "WATCH PROGRESS" which will take you to the ShapeShift exchange page: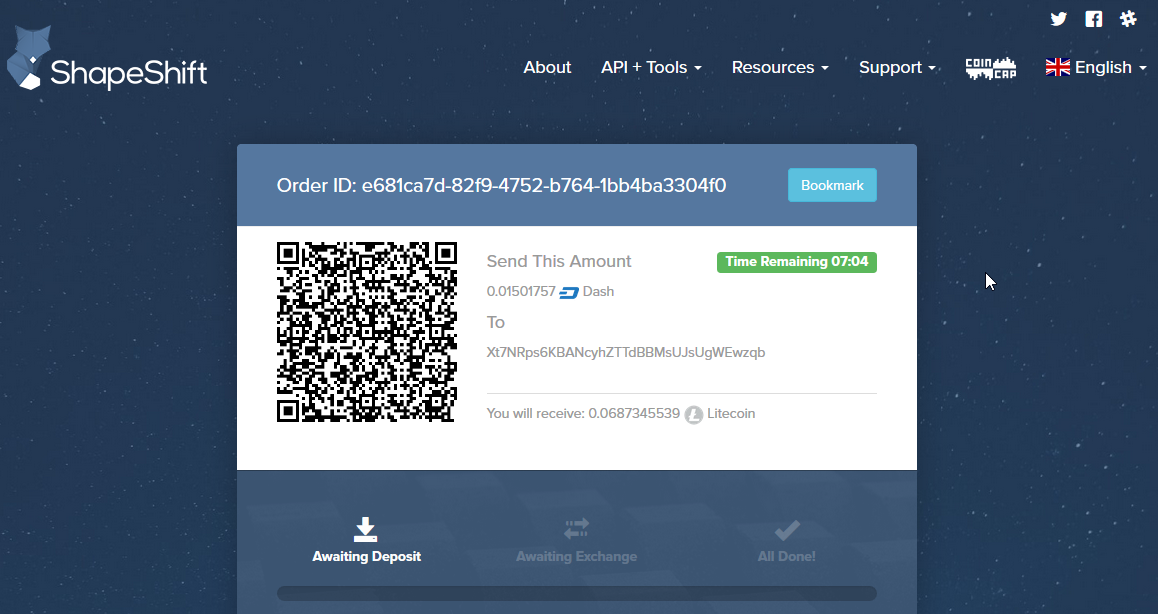 And there it will display the Time Remaining in the upper right corner in green color.
Once the exchange is done you will get an audible sound that you have received your desired crypto-currency and you are done.
Now I haven't done much research on the rates but from what I have heard it's higher then if you do the exhcange on a more liquid exchange like Poloniex or BTC-E for example where you will get a more favorable rate then on ShapeShift. This however is unconfirmed and if anyone has a link to a comparison please share it below.
However for small amount and the convenience I think this is a great service. Let me know what you think about this benefit of integrating an exchange into a desktop wallet?
WHERE DO I INSTALL MY EXODUS WALLET?
I'm in the process of installing a Linux virtual machine and have the Exodus Wallet run on there from a USB drive.
Right now the way I run the wallet is that I have ran the installation of the wallet then copied all the files to the USB drive. After that I had to click on the Exodus icon which starts the wallet and edit it to point to the USB drive:
H:\exodus\Update.exe --processStart "Exodus.exe"
And as you can probably guess H: is the USB drive and it's in the "exodus" folder.
I'm aware this is not the best solution but it's a start and it's not on my laptop but in my pocket.
What do you think is the best place to run the Exodus wallet?
BACKING UP AND RESTORING YOUR WALLET
One of the first thing that I have done was to test the backup and restore process. I have to say that it's was supper easy to do.
There is a "Backup" tab and when you click on it you get this screen: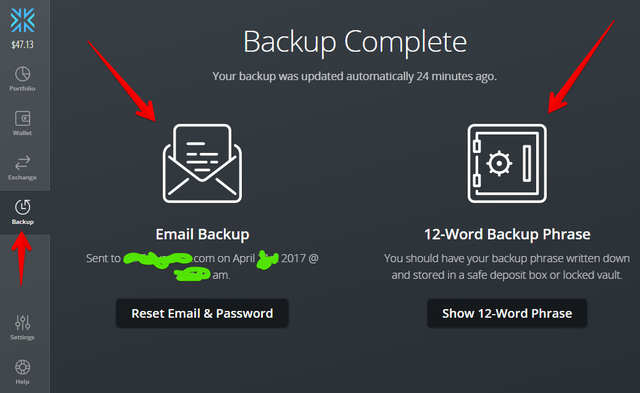 The first option is Email Backup. What this does is just emails you a long link that you can use to restore your Exodus Wallet.
If I had all my life savings in the wallet, I can't imagine I would use this option, but for transnational amounts I have decided to use it. I have tested it a few times and it works with no problems.
What has run through my mind is if you send this to an web based email provider and an employee gets your backup link. Can they steal your wallet? From what I know right now the answer is no, they would have the wallet and the amount in it, but they would still need to get in the wallet using that long password that is in my head. Please let me know in the comments box if I'm wrong about this. Can someone who has my Exodus email backup link get into my wallet and send currency to an address out of my wallet?
The second backup option is the 12-word backup phrase. So I saved that in an encrypted file of the computer on my backup drives. Again this will not be my long term storage wallet so for now this is my approach, and I'm open to improvements.
SOME POTENTIAL NEGATIVES WITH EXODUS
One concern that has been raised by a few people is that exodus uses one address to receive coins. In other words you can't change the address. This potentially gives hackers and others a way to try to track what transactions you are involved in. At this point for me this is not a huge problem because of my limited use, however this might be a problem for you depending on how you use the wallet.
Another problem I have heard but doesn't affect me is that it doesn't enforce strong passwords. To me it should be the user who decides how strong of a password they want. Mine is pretty strong and I'm ok with it.

And the final thing that I have heard that it doesn't have two factor authentication. I personally don't care right now to have it, since it's a small amount for me, however this might be a big deal for you.
WHAT DO YOU THINK ABOUT THE EXODUS WALLET?
Have you tried the Exodus Wallet yet? What are your impressions? Do you have any concerns about it?
Feel free to leave your feedback or questions below.
Also if you would like to get this report in Kindle or any other format or any other report or the upcoming newsletter, please visit (soon...):
www.CryptoResearcher.com/Exodus (soon...)
Any any donations or support for this and future research are welcome. I plan to spend 4 hours per day researching everything relating to crypto-currency and share it with you.
Sincerely,
CR