WINGS Coin: The Kickstarter of Blockchain
There are many popular .com sites on the web and blockchain is looking to develop the 2.0 version of them. This brings me to another project I especially like with good potential is Wings DAO. Currently available on many exchanges including Bittrex and Binance, some regard this as the Kickstarter of Blockchain capable of providing support for new projects.
Total supply is at 100 million while just under 90 million of them are in circulation. At it's current price of around 50 cents it's market cap is just under 50 billion and has a daily trading volume of roughly 1 billion. It isn't unusual to see price movements in the 50% range on any given day including today March 19, 2018. It had a surge from just under 40 cents to over 60 cents in a matter of 10 hours several days ago and typically does so when the tide of the crypto market attempts a pivot.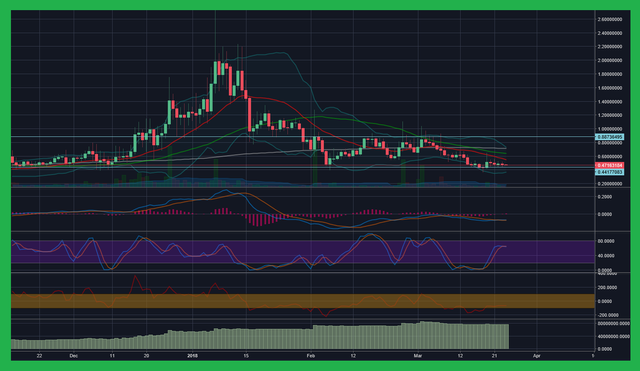 While it is great for day trading, I believe it has good long term prospects as well. Although both the 20 and 50 day moving avg broke the 200, I'm betting that they won't stay there for too long. Moving averages, being lagging indicators, always follow price action so in order for both the moving averages to trend back above the 200, we need a fairly sizeable surge in price. My short term price target is at under 1 dollar indicating by the top white horizontal line and a likely resistance area. Even after big jumps, it isn't too late to join the party, just wait for the next red wick candlestick possibly even breaking the lower horizontal line and pull the trigger for a position. The daily candles are very wick heavy because of quick daily profit taking so there will always be an opportunity to buy. Ultimately, we need it to break and hold the top horizontal resistance level for at least an attempt at an uptrend.
If you believe in the blockchain technology and integration in our future livelihood, Wings DAO can be a game changer not just as a personal investment but for the entire crypto market.
If you're new to investing in cryptocurrency, Coinbaseis the easiest way to get started. Using the link will help support new posts and you'll get $10 bonus for signup.
DISCLAIMER: All statements and expressions are opinions, and not meant as investment advice. Information provided in this post is not personal investment advice and should be used as informative or entertainment purposes only. Seek guidance from a professional investment advisor or due your own due diligence before trading or investing.